Yellow Jackets Buzz Into the New Season
On Friday, October 14, the AIC Yellow Jackets, defending Atlantic Hockey champions, travelled to New York to play Niagra University's Purple Eagles at Dwyer Ice Arena for the opening weekend of conference play. The Yellow Jackets got off to another strong start this season with a two-game series sweep, putting them on top of the Atlantic conference for another straight year.
The Purple Eagles rallied together over a thousand fans to fill the stands with purple and white on Friday night. However, game one turned out to be all Yellow Jackets, with a final score of 6-3 in favor of AIC.
The game started fairly evenly, with a zero-to-zero tie after one period. The Yellow Jackets out-shot the Eagles only 10 to 7. Both teams came out hard and played a very physical period, but without a score. Things changed quickly though, with AIC scoring two goals in the first two minutes of the second period.
It started with a quick finish by Julius Janhonen off of a beautiful feed from Blake Bennett. Then, less than a minute later, the Yellow Jackets went to the power play, which resulted in a tip-goal from Dustin Manz off of a shot by Jordan Biro from the top of the left circle. The Eagles and Yellow Jackets finished off the second period after exchanging two more goals each. The Yellow Jackets scorers were Oscar Geschwind and Dustin Manz.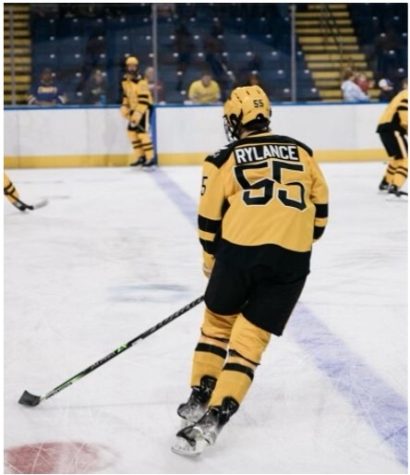 The third period began with tons of excitement, caused by an Eagles goal less than a minute in, followed by another gritty goal from Geschwind off an incredible pass from Brett Rylance, for his third of the season. Things did cool down after this though, with the only other goal of the game coming from an empty-netter by Janhonen to seal the deal.
AIC took game one of the series by a final score of 6 to 3. Team captain and senior, Austen Long, credits the team's success to their scorching-hot power play. The Yellow Jackets scored twice on the man advantage on only six chances in game one.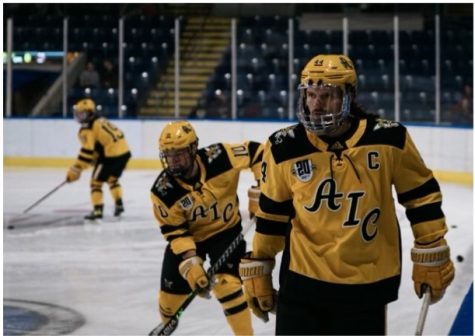 Austen Long said commented on the power play, saying, "We work on it a lot at practice and are constantly doing video on it, so it's great to see the results show when it truly matters. We knew special teams were going to play a huge part in the outcome of this weekend, and this game clearly proved that."
Less than twenty-four hours later, the two teams were back in action for a 5pm puck drop on Saturday night. The crowd might have been smaller for game two of the series, but the teams didn't take the game any less seriously. The Purple Eagles came out flying, laying big hit after big hit to get the momentum. That didn't last long though, with Long burying a rebound to open the scoring half through period one. Niagara answered back with a goal of their own a few minutes later. As time was expiring, Manz batted the puck out of the air to give the Yellow Jackets the lead going into the first intermission.
The second period was very closely fought, with few chances given to either team. They both traded a couple penalties, but no one could find the back of the net until there was a little less than two minutes left. Alexander Malinowski, a freshman from Sweden, sniped his first-ever college hockey goal to extend the Yellow Jackets' lead to 2 going into the break.
The Eagles made an early push in the third period, scoring a goal to cut their deficit to one. However, AIC was able to bury a couple of late goals, both by top scorer Blake Bennett, to hold on for the weekend sweep. Once again, the Yellow Jackets' power play, led by Bennett, helped in another victory on Saturday night, after going 3 for 5 in the team's 5-2 win.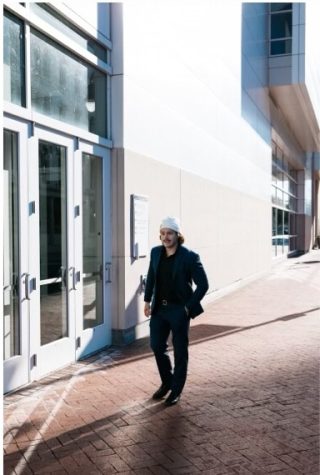 Bennett was proud of how the team performed in Niagra. "I honestly don't think too much about my individual success," he said. "I'm more concerned with our team continuing to grow and get better each and every day. I'm really happy we were able to come out of the weekend with six points on the road, because that's all that matters to me and everyone else in this locker room."
Junior Blake Bennett was a huge part of the Yellow Jackets' success last year, leading them to an Atlantic Hockey regular season and playoff championship. This is the type of success freshman Brett Rylance looks forward to having as well.
"I'm super excited to be a part of the winning hockey program here at AIC," Rylance said. "And after getting a taste of winning my first two in-conference games this weekend, all I can think of is winning our fifth straight title. We're going to need to continue trusting the process and working the way we do. And if we do that, we'll put ourselves in a great spot moving forward."
After a successful weekend up in Niagara, the AIC Yellow Jackets are first place in their conference and have their eyes set on winning the Atlantic regular season and playoff championship for the fifth year in a row. If they can pull it off, they would be the only team ever in NCAA Men's Ice Hockey history to do this in any division.
The Yellow Jackets' next game is Tuesday, October 18th, back in Springfield at the MassMutual Center at 7pm against Atlantic Division rival Holy Cross. AIC will be looking to extend their lead in the standings and continue moving closer to making history with another league title.