Men's Volleyball Scores a Huge Hit with Freshman Class
SPRINGFIELD, MA–American International College offers many varsity sports for students to participate in. Until 2021, men's volleyball was not one of them. Although last year did not go the way the team hoped it would, this year, AIC men's volleyball brought in a huge freshman class and with them the hope of achieving much more than they did last year. I sat down with freshman stars Jacob Thomas and Will Fitzpatrick in hopes of understanding what makes this freshman class so special and their expectations on the season. I also talked to sophomore and returning player Wilmer Rodriguez to understand more of where this team has come from last year to now.
Going into 2023, men's volleyball has a new look. Bringing in eleven freshmen, they hope to vastly improve on last year's results. Freshman stars Will Fitzpatrick and Jacob Thomas are huge reasons why this freshman class is so game-changing. I asked the both of them what makes this freshman class so important.
Fitzpatrick commented on the diversity of the team. "They're a mix of high level players from the mainland and Puerto Rico," he said, "including Alejandro Miranda, who is fresh off of a Puerto Rican high school championship."
Thomas was optimistic about the year ahead. "I believe our impact will be more than significant," he said. Along with Fitzpatrick, Thomas, and the aforementioned Alejandro Miranda, the other freshmen include Ray Peralta, Hector Garcia Quiros, William Hall, Fabian Lugo Hernandez, Jonathan Rosario, Michael Maldonado, Robert Santana, and Yan Diaz Camacho. I would be remiss if I didn't also mention the signing of grad student Vaughntre "Ty" Young.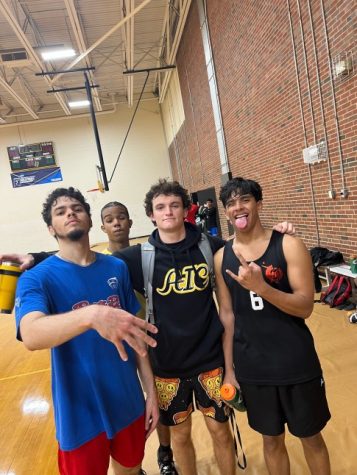 Along with these talented freshmen, men's volleyball is bringing back five players from last year's team: Wilmer Rodriguez, John Rivera Ortiz, Pedro Panelli, Brendan Hickey, and Manik Martins. These players are the foundational pieces of the team and have gone through the struggles of last year's team, so they are thrilled about this freshman class.
One in particular is stud sophomore opposite hitter Wilmer Rodriguez. When asked about the freshman class this year, Rodriguez said, "This freshman class has so much more energy than we ever had last year, and that energy makes us better everyday."
Rodriguez was also asked about the growth of the returning players since last year, and the growth of the freshman since the first practice. "First of all," Rodriguez said, "we weren't that much last year because we only had nine players." For those who aren't familiar with volleyball, there are twelve people on the court at one time–six on each side of the net. Since the team last year only had nine players, they were unable to conduct full scrimmages during practices. To add insult to injury, the men's volleyball team was also plagued by injuries.
"The progress in this team is well noticed," Rodriguez continues. "Now we have more quorum and can do more things that we couldn't do last year."
The expectations for this season are rightfully higher than last year, but I wanted to find out just how high they were going into the program's second season. Rodriguez said, "Hopefully we'll bring some more W's home this year."
Thomas agreed. "I see some wins and some losses, but a lot of learning either way."
Freshman Ray Peralta chimed in and added that he hopes to "win a ring."
Whether or not Peralta's expectation is unrealistic or not has yet to be seen. One thing is for sure though: this team is making noise in the preseason. They are hungry, and they will continue to feed off of that hype.