AIC Diversity Education Hosts Discussion on Minimum Wage
The Diversity Education initiative continues their mission to raise awareness of issues that impact students' everyday lives with a discussion titled, "Minimum Wage: A Living Wage?". The event was an open discussion for students and faculty held at the Stinger Pub on November 30, 2022 at 12 PM. The event was meant to be "a discussion on how the minimum wage affects different demographics."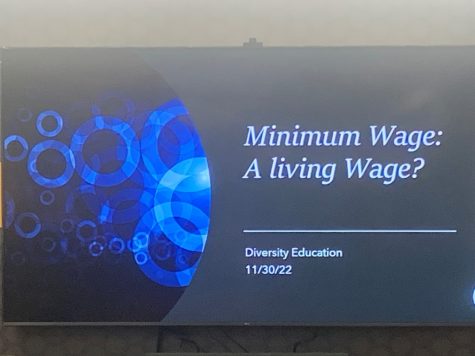 The event started with a presentation covering basic facts about the minimum wage, and then participants were invited to discuss whether or not they considered the minimum wage "livable,"–defined as "working a forty-hour work week on a single job that pays the minimum wage in the student's home state." The answers mostly ranged from, "Not if you live independently," to a simple, "No." The event organizers ended the discussion by leading the participants in a life simulator game called "SPENT." The goal of the simulation is to make it to the end of the month on a minimum-wage worker's budget.
When asked what she hoped students took away from the event, Assistant Director for Diversity Education Bianca Figueroa-Santana said that the main goal of the discussion was "to promote financial literacy among students, help them understand budgeting, and also address the realities of living as a minimum-wage worker."
Graduate Assistant of Diversity Education Tatyana Simms said that this event was inspired by "reflecting on the difficulty of paying off college debt with only a work study job," which is a reality for many students on the American International College campus. Although Simms said she has not personally been affected by the minimum wage, since she has gotten through college with financial support from her parents.
The minimum wage in Massachusetts is 14.25$ an hour, recently implemented for on-campus work study jobs at the beginning of the fall 2022 semester. Though the hourly wage has increased, the limits of the Department of Education budget has resulted in some student workers experiencing shorter work weeks and less money overall. It is currently unknown how this situation will be affected by the state minimum wage increasing to 15$ an hour starting January 1, 2023.