AIC Volleyball Graduates 6 Seniors To Conclude Another Historic Season
The American International College women's volleyball team graduated seven seniors at the end the 2022 historic season. But for some of these seniors, their volleyball careers are far from over and will not end at American International College.
For two of the graduating seniors, their careers may just be getting started. Andrea Serra-Rosa, a four-time all American and two-time player of the year, announced that she entered into the professional volleyball draft for Puerto Rico to continue her unparalleled career as a volleyball player. As for Mai-Lani Hernandez, she entered the transfer portal to continue growing as an athlete, and plans to set more records at a different institution.
Both Andrea Serra-Rosa and Mai-Lani Hernandez were key players in the team's success over the past four years. With Serra-Rosa and Hernandez in the front row together, they were unbeatable. Unfortunately, they will not continue their careers together as teammates but will leave American International with a legacy that will never be forgotten.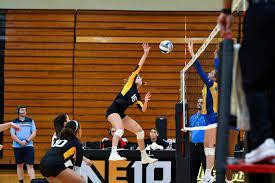 Under the leadership of Serra-Rosa and Hernanez, the Yellow Jackets won back to back conference championships, and back to back NCAA appearances. Serra-Rosa averaged 3.30 kills per game, while also setting the all-time kills record for AIC with over 1,700 kills in her five years at AIC. She also earned multiple accolades including All-American, player of the year, first team all conference, and East region player of the year awards. Hernandez also led the team in offense, averaging two kills per game. She had a total of 93 matches played for the Yellow Jackets. Hernandez was a force to be reckoned with when it came to blocks on defense. Hernandez led the team with most blocks per set during her four years with the Yellow Jackets.
When Serra-Rosa was asked if she would continue her career after AIC, her answer was always, "I'm not sure." But after the 2022 season ended, she would enter the professional draft for Puerto Rico and was drafted in the second round overall to Las Pinkin de Corozal. "I was excited for the new opportunity," Serra-Rosa said, "but also scared, because I knew it was going to be different from college volleyball."
Serra-Rosa left American International College in December with a Master's in Business Administration and would return home and start her new career as a professional volleyball player. "I was super excited to start practice" she said, "because I was really excited about the team that I was drafted to. The coaching staff is outstanding and I really think I can learn a lot."
The coach for Las Pinkin de Corozal is Angel Perez. Perez is a famous pro-volleyball player who wants to spread his knowledge to young athletes. When asked if she will continue playing past her inaugural season, her response was, "I don't know if I am going to continue for the next season, but I am enjoying my time playing now, and learning as much as I can to better myself. I eventually want to pass my knowledge on to younger players and coach younger teams."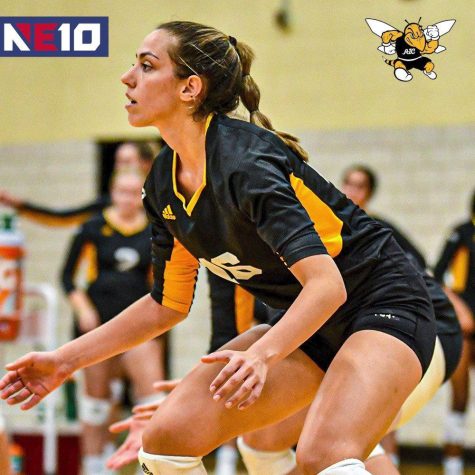 As for Mai-Lani Hernadez, she decided that although she had a fantastic career at American International College, it was time for a change. She leaves behind a four-year career that will be forever written in the history books as one of the most successful. Hernandez was part of one of the best teams that AIC women's volleyball will ever see. Although Hernandez leaves with a heavy heart, she has decided that in order to focus on academics more heavily, she will enter the transfer portal and start a new chapter elsewhere. "I am excited but also terrified to leave what I know and love to start something new," Hernandez said. "I am excited to help a program grow and be successful, but will miss my teammates, friends, and this program so much."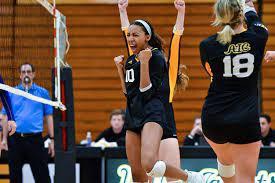 Paola Soto Burgos commented on the departures of her teammates. "We are going to miss both of these players tremendously next season," she said. "They were both so critical to the team, but we are so excited to see what the future holds for them."
Keep up to date with more information on our graduating seniors at AICYellowjackets.com and on our Instagram: @aicvb.