Documenting the life of a 16th Century hiker and human rights activist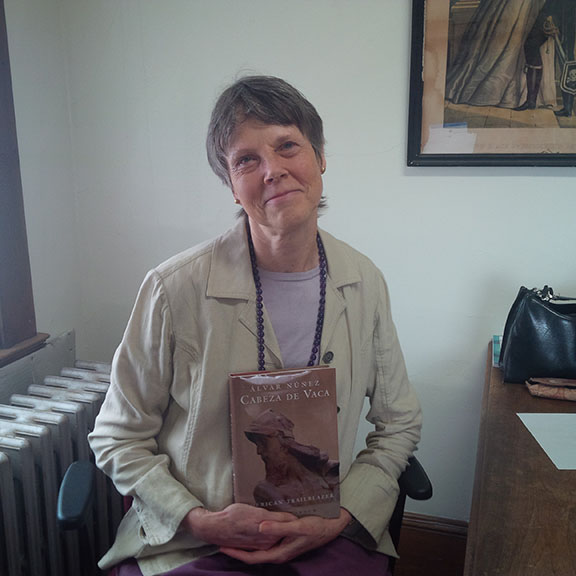 The roots of English Professor Robin Varnum's new book – about 'Álvar Núñez Cabeza de Vaca: American Trailblazer' – go back two decades, when she first read about the explorer whom many consider a man ahead of his time.
Cabeza de Vaca survived the harrowing Spanish Narváez expedition to the Gulf Coast of Texas in 1528, lived for six years among Texas Indians, and then hiked with the three other survivors the 2,500 miles to Mexico City.
Prof. Varnum, who is chair of the English Department, was leading library discussions in the early 1990s on books whose themes were first-contact accounts. It was during this time that she came across the story of the brave explorer.
"I found him fascinating," said Prof. Varnum, whose book is the first single-volume, cradle-to-grave account of Cabeza de Vaca's life. The 368-page book was published by the University of Oklahoma, and will be available soon in the AIC Bookstore.
"I really got into the story. I very much identified with Cabeza de Vaca. The more I learned about him, the more I felt we had a lot in common," she said. "He was a great hiker, he did that amazing hike into Mexico. Hiking is what I love to do. My native state is Arizona, and this is very much a southwestern United States story."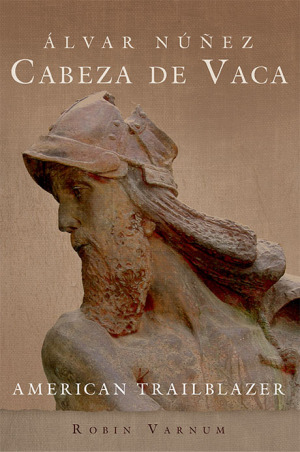 Varnum also identified with Cabeza de Vaca's spirituality, and with his penchant for standing up to authority, sometimes at his own peril, in defense of the treatment of American Indians.
Cabeza de Vaca's eight-year hike led him through vast stretches of the American southwest, a journey that he documented in his own account. His book, 'La Relación,' was first published in 1542 and is still considered one of the great travel stories of all time and the beginning of New World literature. It is the same book that inspired Varnum to do her own research, and ultimately, write her newest book.
The AIC community is welcome to a reception on campus for Varnum, where her book will be on sale, on Thursday Oct. 23 at 11 a.m. in the Bradley Room.
Prof. Varnum's book goes beyond the voyage to the story of the man who, on arrival to Mexico City, was horrified to see that Indians were being enslaved. He later served as governor of Río de la Plata and used this platform to protect the people of his province. Eventually, his compatriots mutinied against him and sent him back to Spain in chains to stand trial before the Royal Council of the Indies.
In 'Álvar Núñez Cabeza de Vaca: American Trailblazer' Prof. Varnum writes of the entire life of Cabeza de Vaca, from childhood to his death in about 1558 at the approximate age of 68.
While Prof. Varnum found her inspiration 20 years ago, she didn't begin researching in earnest until 2003, and the writing came slowly – 1.5 chapter or so each summer – until she went on sabbatical during the academic year 2010-11 and focused on it. She said she is pleased with the result, and hopes her readers are as well.
Prof. Varnum has a bachelor's degree from William Jewell College in Missouri, a master's degree in English from the University of Washington, and a doctorate in education from the University of Massachusetts at Amherst.
From 1971-73, she served as a U.S. Peace Corps volunteer in rural Afghanistan, teaching English as a second language at a girls' school.
She is the author of 'Fencing with Words' (1996) and the editor, with Christina T. Gibbons, of 'The Language of Comics: Word and Image' (2001).
To get in shape for writing about a man who walked more than 2,500 miles, she hiked the Appalachian Trail across her home state of Massachusetts. She has also hiked sections of the Camino de Santiago in Spain.