Hungry for great food at even better prices? Head to Q
There are good restaurants, and there are amazingly fantastic restaurants, and Q — located on State Street — easily falls into the latter category.
With the best homegrown barbeque recipes around and prices to match, Q has one more ingredient that makes for an instant hit on campus.
Q, officially known as Q, Smokin' Good Food, opened in early May at 890 State St., exactly one block from the western side of campus.
And with an AIC student identification card, you get a 10 percent discount.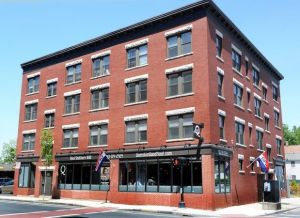 Located at the corner of State and Andrew streets, the restaurant's décor plays on the former Indian Motocycle Building, which is directly across the street. A vintage white 1947 Indian Chief is parked in a wall niche, old motorcycle magazine covers and photographs are framed and mounted on walls, and bits and pieces of old bikes can be found all around the brick-walled space.
The menu is even more enticing.
Featured are the pulled pork, sliced brisket, friend chicken and barbequed ribs that were the mainstay of owner Chris Spagnoli's diet when he and his wife lived in North Carolina. In fact, many of the recipes on the menu, right down to the sauces, come from his wife Sarah or his mother, Cindy.
"It's not real complicated," said Spagnoli. "It's good food. The recipes are all from family."
Spagnoli runs the restaurant, which he co-owns with his father, Craig Spagnoli, who owns rental properties in the city.
We visited Q on a Wednesday night, when a handful of customers made for a cozy, if quiet, experience. The take-out business was brisk, however, with passers-by and neighbors, including some students, regularly stopping in and leaving with bags of hot food.
Q also has a bar that serves wine and beer, most of which is brewed in the region, with names like Paper City Brew, Jack's Abbey, Dogfish Tea, Oatmeal Stout and McKenzie Pumpkin.
The menu is simple, and with solidly reasonable prices.
In a single page there are listed: six appetizers, 10 side dishes, four sandwiches (served with a tangy vinegar slaw,) two meal-sized salads, four platters (served with slaw and cornbread,) four kids' plates, and five desserts, including the to-die-for Hummingbird cake that we shared.
All menu items are under $10 except for the wings (one dozen) at $13, and the full-meal platters, which cost $12 for pulled pork and the fried chicken, $13 for the sliced brisket, $14 for a half-rack of ribs and $24 for a full rack.
Very reasonable.
We tried the Cobb salad, which included tasty home-made bacon chips – made from a whole pork belly, cured for one week, smoked for two hours and then grilled and chopped – and a cheeseburger, which came with French fries.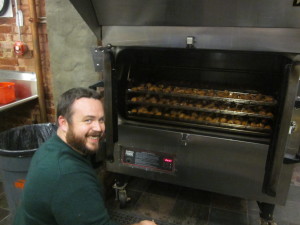 We also tasted from several side dishes, including Vinegar slaw, BBQ baked beans, hush puppies – fried balls of corn bread served with honey butter – baked macaroni & cheese – rich and delicious, with a crusty top – cornbread, collards, sliced brisket and pulled pork.
Everything was delicious, leaving us at the same time stuffed yet hungry for more. We brought home bags of goodies to enjoy later.
Q has already hosted several events for AIC groups, including the Men's Rugby Team, where there is a solid fanship of the tasty, low-cost barbeque.
Q caught the eye of one rugby player in particular, Josue Guerra, who has since raved about the cozy hideaway.
"We don't have that many barbecue restaurants in the area and overall their service and their staff are really nice, quality people. The food is great as well," Guerra said in an interview.
When asked about his favorite dish at Q, Guerra replied, "the cornbread sundae with a side of oven baked mac and cheese."
Besides meals and take-out, Q has a catering menu for off-site events, and while the restaurant is closed Sundays and Mondays, it will open for special gatherings.
Those who visit the restaurant must make a stop to the rest rooms, where a certain animal can be heard in the distance.