"My Car Was Towed Away!": Commuters Return to In-Person Learning, Can't Find Decent Parking
After a year of online learning in Zoom classrooms, many students are excited about being back on campus. But for AIC's commuters, the return to in-person learning has been bittersweet. AIC's commuter students are returning to an environment where they are receiving unexpected parking tickets on their windshields from the AIC campus police. Some commuter students are parking in the lots reserved for commuters, but they are still receiving tickets because they still do not have their parking permits.
Why is this happening?
Students are parking in places designated for them to park, and they are still getting penalized. Parking lot A, East of Willard Avenue on State Street, is the farthest parking lot away from campus; it is more than three blocks away from the campus center, and five blocks away from the library. Parking lot B, located on State Street across from Amaron Hall, is the lot that gets filled the most quickly. On any given weekday, you will see students roaming around the lot waiting for others to leave, and then racing to fill the empty spots.  This lot is the closest to the campus, so it is the most convenient for students. Lot D on Reed Street (a one-way street) is not even worth passing by because you will never see an empty spot. All of these lots are overfilled with little to no parking, and the public street parking on State Street and surrounding side streets is no better during class hours.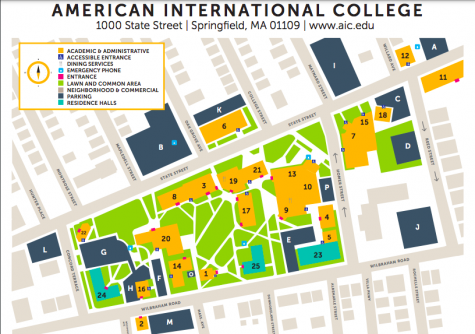 Sophomore Destiny Pagan, who is majoring in nursing, is always stressed about the parking dilemma on campus. "There are issues with parking," Pagan said, "depending on which day of the week. Mondays, Wednesdays, and Friday[s] are the worst days for parking because of how busy the school is during those hours… Sometimes I have to squeeze myself inside the lots." Pagan mentioned that finding a creative place to park has caused her to get parking tickets in the past. Pagan has been experiencing this problem for two years now, and the same problem is still occurring. Pagan commutes from her home to AIC, and it takes her around fifteen minutes to arrive at school, though sometimes it can take longer because of traffic.
In short, there are not enough parking spaces for the student commuters, and it is causing conflict.
Sophomore Yoliany Gonzalez must risk her class time just to find a parking space. "Sometimes [there's] no parking and it's difficult to get to class," Gonzalez commented. "It causes me to arrive late because I am circling for ten to fifteen minutes waiting for a parking spot to open! Sometimes, I even have to argue because I see the spot first!" Gonzalez also lives near a school, so her commute is usually slowed way down by busses and parents dropping off their children. Sometimes, the school-related traffic adds thirty minutes to her commute, even though she is trying to arrive to school on time.
When student are facing off against their peers just trying to get a parking spot, something is wrong. For commuters, arriving on time to class is a mission. Additionally, students are paying lots of money for their classes, but they end up spending most of their time driving around wasting time looking for parking. It's not fair.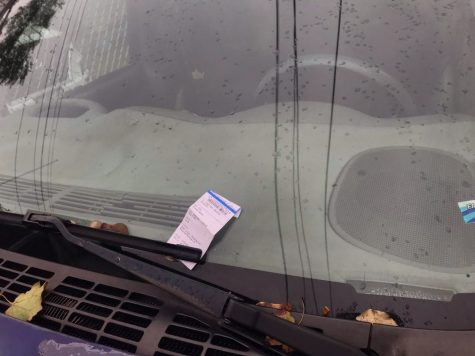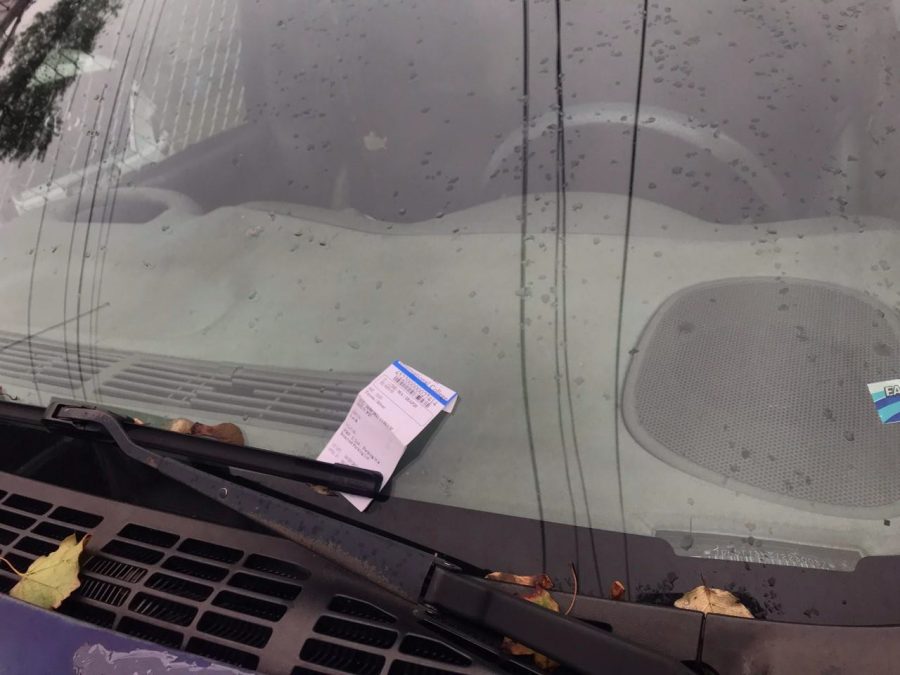 AIC Junior Anthony Reyes is majoring in physical therapy. He has reached his breaking point with the AIC parking and police. "I received three parking tickets without my knowledge," Reyes said. "The tickets were not placed on the windshield to let me know, [so] I was unaware of what was happening with my vehicle. When my classes were over, I made my way to the parking lot after searching for more than ten minutes."
When Reyes found out where his car was, he was furious. "I was informed my car was towed away!"
This is a nightmare for students after a long day of taking classes back to back. If you are ready to leave and your car is mysteriously gone and you also do not know why, you would probably be upset too. "The first offense is twenty-five dollars," Reyes explained. "The second is thirty-five dollars. And the third is fifty."
If you ignore these tickets or fail to pay for them, a civil judgement can be held against you. Or you will be unable to pay for your vehicle's next registration.
Sophomore Carla Jenson, who is majoring in business, is also upset with the lot rules. "I was fined fifty dollars just because I  parked inside the commuter lot for the third time without a parking permit," Jenson said. "But I am a commuter student!" she added. "Why do I need a parking permit if I am still parking in the appropriate lot?"
Jenson asks a good question. Why should commuter students be paying to park in a parking lot they are supposed to park in anyway? It is not fair. And it is a waste of students' money.
For me personally, commuting to school takes around eleven minutes some days. When I arrive at an earlier time on Mondays, Tuesdays, and Fridays, it takes me twenty minutes because of school traffic. I was attending school when I was nine months pregnant, and I was not always luck enough to find a spot close to school. On my not-so-lucky days, I would have to walk a block just to step onto the campus. Meanwhile, the building I had to access was even farther. With the parking spaces all full, I would sometimes have to arrive to school twenty minutes earlier just to have time to walk carefully and not rush myself. This was sometimes a battle for me because of the distance between my car and my classroom.
I wish AIC cared a little more for the commuter students and took their feelings and concerns into consideration in order to make a change.