Samuel's Sports Bar — a pretty cool place

Hang on for a minute...we're trying to find some more stories you might like.
Sick of the same old bar, club or restaurant and want to try something new?
Well visiting Samuel's downtown may just be the perfect idea for you.
Samuel's at the Basketball Hall of Fame, and the adjoining J Quincy's Restaurant, is the place to be. Whether it be stopping to get a couple drinks after work or class, a private celebration, a weekend out with friends or even just a family dinner, Samuel's has it all.
Many students probably are already aware of this establishment seeing that it is a quick drive from three different colleges in Springfield, including American International College. That makes it a prime spot to be for young people in the area, and for AIC students.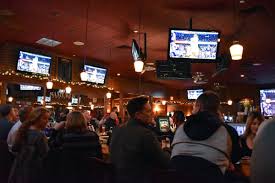 Along with the location being perfect for many college students, it's also right outside downtown Springfield, and right off the highway. It's a busy spot for people to stop by after work, or while on a business trip or whatever it may be.
Samuel's is a great place to meet new people, or reunite with old friends.
Coming from an employee of this establishment, this place really has it all. It's a draw for adults, families, and even young kids – but most especially, college students.
For over 25 years Samuel's has been impressing customers and creating new and improved menus, ideas and overall improving their business to make it what it is today.
Samuel's has been a place for people to gather for years. Though the party scene on Fridays and Saturdays is what has attracted many young people and college students in the area, the staff, food, and fun environment is what has kept people coming back, even later into their adulthood.
Samuel's is known for having one of the best night scenes in the area, especially on Saturday nights.
With DJ Ariana who comes every Friday and Saturday starting at 10 p.m., it's always a good time to go out with friends. With one large wraparound bar, two smaller bars, a large dance floor and eating area, you're sure to have your wants and needs satisfied when you decide to have a night out at Sam's.
Samuel's really has the best of both worlds. During the week, it has a great restaurant/sports bar environment. People can come out on a Sunday or Monday night, enjoy a couple drinks or apps with some friends while watching the game. Or, can come back on the weekend when the back dining room turns into a dance party that people of all ages seem to keep coming back for.
Jack McIntyre, a student at AIC, said he likes Samuel's because it's never too overcrowded and he enjoys going there with his friends to drink. He also likes the location, and how close it is to school, and the atmosphere in Samuel's it what has kept him coming back.
Samuel's is also popular for its every day specials.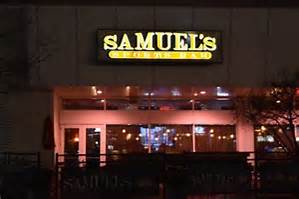 That includes the always-changing $5 drink specials, available any time and every day. Also on Tuesday (one of the most popular days of the week) Samuel's features 'Bacon Tuesday'.
On Bacon Tuesday, sitting anywhere in the bar area customers can get free, unlimited baskets of bacon!
Interesting concept, and people go crazy for it. Seriously, who doesn't love bacon?
Other specials Samuel's has include the famous $5 flatbreads from 3-6 p.m. every day, and different items all for five dollars, any day a football game is on.
Not only can adults enjoy Samuel's, the cool thing about this establishment is really people of all ages can enjoy it, including children.
During the week, it's like any other dinner place. There is the sports bar area, but also a back-dining room that gives it more of the nice dinner-out feel that families love to come and enjoy, including an extensive dinner and kids' menu.
Some items on the menu include a wide variety of starters ranging from about $7-$13. Items include everything from wings, to loaded nachos, fried Brussel sprouts, buffalo chicken dip, to healthier options like chicken lettuce wraps, hummus and pita and more. These are all a decent size, and perfect for sharing a couple of appetizers with friends, the options are endless.
Other dinner options include things from wraps, to amazing flatbreads for $10, to more scrumptious dinner foods like a filet, gorgonzola steak tips, and more. Also, the famous beer battered fish and chips, which is a large size meal for only $14.
Coming from a worker at Samuel's, if you've had any previous experience working at a job, especially a restaurant, you may feel like you never want to go in there on your day off. Even employees like me love going into Samuel's on the off hours because of the great environment and people.
One of the main reasons I enjoy it so much is how genuine the people are there, and I enjoy that it's a place with a young crowd on the weekends, and is ideal for college students like myself.
Not only does Samuel's have all these amazing things but it is also the place to hold your next party, gathering, or event. With two special rooms designated just for these type of things, and without a fee to use the room besides the purchase of food it's a no-brainer.
The VIP room is a smaller area with another bar usually used for a gathering to have a few drinks, a few appetizers, and includes nothing to be bought prior to using the room. It can fit about 30 people and is perfect for an after work gathering, a few drinks with friends, or really any type of event.
Newbury is a bigger room in the back of the restaurant. This includes a full bar, and a lot of space to hold whatever event you may desire, whether it be just food, just drinks, or a mix of both.
Along with that, the biggest thing many people dread while planning an event is trying to get ahold of someone to plan the event and get it how you pictured. At Samuel's, there is someone dedicated to doing just that.
Instead of calling and having to deal with a general manager, or a worker who has many other duties to focus on, at Samuel's there is an experienced party planner dedicated just to getting your event exactly how you want. Making your party experience easy, affordable, and enjoyable.
Samuel's really is the best of both worlds; from a casual dinner to a night out with friends, it really has everything in one. This is especially nice for college students, with the location being such a close and easily accessible spot for AIC students, and neighboring colleges. It's the perfect place for students to go out and meet new people- or enjoy the company of friends.
And if you have never been before, I promise you won't regret giving Samuel's a try next time you want to enjoy a night out!