Review: The Student Prince Cafe and Fort Restaurant, a Springfield staple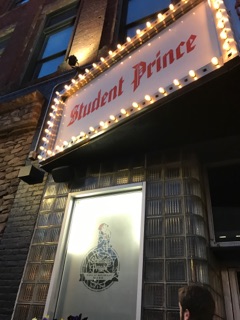 Hang on for a minute...we're trying to find some more stories you might like.
The Student Prince Cafe and Fort Restaurant is more than just a restaurant – it's also a historical landmark. Originally built over 100 years ago, this restaurant holds more history in its walls than any restaurant in the area.
The Student Prince, or the Fort, got its name based off the owner's favorite play, "The Student Prince." A casual restaurant for incredible German food, as well as a brewery, it's no wonder it's stayed in business and popular for so long.
My dining experience started more pleasant than expected. Seeing as it is in the heart of Downtown Springfield, I expected it to be more of a local bar type feel, or something average you'd see in the middle of a city. I was more than pleased when I pulled up to see it was a nice area to be in, and arrived at valet parking.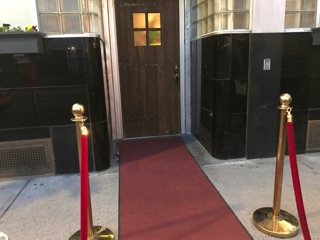 The valets were kind as ever, escorting us out of the car and leading us to the door as they drove off to park hte car. The entrance even includes a red carpet, lined with red rope and stanchions, making you feel like royalty as you enter.
As soon as I arrived in the restaurant, I couldn't help but notice the rustic old-time feel, and all the history stored within.
Lined around the restaurant, covering the walls are old, classic mugs, a tradition of theirs. Along with that there are paintings, classic dishware, and other historical figures… I was in awe.
Before even focusing on sitting down and getting my dinner – as that was what I planned on being there for – I started to walk around and look at the walls and all of the amazing things this place had to offer.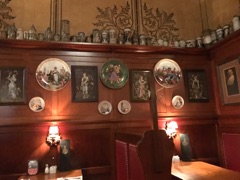 There is a bar side, that has live performers come in – typically on the weekends, and that you can hear throughout the restaurant.
The bar is then separated with another area of tables on the other side, still giving you the bar feel. Then there are other quieter dining rooms outside of this area, great for a romantic diner, or a big gathering of people. The restaurant is of great size, with something unique in each room.
When the hostess came, and escorted us to our seat, we sat in the area near the bar area, which included cute wooden booths, with antique dish wear. Exactly what you'd expect from the rest of the look of the place.
I start scrolling through the menu, and see many authentic German dishes, things I never have tried or heard of for the most part. Things like Kaiser Schnitzel, and something called Knackwurst and other delicacies of German culture. I then flip the page and see more American fare, like seafood, and a burger option.
Most of these German options contained some type of meat, like chicken, pork, or veal with some sort of wine, or other sauce over it.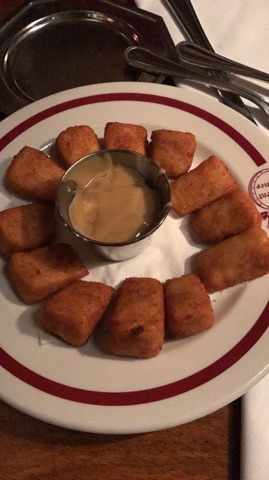 The waitress came over cheerful as ever and asked what we'd like. We ordered their famous appetizer called "fried Camembert Cheese" – which is pretty much pieces of this amazing imported Bavarian cheese, fried with a side of honey mustard dipping sauce, and voila you have a masterpiece.
When it then came time to order the meal, I got the baked scrod, and the friend I was with got the Kaiser Schnitzel.
Both were of incredible sizes and the taste was even better. They also have an extensive list of sides to add, and you get to choose any two that you want along with the entrée.
This was probably one of my favorite parts about the menu. A lot of restaurants tend to have a classic three or four sides to choose from; including some sort of french fry, a vegetable like broccoli or another vegetable of the day, and maybe a starch like mash potatoes or rice.
What impressed me the most was how many sides there were to choose from (maybe about 12) and how unique and tasty they all sounded. There was anything from garlic spinach, and honey glazed Brussels sprouts, to more German sides like house-made Spätzle, sweet and sour cabbage, and hous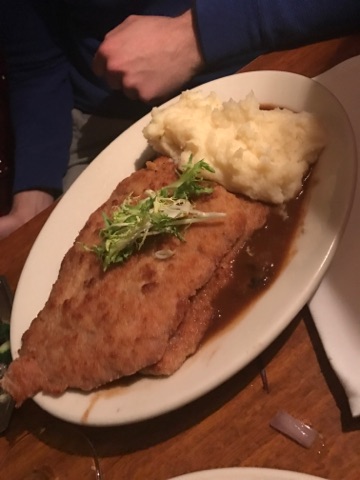 e-made sauerkraut.
We each got to choose two sides with each meal, which they also put on a separate dish so we could mix and match our sides with each other, allowing us to try multiple dishes. The Brussels sprouts were to die for, as well as their mashed potatoes and spinach. Really, I can't complain about much, they were definitely made to please.

As far as the pricing goes for this restaurant, I'd say it's pretty average pricing for what's offered – most meals were in the $17-$23 range, and well worth it.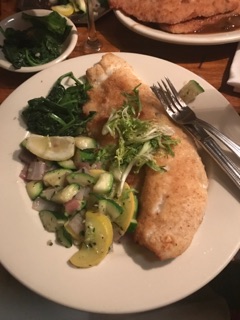 The portions were huge and tasty, they really don't compromise anything in this restaurant, which can be hard to find nowadays so to me that was worth every penny.
I even had to take half my meal home because of how large my fish piece was: the size of half a large plate – this place is no joke.
After this I wanted oh so dearly to try one of their dessert creations, but I was so full from the meal that sadly, I passed. I will say though; the dessert menu was quite impressive.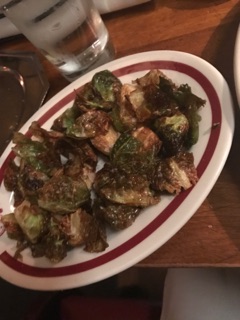 They had everything from their world-famous cheesecake, to a famous desert cocktail called the Chauvinist, to other authentic German deserts like the German apple streusel, crème suchard and another dish called Profiteroles. This was a creation of vanilla ice cream, warm fudge, and almond brittle-definitely something I plan to go back for.
To top this whole dining experience off, the waitress gave us a little background about the restaurant and how it came about, answered any questions we had about the art on the walls and left us the check to go on our way.
In the check book, I was pleasantly surprised to see a "guest comments card." Usually something like this may annoy me, or I wouldn't take the time to fill it out if I'm being honest, but this one caught my eye. It was simple, not overly wordy either, just an easy rating chart on about five simple dining-related questions. It asked things like cleanliness of the restaurant, food quality, what dish you ate, the atmosphere and questions like that, with a scale of 1-5.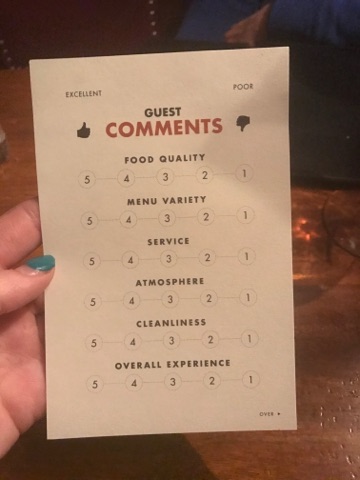 This to me really showed that they care about their customers and want to improve their restaurant. I like that they had this, and in such a simple way that people will fill it out.
And it seems they have been following the customer's comments, because I had pretty much no complaints by the end of my meal – which says a lot about a restaurant and what they are about.
The Student Prince was an incredible dining experience, something I'd love to enjoy again for all kinds of different events.