Bring back the culture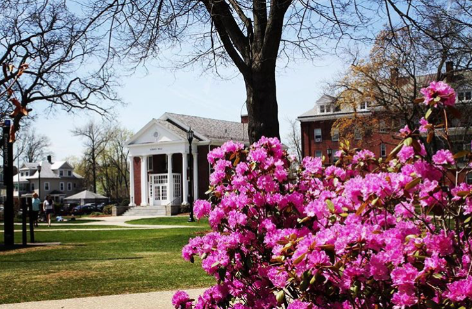 Hang on for a minute...we're trying to find some more stories you might like.
Spring is here, and AIC is blossoming – and many here are already acting on travel fever, and planning for an active final few weeks of school.
Some students enjoyed their time off for spring break visiting places like Atlanta, Mexico, and Miami.
Coming back to school was a bummer for most, but it doesn't have to be once you find out all the fun and exciting things AIC has planned for this semester.
Starting us off, the Center of Student Engagement brings us Grad Salute, an event to celebrate the final 50 days until our beloved seniors graduate. Taking place in the Stinger March 22, seniors were invited to celebrate their time spent and time remaining here at AIC.
"I believe we need to celebrate more successes here and do more things to congratulate our students and this is an example of how we can do that," said Collin McQuade, assistant director of student activities.
"The 100 days to graduation event was a success and many thought it would be a great opportunity to run another event for our seniors," he added.
He was involved with the planning and organization of this event. At the Grad Salute, students were able to enjoy food, music, raffles, prizes and more! There were also opportunities for students to pick up regalia and commencement. The event was once again a success with another one taking place on Saturday, March 24.
Next up is HQQP for Hope event in the AIC Gymnasium. This event is a basketball tournament with Greek life. All proceeds will be donated to a charity of the winning team's choice. The event is hosted by Omega Psi Phi and 5 other fraternities will be participating.
The most exciting event is probably Buzz Banger hosted by AIC Radio. Their goal was to have an event that brings the campus closer together. Taking place in the Stinger, the event is an opportunity for students to just hang out and have fun.
Personally, as President of the AIC Radio club, I want to see more AIC students at AIC events – it starts with us and it's time to bring back the culture.
Many students can agree that the camps here at AIC is very divided. Efforts for unity have been attempted by many in order to strengthen the yellow jacket pride.
Speaking of pride, P.R.I.D.E also has fun and exciting things coming our way.
"P.R.I.D.E is looking to bring all of the Black/Cultural orgs together to collaborate on a "Bring Back the Culture" Cookout, the cookout is set to be in the Quad on April 29," said Anyssa Dhaouadi, Executive Board President of P.R.I.D.E, Person's Ready in Defense of Ebony.
Each organization was told to bring a dish and different alumni from each organization will be participating as well.
Mitchell from the Alumni Relations office suggested everyone to read the Alumni Magazine of American International College, "Lucent." It has information about the growth and expansion of our college and how we improved overtime.
The fun doesn't just stop there. More events like Karaoke night, Hollipowder on the Quad, and Tie Dye are on the agenda as well. It is a primary goal before this semester ends to unite our AIC campus and renew everyone's love for AIC.
With mid-terms out of the way and finals slowly approaching, just because we're at school doesn't mean the party has to stop. Students are encouraged to maintain that balance of responsibility and fun and get more involved in our campus culture because it needs a lot of building and support.
We hope to see you all at these events that our organizations work so hard to provide to you all. Let's bring the old AIC back!