What Grinds My Gears: Graduation Blues
Hang on for a minute...we're trying to find some more stories you might like.
Greetings everyone and welcome to the final edition of "What Grinds My Gears," a monthly column in which I rant about something that drives me nuts … Even though you didn't ask!
It's official, I am in my last month of college; just thirty days stand between me and errrr…well I don't really know what yet … And that's exactly what I am going to talk about today.
Now I know that every senior at this institution can probably relate to this month's topic. I literally cannot stand when people ask me what my plans are after graduation, and I'm not taking about the people who ask once just because they are curious.
I am talking about the people who ask me every single time they see me and then when I tell them I am still trying to figure it out, they so helpfully remind me about how close graduation is and that I should probably get a move on.
THANK YOU CAPTAIN OBVIOUS, I WASN'T AWARE THAT IN A FEW WEEKS THE REAL WORLD KICKS IN AND A HUGE PART OF MY LIFE, WHICH HAS BEEN MY STABILITY FOR THE LAST FIVE YEARS, WILL NO LONGER BE THERE. THANK YOU SO SO MUCH, I MUST HAVE JUST OVERLOOKED IT WHILE I WAS BUSY EATING MY AVOCADO TOAST.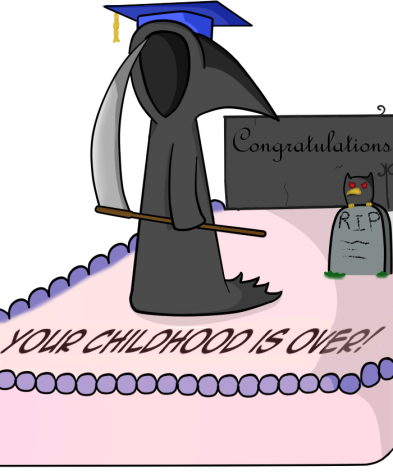 Of course I am aware of what is coming … I am going to be a college graduate soon who in fact can read and understand a calendar.
That's why I spend all of my time that isn't used on completing final research papers filling out job applications to literally anything that I qualify for, hoping and praying that something sticks.
Also, yes I am very much aware that student loan payments kick in six months after graduation … NEWSFLASH – STOP TALKING TO ME ABOUT MY STUDENT LOAN PAYMENTS … IT'S LITERALLY NONE OF YOUR BUSINESS, YOU DON'T SEE ME ASKING YOU ABOUT YOUR MORTGAGE OR CREDIT CARD DEBT DO YOU?!?!?
People listen to me very carefully … Seniors are under a monstrous amount of stress that unfortunately high school and college failed to prepared us for. We are about to embark on our own path and guess what: it's okay if we are still figuring it out.
Trust me, we will tell everyone and anyone who will listen once we land our first grown-up jobs. Until then, let us get through finals and at least quasi enjoy our last few weeks of college before the real world hits us like a ton of bricks.
… And that's what grinds my gears.