Winter break over, but spring break is coming
What did students do during winter break?
A lot of things, that's what.
Some students headed home to warmer weather, while some stayed in the cold. Whether people had big plans to get away or just stayed home and caught up with family the word on the street was that it was a nice break from school.
Freshman Shannon Cormier from Milford Massachusetts stated that it was great just to go home and see friends and family that she hasn't seen in a while.
"It was really nice being home and seeing everyone. I really enjoyed spending the holidays with loved ones and telling them about my semester," Cormier said.
Cormier explained that it was nice to be able to go back home to a job where she was able to make some money while being off from school.
Wynona Shaw, a first-year student from San Marcos California, got a taste of warmer weather during winter break. Shaw explained that this was her first time back at home since Thanksgiving Break.
She enjoyed being home for this break because it was a bit longer and she was able to spend more time with her family and friends from California.
When asked if she did anything exciting, Shaw said "Over break I got to go home and spend time with my family. I also went camping in the dessert with my friends," she said.
Shaw was not looking forward to coming back to the cold and snow but found herself wanting to make the trip back to Massachusetts despite the winter weather.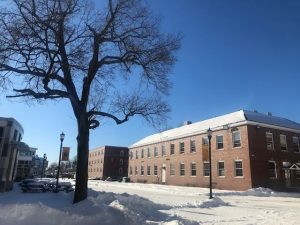 "I was looking forward to coming back because I was ready to start school again, and I missed my friends here," she said.
Coming back to campus in January, Junior Matt Costanza was glad he could come back and expect some fun and was eager to start his upcoming baseball season.
Costanza is from Revere Massachusetts but spent his Christmas on a cruise to multiple tropical places.
"I went on a cruise for Christmas with my family," he said. "It was really different not being home for Christmas but I enjoyed the change. Other than that I just relaxed and enjoyed not having to stress about school."
Some students here at American International College don't get the chance to go home because of how far they live and the expenses that it comes with or because they play winter sports here at school. Costanza got to experience being away from home for Christmas but still having his family with him.
The general consensus on campus was that it was nice to get home or whoever their destination was but it is always nice to come back. Talking with some students on campus Winter break made them eager to plan trips for spring break.
While spring break is not as long as winter break being on campus for a majority of time will give students something to look forward to. If they students are not able to get away from campus at least the weather will be a bit warmer.
One can hope.