Inside SGA: Elisheva Milov
The Student Government Association is comprised of a variety of students who are devoted to improving the student experience here at AIC.
One of those devoted individuals is none other than Sophomore Class President Elisheva Milov, well-known around campus as Shevi.
She is originally from New Mexico but moved to Springfield when she was nine years old. Milov commutes to AIC to study Occupational Therapy and participate in campus events and clubs such as SGA.
Milov, like many other students, knew very little about the SGA upon arriving at AIC for her freshman year.
"I saw posters of people running for SGA positions," and while it intrigued her, "I did not pay much attention."
When the time came around for SGA elections for her sophomore year, Milov said "Without knowing a thing, I rushed to get signatures with only a couple days left."
At the time she had simply been curious about the Sophomore Class President position but when asked about it now, Milov said that "I understand the importance of every SGA position."
As an SGA member and Sophomore Class President, Milov holds certain responsibilities on campus and in SGA meetings. She, along with her 3-member class cabinet, hold voting positions during Senate meetings, meaning that they vote along with the rest of the assembly on matters that affect the campus and students.
"The sophomore cabinet and I report on outreach events and upcoming plans for our constituency," she explained.
"I also report on last week's committee meeting and present pieces of legislation. We also engage in discussion and vote on future improvements. Recently SGA made plans for the CCA piano to be tuned and to buy car battery starters," she added.
Milov previously mentioned her participation in SGA committee meetings. Bi-weekly, the Student Government Association switches from Senate meetings to Collaborative meetings where committee members focus on certain topics.
Milov serves as the chairperson of the Internal Workings committee. In this committee, members evaluate SGA and its constitution to decide whether changes must be made. Milov described some of the work that they've been doing in Internal Workings.
"We have been writing the description of a new SGA position that will be responsible for giving Registered Student Organizations (RSOs) resources, advice and any needed assistance. Our hope is that this new position will strengthen all RSOs and increase their presence and impact on campus," she said.
In addition to Milov's service during meetings, it is not uncommon for her to be helping out at other SGA events as well as one of her own that she planned and held in February.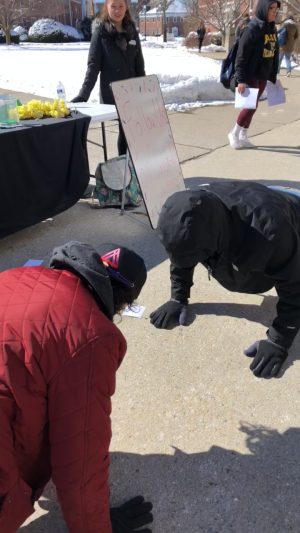 This 'Chocolate and Ice!' event was described by Milov as "an outreach event in the quad…to get students engaged and show them our support."
She added, "We created challenges that were completed for raffle tickets. Some of the favorite challenges were the push-up contest, selfie challenge and showing off a special talent. As an added perk, we handed out hot chocolate and encouraged students to follow the aicclassof2021 Snapchat."
She went on to comment that "Communication is vital in order to effectively represent the AIC's sophomores. That is why we feel that it is very important to get engaged with our fellow students to understand exactly what they want to see improved at AIC."
Sophomore Class Secretary Aneida Molina also had comments on the organization of the event. "Shevi was very enthusiastic and fundamental to making this event happen," Molina said. "Though our original plan was to interact with students by hosting skating challenges on the rink, the warm weather made us unable to. Shevi took charge and we were able to collaborate and come up with a series of challenges that students did with each other and us, the Sophomore Cabinet," Molina said.
The passion that Elisheva Milov holds for student government as well as her success within the organization this past year has led her to want to broaden her horizons here at AIC.
Milov said she is currently working on her campaign for Student Body President and hopes to be elected for the fall semester.
"The position of Student Body President will be very different from the one I hold now, but I am very excited to make a bigger impact for all students," she said.
When asked to describe her plans to run for such a position, Milov went on to say "I plan to build on Taylor's (Taylor Campos, current Student Body President) strong foundation by increasing team motivation and efficiency. When the entire SGA team is united, we will be able to expand our positive impact and create a supportive community to encourage every student's future success."