Professional and Student Athletes Offer Advice for Staying in Shape at Home
There is no denying that this country is going through something that we've never seen before, and no one knows exactly when this is all going to end. This pandemic has a lot of people starting to realize that nothing should be taken for granted. I know I will not be taking anything for granted anymore! These times have people looking in the mirror and figuring out what they can do to keep up without gyms and training facilities open. What are pro athletes doing during this time? What are college athletes doing during this time to make sure they are in good shape or in better shape by the time this pandemic is over? I took to zoom to catch up with some of my friends and to ask how they are staying in shape during this crisis.
My good friend Jason Cabinda, a Penn State graduate who now plays for the Detroit Lions in the NFL, gave me some insight in what he is doing to stay in shape so he can be prepared for when he gets his call to head back to Michigan. "You know I'm out here every day still getting this work in like there is nothing wrong in the world," Cabinda said. "I don't care if they take my gym from me; I will still find ways to get work in and I am still getting five hours a day of work in. These times really will show the true colors of people. Either someone is going to make excuses and say their gym is closed, or people are going to figure out a way to work out and get work in regardless of circumstances we might be under. The key to this entire thing is out-working everyone during this time and becoming better than when we went in. Luckily for me, I have a home gym down here in Florida. But for the regular person, sit-ups, push-ups, running, and little things are good enough for the time being to stay in shape. You don't need a gym to stay in shape. There is no excuse."
Another friend of mine, Jeff Baum, who plays ice hockey at AIC told me his tip for staying in shape during this weird time. "Honestly, right now I am trying to recover from the season," Baum said. "I am doing very little at the moment compared to if I was mid-summer. I am really just going through some home workouts and a lot of bodyweight lifts. I have a squat rack at home, so I have been using that as well. For me, it's really just maintaining my body and not letting my body change for the worse during this time. I have been doing a lot of bike rides down here in Texas and working out in the sun to get a nice sweat in."
Lastly, Brennan Kapcheck, another AIC hockey player, jumped on zoom with me and told me how he is getting through all of this. Kapcheck said that he is "really focusing on eating healthy and doing all the little things to stay in shape and keep my gains." He added that he is "not really worried about lifting huge weights right now; just want to keep my weight and not let my body go."
All in all, everyone can be using this time to better themselves, so that by the time this is over, everyone can feel good about themselves. Whether you're an athlete or not, simple home workouts will do the job for now.
I hope everyone is staying safe out there during this very uncertain time!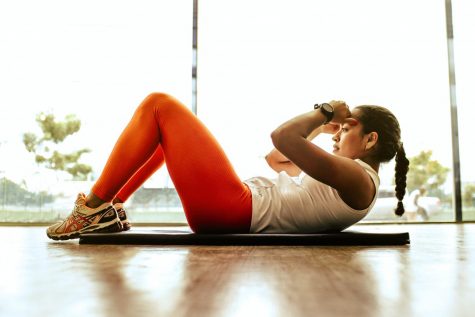 Photo by Jonathan Borba on Unsplash