Healthcare Professionals Respond to Vaccine Mandates and Working During the Pandemic
Healthcare systems around the entire world have been built phenomenally. Since the outbreak of COVID-19, there has been a desperate need for healthcare workers. However, as frontline workers, they are putting their lives at risk, and it's currently impacted the mental health of many healthcare professionals. There is more mention of feeling overloaded and understaffed. This is due to the fact many have quit, been let go from their jobs, or been laid off for refusal to work during the pandemic under a vaccine mandate. I interviewed a few healthcare workers in order to obtain various perspectives of those who have worked in healthcare during the pandemic. There are so many people in the world that need critical care, so the workload is very high. There were not many options given to those back when the vaccine was first introduced. The ultimatum was either to get vaccinated or simply to have no job. The mandate was instated by the federal court that employers may still enact their own vaccine requirements. So how do current healthcare workers feel about working during the pandemic?
Dianny Marie works in a nursing home called Genesis Elder Care Services, located in Agawam, MA. She only just began working there (not even for a complete month), so it is something very new to her. She mentioned the nerve-wracking feeling during the interview process and confessed that getting the vaccine was something she had tried to avoid for quite some.
"Being new to the healthcare field was exciting and nerve-wracking experience," Marie said. "It's something I've always been interested in trying. With the circumstances of COVID-19, it was [a] very hard decision to put [aside] what social media and the society puts out there–to get the vaccine. But today I'm a month into being vaccinated and working in a nursing home. And so far, no complaints. The joy I receive from caring for the elders is like no other."
Marie currently is a CNA at the facility. She supports the elderly with their daily living needs such as bathing, feeding, and changing. She's set aside what social media has said and is continuing to work toward bettering herself and learning more. Every day is a battle. When they walk out of those doors, they go home most times with constant concern for their safety and for the safety and protection of their families.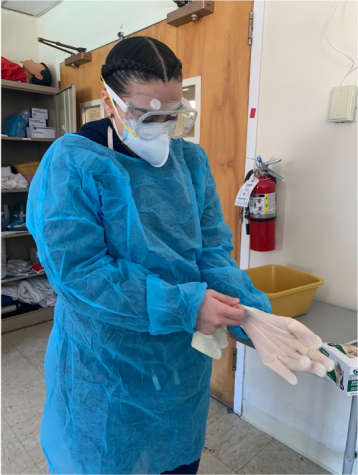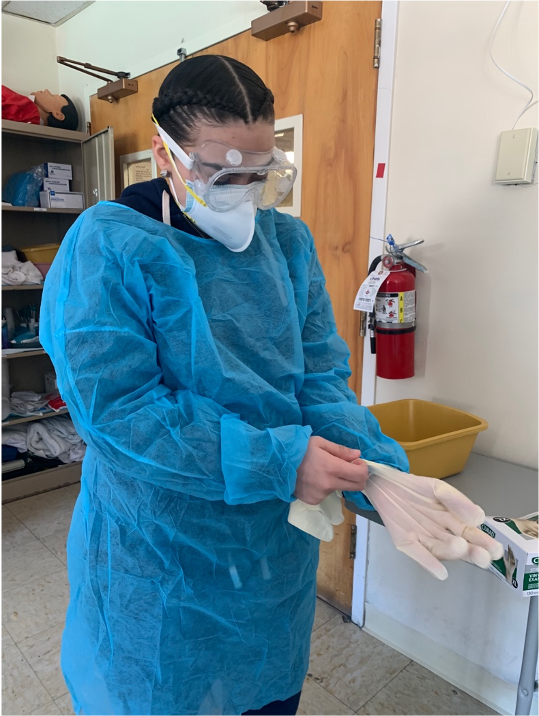 Jeanelle Mojica currently works at Bay State Medical Center as a patient care technician. She did her clinicals through her high school in a nursing home prior to the outbreak of COVID-19. She is also a Certified Nurse's Aide. She has been involved in healthcare since 2020. Several jobs within the healthcare profession require certification as a CNA.  Mojica has seen and experienced the change of COVID within her current work environment. She's been shocked that the number one hospital within our community has had so few positive cases of COVID-19 among healthcare workers.
"When I first joined the healthcare field," Mojica said, "I was in constant fear. This is because I am a first-time mom, and I had a baby back at home. I was always worried about getting her sick or anything ever happening. My first experience off orientation was a bit overwhelming–catering to all and doing my job to my best abilities with little help." Mojica explained that she and her colleagues do their best, but added that "many don't feel safe anymore. One thing I know is: what I'm doing is right–being there for my community and others. I'm grateful to be in the position I'm in helping others in ways they can't."
Mojica continues working with some fear, but with the low rates of COVID-19 cases today, she hopes cases will continue to decrease and that her work environment will continue to become safer.
Justine McCray doesn't work with her program anymore or within a healthcare facility. She currently takes care of her family back at home and is still looking for work. Although she was new to the program, she felt a connection with her workers. McCray's story wasn't easy for her to share, but one thing she wants readers to understand is that sometimes, some things aren't meant for you, even if you try your best at them.
"It was a personal belief of mine that I couldn't be sure of entering something that had little research into my body," McCray said about her decision to avoid the vaccine. "At the time, many were convincing, and many pushed me toward my final decision. It was early September 2021 when things began to move quickly. My job was a little program… but they gave me an option to be frontline and a leader of getting vaccinated or simply move on. I was lost for words and dealing with unemployment firsthand was stressful. I was lost and ended up moving back with my family."
McCray's decision to not get vaccinated made her feel isolated. "No one realizes the sacrifice to my own beliefs because they aren't religious," she said. "They aren't important. Although it was finalized when I got approved, it still was a big change. I loved working. It was hard, and I managed to keep going."
McCray has put her own beliefs and concerns first and remains taking care of her loved ones.
Every day is another day and another fight to stay safe and continue on. We are blessed for those who've worked and contributed to the people. Without healthcare workers, many would be sick or dead.