Multi-media art show accompanies AIC play
A stark video of a woman describing the ups and downs of living with HIV plays on the wall in the foyer of the Griswold Theater at American International College.
A series of photographs, including one of a student being handcuffed in a mock rendition of a police arrest, lights up the kitty corner wall.
A wire sculpture rooted on a piece of wood with figures striding forward in a line, and a clay figure of a person cuffed by the leg to a ball and chain, are displayed on a table beneath the digital art, telling similar tales of hardship and intolerance.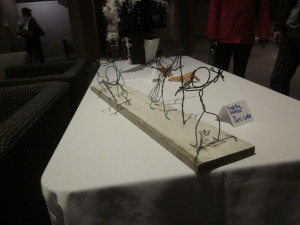 The multi-media display was on view during AIC Theater Department's production of 'Angels in America' on the weekend of Nov. 21-23. The art was created to compliment the play, with a focus on weight, dark themes including intolerance, loneliness, hate and bigotry, and their opposites inclusiveness, tolerance, love and acceptance.
Artists came from three of Visual and Digital Arts Professor John Nordell's classes – Cultivating Creativity, Digital Storytelling and Digital Photography. Nordell said his students were urged to be creative as they thought about, and pictured, the themes from the play about HIV and AIDS in the 1980s. In all, 32 students participated.
"I encouraged students to think outside the box, and I think what came from that is quite something," said Nordell as he greeted visitors during opening night of the play. "By and large I was wonderfully pleased."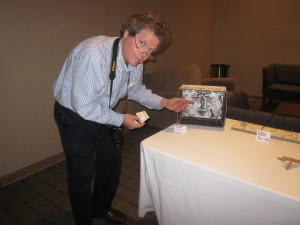 Indeed, visitors to the compelling display of art offered positive, if abbreviated, reviews as they got ready to enjoy the performance.
"I think it's very cool," said AIC graduate student Will Mortenson, himself a longtime Garret Players actor at AIC. "It'll be interesting to compare and contrast my impressions after the play."
His friend Gwen Tunnicliffe said she appreciated the united effort among student actors and student artists.
"I think it's great that there are classes where this kind of collaboration is going on," she said. "I love to see anything like that, and this work is very good, very interesting. Having the play going on at the same time multiplies the power of the art."
Matthew Begley, a senior majoring in Criminal Justice, created a video that was part of the continuous loop. His work, a series of personal interviews, focused on societal diversity that unites gays, lesbians, bisexuals and transsexuals with straights, and bridges that are more common today than ever.
"It's about diversity," said Begley, who in in Nordell's Digital Storytelling class. "It's seen through the eyes of everyday people's perspective on diversity, and the awareness of diversity."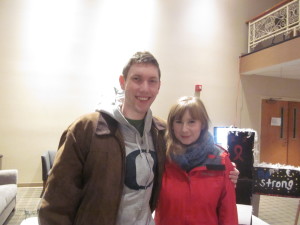 He was on hand to see the play, and also to see the display put together. He said he was pleased.
"I wanted to see how the whole thing came out," Begley said.
"It looks great. I'm glad I took the class. It's given me a new perspective on technology, a way of seeing it that I hadn't considered before."
Visual and Digital Arts is a new program at AIC, with both a major and a minor offered.