MGM Springfield: helping or hindering?
Do you think that MGM Springfield will be a positive or negative addition to the City of Springfield?
Positive (42%, 20 Votes)
Neutral (31%, 15 Votes)
Negative (27%, 13 Votes)
Total Voters: 48

Loading ...
After years and years of speculation, planning, politicking and construction, MGM Springfield is finally taking shape in the South End of Springfield as the resort casino's much-anticipated September grand opening is fast approaching.
When asked about MGM, most would probably relate MGM with Las Vegas, also known as Sin City – bright lights, casinos in every which direction, and showgirls.
It's an experience to visit this famous city, to see the "Welcome to Fabulous Las Vegas" neon sign and to throw a few dollars away in a casino slot machine or two.
Cher has a long-standing show there, and "Ka" performed by Cirque Cirque du Soleil does as well. Famous restaurants, chefs, and the like strive to rent a piece of property within this grand casino to say that they have made it.
Now, what if you asked about MGM Springfield?
The city is home to the Naismith Memorial Basketball Hall of Fame, the Springfield Armory, and the Dr. Seuss Memorial Sculpture Garden — all pluses.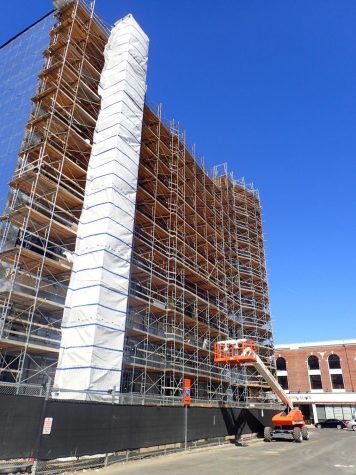 Time will tell as to the question of whether or not a casino will be a good fit for the city. The casino, which will be owned and operated by MGM Resorts International, is currently under construction with a hefty $950 million construction price tag. The casino will be open 24 hours per day, and will have restaurants, bars, and luxury services at the hotel.
Construction work on the site of the casino in Springfield's South End began in 2015. The parking garage was quickly completed, while the rest of the complex continues to take shape as September approaches.
In addition to its gaming, resort hotel and entertainment options, MGM Springfield will of course have fine dining restaurants. The Chandler Steakhouse will add to the fine dining scene in Downtown Springfield. The restaurant and bar will have some of the finest wine and aged cut meats from Las Vegas. If you're not craving steak, the resort will also have an Italian restaurant called Cal Mare, which will serve up signature New England signature seafood, and handmade pastas and pizzas.
Clearly the new casino will be a sight to see once its opening day arrives. But, would a casino fit into the grand scheme of Springfield, itself?
How do AIC students feel about the new casino coming to downtown Springfield in September? We asked a few, and here's what they had to say.
AIC senior Erin Stalker shared her thoughts as to MGM's potential impact on the local economy.
"The casino would be good for a community like Springfield. Generating jobs for the community and opening doors up for those who might not have the opportunity elsewhere," Stalker said.
"It'll definitely be a economic boost for Springfield," she added.
AIC freshman Victoria Perini agreed.
"It's cool that they're opening a casino in Springfield. Also, I think it will bring more attention to the city and more job opportunities for people," said Perini.
Another senior, Peta-Gaye Ricketts, feels differently.
"A casino will only help those who are qualified for the positions," Ricketts said. "Many Springfield residents would need to take classes, such as table-game dealer classes, which cost money. If you can afford to take the time off and take the courses it would be great, otherwise, it'll just end up with more traffic for locals to deal with during their daily commute."
AIC student Alice Calabrese praised the fact that more jobs will be available thanks to the casino, but felt that the pomp and circumstance of MGM and a brand new, shiny addition to downtown may not equate to cleanliness.
"The MGM casino and resort will bring good job opportunities but the city is not going to be cleaner," said Calabrese.
Sophomore Chelsea Davis has more positive thoughts on the matter.
"I think a casino would be great in Springfield," Davis said. "It is a central area in Western Massachusetts where it is easy to get to. Plus, it will provide a place for students to hang out, whether it be in the casino levels or the restaurants themselves."
The resort and casino will provide plenty of job opportunities – MGM is currently accepting applications on their website, as well as being a physical presence at job fairs in the region, including right here at AIC. It's thought that the casino will help bring more attention to Springfield and increase the city's economy. According to MGM Springfield President Michael Mathis, the plan is to have around 3,000 workers on the books at the casino's blueprint which spans three city blocks.
AIC student Gianna Nettis believes the casino will be a good draw for people from far and wide.
"The casino it's going to be fun and provide some sort of entertainment for the people in Springfield and create a lot of job opportunities," said Nettis.
The hope is that the project will lead to a positive impact into Springfield's economy and for those who live in the Pioneer Valley.
Student Diva Rivas-Reyes shared her thoughts on the impact MGM could have on the city.
"The MGM casino is going to be good for Springfield. It's going to improve and bring money to the city," said Rivas-Reyes.
Since the construction started, the casino has worked to enhance the infrastructure by adding new traffic lights in the neighborhood. Also, MGM will build new sidewalks and will make road improvements.
While contemplating the traffic generated from casino traffic, it is important to think of the local colleges benefiting from the expansion of MGM to Springfield. Holyoke Community College has redesigned their kitchens and moved to a new location newly named the HCC MGM Culinary Arts Institute.
Broadening their horizons, Holyoke Community College has partnered with MGM to help supply much-needed culinary students to the eateries within the building. Holyoke Community College offers hospitality management, food service management, and culinary arts to students wishing to gain more insight as to what it takes to run and manage a restaurant.
Alongside Holyoke Community College, Springfield Technical Community College is offering non-credit courses as part of the Massachusetts Casino Career Training Institute. Here students will learn to work with casino devices, table games rules and regulations, transactional information, operations, and regulations within the casino world itself.
Appropriately named "Gaming School," this education can lead to bigger and better opportunities for those living within and around the surrounding communities.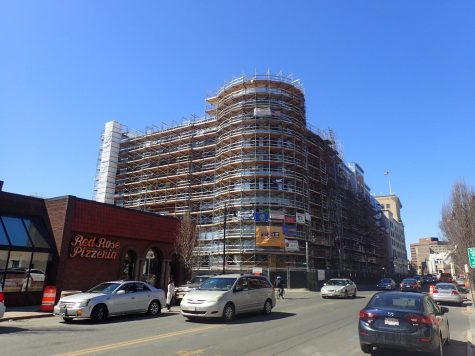 The classes are divided by two levels – it all depends on the package you are more interested. The level one class includes Blackjack, Roulette, Craps, and Poker for a total of $1,856. The level two class includes Carnival Games, Mini Baccarat, Blackjack, Roulette, and Craps, which will cost participants $1,315.
The college programs offered within the area will help fill working positions of the $950 million project projected to open in late 2018.
So the question remains, is MGM Springfield an asset to the city?
Or will it hinder the progression that the city has been working towards for so long now?
Either way, MGM Springfield has opened up financial and educational opportunities for many individuals looking for jobs that will be provided with the installment of MGM in Massachusetts.
Construction has been a steady force within the South End for quite some time now, and it's time to see the beautiful casino that has been anticipated since late 2012.
Will AIC students be heading down to the brand new South End facility when it finally opens? Time will tell.