AIC Men's Rugby Vs Yale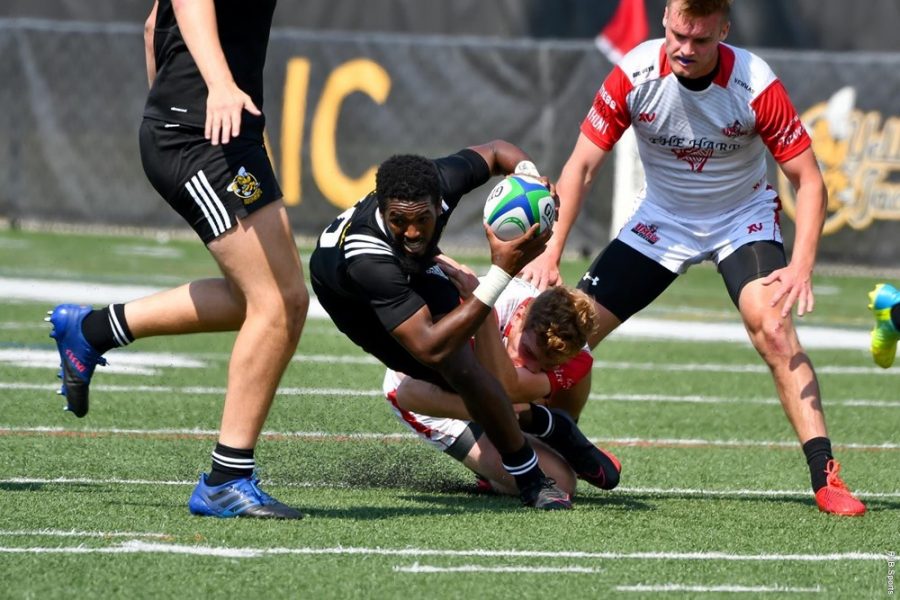 The AIC Men's Rugby team has started fall 2018 season right. With a big win against Yale University this past Saturday, September 8, at Yale home field. The final score of the game was 38 AIC and 19 for Yale.
The men's rugby team is currently going through a lot of changes. From changes of coaches to probably the youngest team yet.
The boys are losing their head coach Rob Guiry but gaining one more assistant coach Corey Momsen alongside assistant coach Bryce Neff. Both Momsen and Neff are Alumni of AIC and both played for AIC Men's rugby team.
Being the youngest team yet is because the majority of their team is sophomores and freshman. They only have two seniors and five juniors for upper classmen.  So, now what's to come is see who can step up and take a leadership role.
AIC Senior Malik Walker showed some moves on the field this game scoring three tries — which the rugby team calls a "Hat trick".
Something that was said a lot from this first game is, that there is a lot to improve on, since it was only the first game of the season.
With the amount of mistakes in this game, there were also a lot of good things that happened as well. Overall, the boys know what they need to work on and knew it wasn't going to be a pretty game.
"The game went as we expected," said AIC senior Malik Walker.
Mr. Hat trick of the game knew what to expect and it was to be expected of an okay outcome.
Anyways, it was the first game of the season and there can be a lot of mixed emotions for some of the teammates whether they be a senior or a freshman. Everyone has pre-game jitters.
"Going into this game means a lot to me because I actually grew up in New Haven and I like playing here. There's going to be a lot of friends and family," said AIC senior Jonathan Ortiz.
"My pre-game feelings before this game are that I was pretty nervous, you know it's my first game playing college level. But I hoped to do very well and show what I can do," said AIC freshman Shane O'Brien.
When watching you could see the mixed emotions of the team whether they were struggling, or when someone scored a try the whole team would run together and cheer on the one player who had scored.
"I feel as though this was a great test for us in our season opener. The boys got a chance to finally test our new system in which we put in place. Yale also showed us our flaws. We also got to see what the freshman members in our squad can bring to the team," said AIC senior Malik Walker.
During the game huge impacts were made with the hits, ball passing, and communication. With the communication in a rugby game it is a huge factor, so when their playing they need to talk so they know what to do next.
Yale on the other hand didn't know what hit them and pretty much gave up during the second half of the game. That's because AIC had did a great job on defense and worked their way to turn the ball back over.
AIC kept control for most of the game, and didn't let Yale have any time with the ball.
Overall, what's next for AIC men's rugby?
Their next game is home at AIC against Rutgers University, Sunday, September 16th.
Hope to see great improvements of the team!