Women's Lacrosse: excited for the season ahead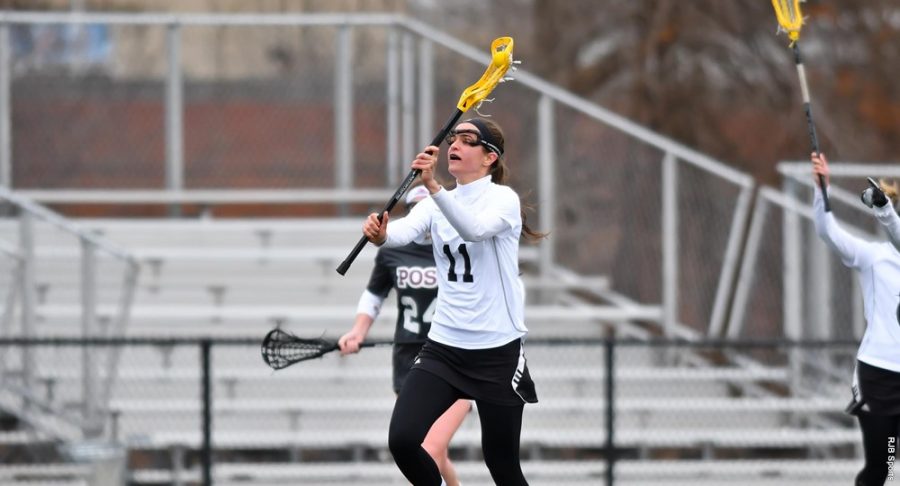 The AIC Women's Lacrosse team couldn't be more excited for the start of their 2019 season that lies just five months ahead.
They have started their Fall Ball training this past week, working on conditioning and stick skills to master it before the season.
The Yellow Jackets return their Head Coach Ashley Casiano for her fifth year and Assistant Coach Riley Brennan for her second. Along with 11 returning players and six upcoming freshmen.
The 2018 season for the Yellow Jackets didn't go as planned, but they have taken it as a learning year.
Coach Casiano said, "Last season was a tough one, we had many games where we came up just goals short. But that won't stop us this year. Our team wants revenge, we are going to have a great season."
The Yellow Jackets 2019 season opener starts early than before, with an away game at The University of Bridgeport on February 18th. Looking back on last season's 13-10 win over them, the team is ready to do it again.
Returning Senior Captain Mary Bates was a key player for AIC's attack, scoring 25 goals and 9 assists giving her 34 points for the 2018 season. Her dedication and hard work never went unnoticed and was influential to the younger players.
"Last year's win against Bridgeport was amazing," Bates said. "It was one of our more intense games we had. We were down 5-4 at halftime, and they came out strong scoring two more within the first few minutes of the game. But we were not losing that game, we fought hard until the very last second. I'm excited that they're our first game this year, I want to start our season off strong." Bates isn't the only one ready to start their season with a win.
Senior Captain Mikayla Demanche plays midfield, contributing on both offense and defense. She's a phenomenal draw taker, grabbing 33 draw controls, 29 goals, and 10 assists for the 2018 season.
"I can't wait for this year, plain and simple. We lost very good players last year, but we have 6 extremely talented freshman who I know will step up. I can tell this season is going to be a good one," Demanche said.
Sophomore returner Emilee Giacondino contributed tremendously to the Yellow Jackets offense as a freshman last season, scoring 14 goals and adding three assists. She is extremely hopeful for the 2019 season, saying she can already feel the team's strong chemistry.
"Last year's team chemistry was amazing," Giacondino said. "We all bonded so well, we were one big family. We miss the four seniors that graduated already, but the bond our team has created just within this first week of Fall Ball has been incredible. The freshman are have become extremely comfortable with everyone already. I can't wait to see the connection on the field."
The Yellow Jackets graduated 4 seniors this past season, all of whom impacted the team tremendously throughout their years. Those seniors were Jessica Fontana, Erica McLean, Caitlin Sobolewski, and Deanna Fortin.
The AIC Women's Lacrosse team sees a promising upcoming season for their program. With new and returning faces, they hope to shock the league and come out on top.