Super Bowl LIII earned mixed reviews
Hang on for a minute...we're trying to find some more stories you might like.
Boring, or exciting?
Super Bowl LIII happened on Sunday February 3rd, and many viewers have stated on social media that the game plus the half time show weren't exciting at all. Ditto for the advertisements.
It was the game of the New England Patriots versus the LA Rams, the Pats winning with a score of 13-3.
For a lot of viewers, the score wasn't that good, a lot of viewers comments stated how the game was "trash" or it felt like they were watching a "Week 3 game in the beginning of the season."
Other viewers felt as if the Rams weren't even trying to score.
There were honestly not that many highlights during the game and on top of that the commercials weren't all that great. Although many viewers took their frustrations towards social media, one of the biggest controversies were the lack luster of viewers.
According to social media, this year's Super Bowl had the lowest ratings in the last 10 years which ratings went down 18% compared to years prior.
One of the reasons why is pretty much obvious, a lot of fans of football did not tune in to watch the game in support of Colin Kaepernick.
We all know how this story first took place, with Kaepernick, a quarterback for the San Francisco 49ers, refusing to stand during the National Anthem in 2016 due to protest racial injustice and systematic oppression in the United States.
Well, there is a movement that is going around to "Stand with Kaepernick" and boycott the Super Bowl, people weren't going to watch due to the NFL blackballing Kaepernick for his silent protest against police brutality and racism.
Social media indicates that it is not a proven fact that the ratings were down because of Kaepernick but it is quite coincidental.
While that was just one of the reasons, another reason was because a lot of football fans felt like that got cheated out of the Super Bowl; i.e. the New Orleans Saints. In fact, pretty much all of Bourbon Street in New Orleans had like an "Anti Super Bowl Party" were it seemed packed and no one watched the game many fans felt like they should've been there.
One other reason why people felt like the ratings were extremely low was because of the half time show, which again ties in with people boycotting the game to take a stand with Colin. Many fans felt as if no African American music artist should perform during the show and a lot of people were furious at the fact that so many artists indeed turned down the show, including Jay- Z, Cardi B, Drake and others. But Travis Scott, Big Boi, and the only artists to ever be signed to Beyoncé the young twins named Chloe & Halle.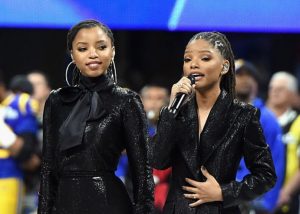 Fans were outraged because they felt like those artists should've turned down the offer to make a stand and boycott as well, but they didn't. Fans started using this trend called "cancelling" artists so in other words, not stream their music, don't go to concerts to watch their performance just cancelling them and boycotting those artists as well.
The half time went on with main performer Maroon five and had Travis Scott and Big Boi legit sing at least one minute each other their song and that was it.
Where as Chloe and Halle along with singing legend Gladys Knight performed the opening numbers in the beginning where the twins received a lot of backlash for being Beyonce's signed artists and not boycotting the game. So the Queen Bey herself decided to post on social media a video clip of the twins singing at the game and stated in the caption "I'm so proud of Chloe and Halle!"
Right now fans are in very confusing inner battle on whether or not to "cancel" Beyoncé as well.