Veteran journalist and AIC Professor Patrick Johnson visits the Journalism class
An early morning Journalism course at American International College became an information session when guest speaker Patrick Johnson walked into the classroom.
Johnson, a seasoned reporter with the Springfield Republican since 1988, visited the class to share how technology and changing times have impacted the newspaper and journalism industries. He also shared tips as to how he gets his own stories out every day.
A casual 50-minute class was taken over by this journalist, who covers crime and catastrophe in his job at the newspaper. He also teaches courses in media literacy at AIC
Journalism students were learning about beat reporting, giving Professor Mary Ellen Lowney a reason to bring in a real-life beat reporter.
Johnson works for both the Republican and MassLive. This career path helped him find his knack in reporting. He is responsible for reporting on the police and fire related news. Once he is on the scene, there is a sense of importance in the work he does. His notepad carries the stories of real people and real events. Helping the public know about these events creates an understanding of their community.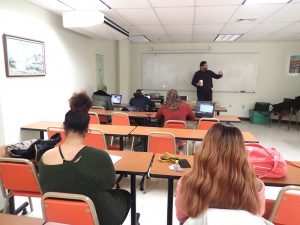 During this fascinating talk the students of the class learned a thing or two about beat reporting — A new age of reporting has arrived in journalism. Johnson is required to file a story online within minutes of reporting on it. Frequently, he sits in his car, using his iPhone recorder and his laptop to get information up almost immediately.
"Otherwise, another news outlet will get it first, and you've lost the jump on the story," Johnson said.
He added, "Speed writing is the biggest change in newspaper, along with technology."
But why is that?
The use of journalism in the "now" and is ultra-demanding.  Having the people know exactly what happens in the moment is in high demand.
Johnson also blends his love of reporting with a passion for data-tracking. He keeps an electronic file system of murders in Western Massachusetts, using Google maps, and Excel. His understanding of files has made it very easy to keep track of important information.
He has a whole Google maps document that can track exactly when and where and how it happened. This kind of news makes his own journalism easier to write and much more interesting. It also shows how far a journalist can go with organizing information.
Some information includes the number of people killed with their race right beside them. The number of black: 65 homicides, White: 46 homicides, Hispanics: 87 homicides. With this information you also have the total amount of killings have occurred in western mass in the past decade. This number is large considering the recent numbers, this number has reached 13,455 people.
For their part, students in the class said they learned a lot from his visit.
"I loved getting to the immense amount of work it takes to really be a journalist," said Annie Norton, a student in the class.
"It was fascinating to hear about how much he keeps track of the murders in Springfield and follows up with the Police Department every day that he's on the job. Everyone loved it," she added.
Prof. Lowney said she could see that the visit was most beneficial to the class.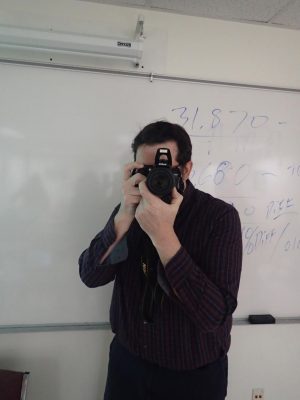 "Patrick Johnson gave them up-to-date information about how journalism works today," she said. "He's someone who knows about it because he practices the craft on a daily basis."
Having a journalist like Johnson walk into AIC and demonstrate the importance of maintaining information was vital for a student's understanding.