AIC honors student explores virtual reality
Graduating senior Cole Ludorf took an unusual turn in his honors thesis: He researched the past, present and future potential of virtual reality.
Ludorf, a New Media major, recently explained his honors thesis 'Exploring the Realms of Virtual Reality: Implementation and Acceptance of New Technologies' in a half-hour presentation in Amaron 113. Attending were his Honors Advisor Prof. Thomas Maulucci, the entire Communication Department faculty, and his fellow honors students.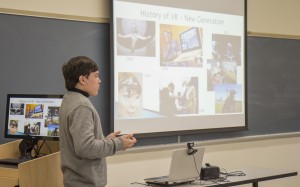 Ludorf explained his yearlong research project with PowerPoint slide show and a lengthy explanation of his research, which included a historical overview of virtual reality.
He then explained and demonstrated his own research, using a laptop computer the he built himself, a $350 Oculus Rift with headset, and a hand-made $15 cardboard Google Cardboard. Both devices enable users to enter virtual reality via video games.
His experiment involved 10 people, aged 17 to 55 years of age, trying out specific games for measured time periods, using each of the two devices. Ludorf created his own rating scale, measuring visuals, sound, performance and comfort.
His research showed a clear preference for the Oculus Rift, due in part to its comfort and ease of use.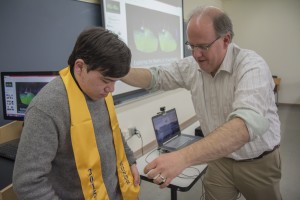 Ludorf outlined potential uses of the virtual reality tools, including job training and education. He said work needs to be done to perfect comfort, performance, and perhaps most importantly, to reduce the user problem of motion sickness.
"Two of my participants had to stop because they got sick," he admitted.
Another potential issue is having users become so immersed that they lose sight of reality – though that was not an issue in his research. One game he used was so frightening in virtual reality mode, however, that some users had to stop playing.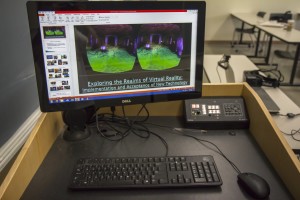 Overall, Ludorf said the technology has much potential.
"There are an uncountable number of guesses as to the uses of virtual reality in the future," he said. "It's being developed for games, but there are so many other uses."
Ludorf's fellow graduating honors students were scheduled to present the following week. They are Karlbuto Alexandre, a biology major whose research was 'Are E-Cigarettes Safer than Regular Cigarettes?' Amanda Johannes, also a biology major who researched 'Soil Manipulation with Corrosive Agents and the Effects of Bone, Tissue, and Teeth Degradation,' and
Nikki Naccarato, a Psychology major who researched, 'The Effects of Game Footage on NCAA Student-Athletes.'