Small kid, big lights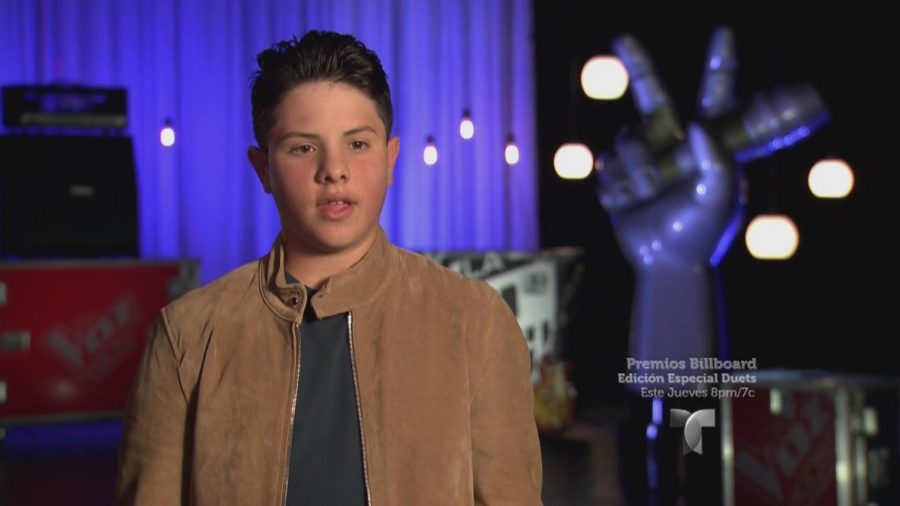 Angel Gonzalez, a native of Puerto Rico and now a freshman at AIC, was just 13 years old when he made his voice heard by the 'La Voz Kids' judges back in 2014.
He sang in front of Daddy Yankee, and other music artists. His once in a lifetime opportunity came when Pedro Fernandez spun his chair after singing one of his favorite songs, 'Voy a olvidarte' (I'll forget you).
Gonzalez was hit with the idea of being a contestant by one of his friends who was also a singer. He and his friend Javier Mendoza were both contestants, but his friend unfortunately didn't make it through the trials.
Gonzalez went through his trial back in Puerto Rico, he had to do an acapella then a song of his choice and one of the options that the voice had for him. He passed right through, finally flying to Universal Studios.
Gonzalez can still remember the days like they were yesterday, he spent one day from 7 a.m. to about 10 p.m. on one night. He had to wait in line for his name to be finally called.
He spent a total of 2 months away from home, singing his heart out to those people.
He explains his emotions as both shocking and indescribable, saying he felt almost as if he had been drafted by a major league baseball team. To that standard he said he has never felt such an emotion in his life.
Gonzalez now plays or intends to play baseball here at AIC. He has played baseball almost all his life. He even mentioned it on the show.
He has learned a few lessons throughout the whole contest, he says he learned one key lesson.
"You should always believe in your abilities," he said.
He went on to talk about finding your gift. Whatever it is that belongs to you, chase that dream.
"You miss the shots you never take," he said.
It is not everyday that you meet someone who has been the center of a telvision show at some point in their life. It means so much to be able to be recognized was what Gonzalez said. If he could go back to not make the final, he would do it again no doubt.
He no longer sings in gigs but instead sings at parties with friends and such.
Gonzalez had an opportunity to sing for those in need of care back when the hurricane hit Puerto Rico. It surely was a way to take away the pain and stress to the natives on the island.
It's easy for people to feel down and depressed after such a tragic thing it is such a nice thing to do for your community when they need it most.
It took a while to meet Angel, but he is as good as told. He is now someone around campus.
AIC sophomore and baseball player Matt Costanza said, "Angel has an amazing and mellow voice."
Nicholas Barnette noted, "I have never heard something like that, even though I am not exactly sure what he is saying."
Obviously, Gonzalez is a Spanish speaking singer.
Gonzalez has now moved on to living on a college campus where he studies and plays his favorite game, baseball. He is still having fun just by singing for and with friends. He enjoys the recognition he gets from his peers and even other people around the globe.
The run of an Angel will never truly end.