One for the Books: 79th Annual Model Congress
AIC's 79thannual Model Congress conference attracts high school students from all around the north east to participate in the nation's longest running simulated congress of its kind.
Each year since 1940, students come as delegates to debate legislation that they have written in hopes of earning recognition from our prestigious faculty judges and student staff. Up for grabs in this competition are scholarships to AIC, ranging from $5,000 each year for four years to a full ride to the institution.
Over the course of this three-day conference, delegates debate topics that are relevant in the United States as well as all over the world.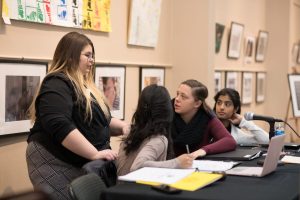 For this year's 79thannual Model Congress, the issues that crossed the debate floor did not disappoint. We heard passionate debate about the treatment of felons in prison, environmental protection, mental health, government reform and countless other matters that pertain to the political interests of the delegates and the country.
Sabis International Charter School's Rose McCaffrey, winner of the first place Kathryn Mauke Memorial Scholarship, received a full tuition-paid college experience for her exceptional performance in debate and knowledge of the subjects presented to her.
McCaffrey, who has participated in multiple model congress conferences, called the event superlative.
"AIC's Model Congress is an amazing opportunity for students to become exposed to the world of politics," McCaffrey said. "I have worked extremely hard for the past four years to get to this place and I am so grateful for the opportunity that I've been given."
She was especially grateful to have received the scholarship in Kathryn Mauke's name, as both were students at Sabis. McCaffrey went on to explain her excitement about her success and her plans to attend AIC in the fall.
"I can't wait to see the other side of things. I loved being a delegate throughout high school and I'm excited to move on to be a staff member in the fall," she said.
Joining Model Congress as a staff member is just as rewarding of an opportunity as competing as a delegate. Model Congress staff members are the backbone of the organization, supported by the Executive Board and faculty advisor. Matthew Scott, Dean of Students at AIC as well as the current advisor to the Model Congress organization, shared his thoughts on the conference and our team of dedicated students.
"I am always impressed by the amount of hard work that the AIC student staff members put into Model Congress each year," Scott said.
"They work long days and nights to ensure they provide the best experience possible to all attendees. This event really allows our students to hone their leadership and event management skills and it continuously reminds me why I got into this field in the first place. I am happy to serve as the advisor to Model Congress and look forward to getting to work on the 80th annual conference to be held next January," he added.
Many students shy away from joining the Model Congress staff, remaining under the impression that they need to be knowledgeable about politics or have experience in public speaking, but this organization has something for everyone.
As staff members, AIC students get to moderate debate on controversial and interesting topics while being exposed to the differing viewpoints of younger generations.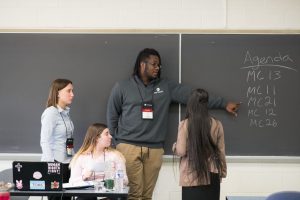 Samantha Schieppe, a sophomore Occupational Therapy major and first time Model Congress staff member, gave insight on what it was like to participate in this long-running tradition.
"I was nervous at first because I wasn't sure exactly what I had gotten myself into," Schieppe said. "But I was excited to try something new and get involved on campus with some of my friends." Schieppe was trained on how to be the chairperson of a debate session, and when asked about the experience she told us "It was interesting to see high schoolers taking on the role of congresspeople and talking about issues that they're passionate about. I learned a lot during the conference and I'm excited to participate again next year."
With eager and dedicated staff members, the 79thannual Model Congress session was said to be one of the most successful and well put together conferences in the past five years.
The students and faculty behind it all are excited and prepared to make the 80thannual Model Congress even more memorable.