World dance heats up the Campus Center Auditorium
Most honors students write a research paper as part of their requirements in this program.
For Elisheva Milov, it was a two-hour world dance production.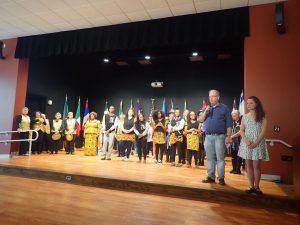 The show, entitled 'Unity Does Not Equal Uniformity', was held on Sunday April 7 in the Campus Center Auditorium. It was a culminating event for Milov's part in the Honors Program.
To a full house, Milov's remarkable show brought the audience on a world-wide tour through countries including India and Ireland, the territory of Puerto Rico, wider regions including the Middle East, the British Isles and the continent of Africa.
Milov made her points – that dance unites us, and that uniformity doesn't mean we are all alike – using the medium of dance.
Dressed in brilliant costumes reflecting the themes of their performances, dancers swirled and twirled, some balancing jugs on their heads, others flashing sparkly top hats, and still others adorned in colorful rags.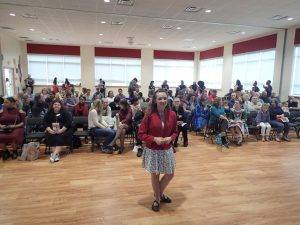 Milov, known on campus by her nickname 'Shevi', introduced each act, starting out with a brief explanation of her honors presentation. It took her nearly one year to plan it, and she learned a lot in the process.
"I learned about networking, leadership, communication, and so much more," said the sophomore, who majors in Occupational Therapy.
"This taught me a lot about team building, how to be patient, and how to work with different people. My hope is that my work will inspire a surge of unity," she added.
Milov's advisor and Honors Program Director Prof. Thomas Maulucci said she is the first honors student to use performing arts as her thesis, and he is pleased with the results.
"She showed that she could conceptualize and put together a show, and she even choreographed the Irish step dancers herself," Dr. Maulucci said. "The show not only required her to have an artistic vision but also some major organizational skills.
"I'm really proud of Shevi because she needed to finish the Honors Program in only two years due to her OT program, and she managed to do it," he added. "And the dancers and musicians were great! You're not going to see a better ninety minutes of entertainment at AIC in my opinion."
AIC Sophomore and Yellow Jacket Editor-in-Chief, Amber Ollari, attended and gave the show a top review.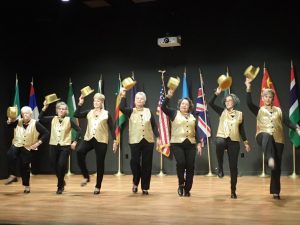 "It was great to see so many people come to the event," said Ollari, a Communication major. "It was fun learning about the different dances and of course watching them perform. I knew Shevi would do a great job and she did."
Kathleen Riccillo, Writing Specialist in the Noonan Writing Center, agreed.
"Shevi created an outstanding show with dance performances that portrayed the diversity of dancing styles and costumes in various countries," Riccillo noted. "The groups and the printed program described how culture influenced the music and movements, showing that dance is a universal form of expression. Shevi succeeded in proving her point in a uniquely, entertaining manner."
The performance included eight dance scenes, with an intermission that featured members of Stick'n the Mist, one of the dance groups, leading the audience through a large-scale British Isles-style folk dance, complete with live traditional music.
The first performers were from the group Bamba De Aqui, showcasing music and dance from Puerto Rico. Lead dancer Brendaliz Cepeda invited members of the audience to join in a lively number at the end of this performance.
Twelve young female dancers, in bright red and blue costumes, came next, with a lively Indian rendition of 'Jai Ho' Bollywood.
Third was AIC student Zakala Coffman, who smoothly made her way around the auditorium stage floor with modern music in the background.
Before the intermission was Stick'n the Mist, a Whately-based dance troupe featuring, among others, Milov's mother, Tricia Love-Walsh, who works on campus as administrative assistant in the Career Development Center, and her father, Artie Walsh. Milov's brother Noah Dailey and sister Julia Milov danced in this part of the show.
After the intermission came Tap Hats and Pearl Dancers, a golden sparkly-clad troupe of women who brought the audience back to the glory dance of stage dancing. They hailed from the West Springfield Senior Center.
Then came Body Wave, featuring dancers Amy Cullen and Emily Joseph in a captivating Middle Eastern number, complete with belly dancing, costumes and large jugs which they balanced atop their heads during part of their number.
NIA Arts livened up the stage with 'Sorsonet Rhythm', a West African dance number. NIA Arts is a regional organization partnering with schools and faith-based groups to educate and entertain through this mesmerizing style of music and dance.
Finally, the Reel Team came out, with eight dancers showcasing Irish Step, in a performance choreographed by Milov herself. That number featured Milov siblings Noah Dailey and Julia Milov.
Milov told the audience that she has been Irish step dancing for 13 years, including teaching the genre for the past 5 years.
After the performances, Milov called all dancers up to the stage for a rousing applause, thanking them for their time and for sharing their talents.
As for herself, the afternoon was the culmination of a lot of work, and a pleasure for her to oversee.
"I enjoyed this immensely," Milov said. "I was able to learn so much from these amazing people. Everything about it was just great."