Radiologic Technologist Describes "Surreal" Circumstances At Cooley Dickinson
"Thank you, frontliners." It's a quote we see almost everywhere, whether on TV, social media, street signs, or any number of other places.
But what is it like to actually be a frontliner during the COVID- 19 global pandemic? Tyler Leclerc, a radiologic technologist at Cooley Dickinson Hospital in Northampton, Massachusetts, weighed in by stating, "My days are very unpredictable."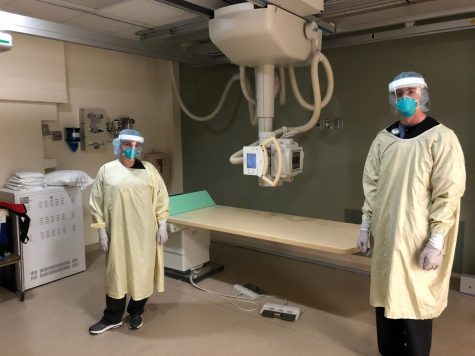 While there is not an exact number of tests performed, according to Patch.com, as of April 22, there have been a total of seventeen hospitalizations cases, and six cases in the ICU at Cooley Dickinson. Leclerc explained, "It is extremely chaotic and at times surreal."
"You know when you watch Grey's Anatomy," Leclerc said, "and there is always something going on, and you can't move in the hallways? It's like that."
As someone who does watch Grey's Anatomy, I'll admit I always thought it was like that. But to realize that it has come to that now really puts things into perspective.
Leclerc explained that before the Coronavirus outbreak occurred, the radiologic technology staff was already short-staffed. "It is not uncommon that we don't get lunch," Leclerc said. "We tend to work through the full eight hours, trying to play catch up for the work that needs to be done." Leclerc followed up with saying, "The most I personally have X-rayed in one day that I know of was thirty-seven."
Watching the news, you are recommended to wear a mask when you are out of your house. Some people wear gloves but some people don't wear anything.
It has been an issue that hospitals and offices are not providing proper Personal Protective Equipment (PPE), because there are limited options available. Leclerc touched on the fact that they do not have proper PPE at Cooley Dickinson. They are required to wear an N-95 mask, which is supposed to be for a one-time use only—for five whole days for presumed positive cases. "Which is almost everyone," he stated.
Leclerc took me through the process with how they are required to go in to X-ray a patient who is presumed to have COVID-19. "We are required to wear gowns, gloves, protective glasses, a face shield, hair net, and an N-95 mask, and a disposable mask that we are required to wear during our whole shift."
The hospital has not been running like it used to. He explained that the hospital updates the protocols and guidelines multiple times a day. The hospital has tried to limit the amount of procedures they are performing and are trying to delay elective surgeries. Leclerc touched on the fact that if a patient goes in and is willing to risk getting sick from going into the hospital, then they cannot deny them from getting imaging.
"By doing this, it becomes dangerous for us," Leclerc explained, "because we do not know if they have been exposed. And it's dangerous for them because we are exposed every day to positive cases."
Leclerc explained that he is grateful for all the recognition and concern for those working on the front lines. However, the praise does not change his main concern about potentially bringing it outside of the hospital to his family.
"The amount of patients that we see every day is extremely dangerous," he said, "and it affects our lives outside of work as well. I worry that I may bring it home to my family.  I make sure to be extra cautious of leaving shoes at work and showering as soon as I get home."
During this time, it is important not to take the recommendations lightly. They are put in place for a reason. Leclerc noted, "Although some people feel invincible, this virus is serious and affects everybody differently. You may not get it, but that doesn't mean that you won't give it to someone else you care about."