AIC celebrates "Moose Appreciation Day"
We can probably all agree that there's no single individual on campus that's more outgoing and personable than Kevin Panetta, more commonly known as "Moose."
Moose, a lifelong Springfield native and AIC's favorite custodian, may be often busy running around campus taking care of work orders and setting up events, but it's never beneath him to stop and say hello in the middle of the quad or take a few minutes to catch up outside the Hive. He can often be seen sitting on the steps of the Campus Center, chatting with students while on his breaks.
Moose genuinely loves being with the AIC student body — whether he's laughing and joking around with them or playing the role of a dad and lending advice, or just listening to a student vent. He mingles and socializes with just about everyone, from his home base of the Campus Center.
Those who have worked here at AIC over the summer know that Moose is out of his element when there's no students on campus other than the handful of summer work-studies. The morning after Commencement 2016, he was already counting down the days until orientation and move-in.
Moose religiously attends AIC sporting events and could probably rattle off every starting lineup for every team on campus from the last decade. On campus, he has a nickname for pretty much anyone who walks by him.
Bottom line – everyone at AIC absolutely loves Moose.
He's obviously a major part of the AIC family, and that's exactly why AIC came together to honor Moose last week with "Moose Appreciation Day."
On Tuesday, April 18 during C-Hour, nearly 200 students, faculty and staff gathered in the CCA for a surprise party honoring Moose and celebrating his 10th year of employment on campus.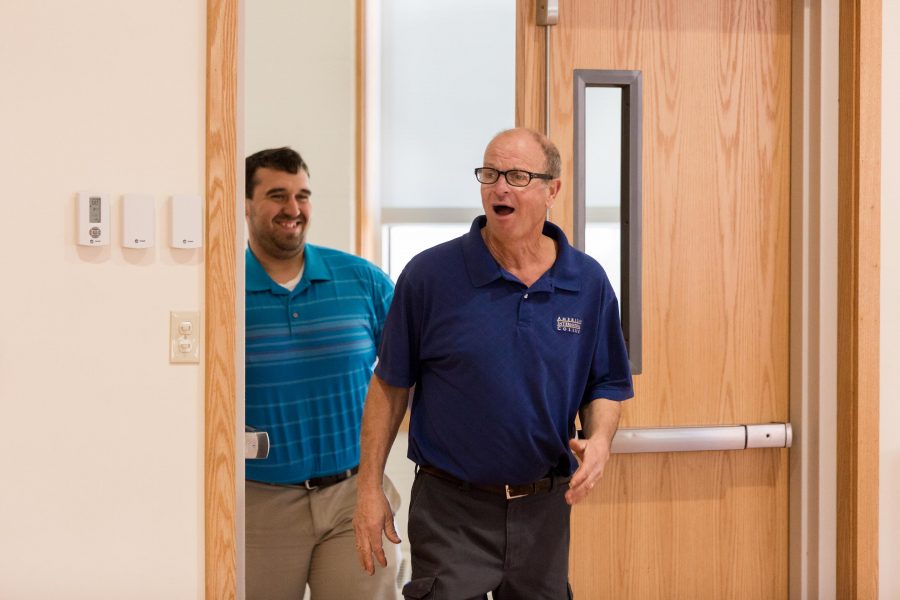 Those in attendance got to stuff their own Moose stuffed animal, received black "Keep Calm And Love Moose" t-shirts, and fittingly, Moose Tracks ice cream was served to the crowd. A "Moose Appreciation Day" Snapchat filter was even set up for the day.
Everyone in attendance crammed around the back of the CCA near the stage, and when Moose was escorted across campus into the CCA by Collin McQuade, he broke down in tears almost instantly as the crowd yelled "SURPRISE!!" Moose's wife and family were even in attendance, much to his surprise.
"It was difficult keeping him away because the Campus Center is basically his home. As we were walking around he's like 'let's go, let's go,'" McQuade said. "I finally got him to get to his room and eat his lunch, and then I finally got the text to bring him over."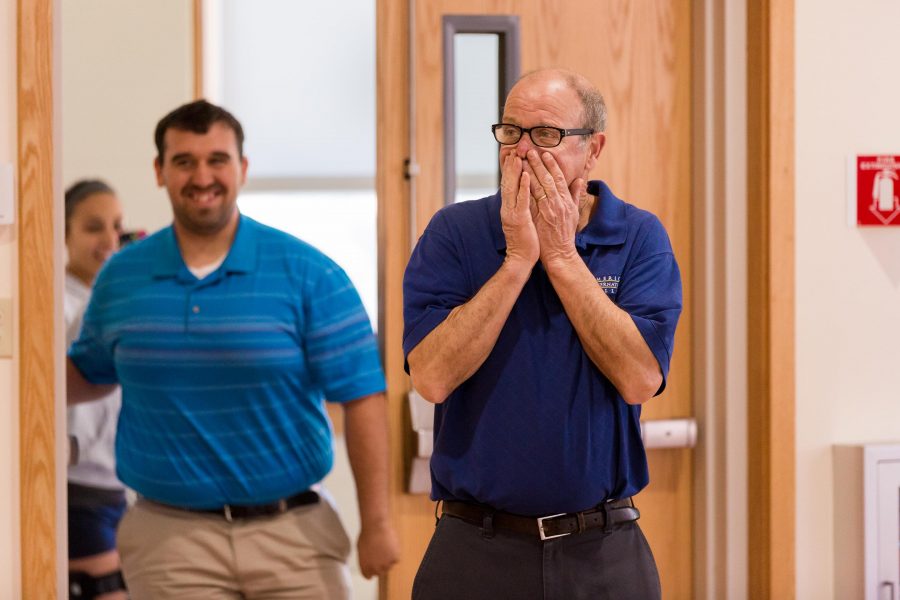 "Of course, he had to stop and talk to every student along the way," McQuade added. "But overall, the event turned out great."
Jazmine Baehr thanked Moose for all he does for the AIC campus community, and the AIC Hockey team presented Moose with his own customized jersey and thanked him for being a loyal spectator of AIC athletics.
Some in the crowd were brought to tears themselves, and students could be overheard saying that "Moose Appreciation Day" was the most meaningful event staged on campus in years.
The Moose Man himself gave his reaction to the surprise party, which he stressed was "overwhelming."
"It was overwhelming, unbelievable. It was just awesome. I knew something was up, but I didn't know it was that intense," Moose said. "I had no idea my wife, Cheryl, son Ryan, daughter-in-law Jess and granddaughter Aubri would be there, it was overwhelming to be honest."
The surprise party had been in the works throughout the semester – details were kept under tight wraps and student leaders were practically sworn to secrecy so no one would spoil the surprise.
Baehr and other student leaders helped organize "Moose Appreciation Day" – she reached out to fellow student leaders in January to alert them of plans for the surprise party.
"I saw this thing called 'Dude. be nice' on Facebook, and they post about kindness and videos like this of people who deserve it … that's their entire organization," Baehr said. "I emailed them because I thought we needed more love and appreciation on campus, but they were busy so I just did it on my own."
Word of the surprise party spread quietly around campus, and the turnout at "Moose Appreciation Day" was great.
"Moose is the heart and soul of our campus, so we thought it would be a good idea to start off a new campaign for love and appreciation on campus with 'Moose Appreciation Day,'" Baehr said. "He's so important, because literally none of our events on campus would happen without him."
It was a great day to be a member of the AIC family, as everyone came together to honor a man so important to our daily life on campus.
We want to thank Moose for everything he does for AIC, and for being a great person that can brighten any student's day instantly. Moose truly is the heart and soul of our campus.