New-look Stinger Pub back in action
Hang on for a minute...we're trying to find some more stories you might like.
What do you think of the newly-remodeled Stinger Pub?
Love it, better than ever (67%, 16 Votes)
Neutral (21%, 5 Votes)
I miss the original Stinger! (13%, 3 Votes)
Needs work, room for improvement (0%, 0 Votes)
Total Voters: 24

Loading ...

The launch party of the newly designed and renovated Stinger Pub on Thursday, August 31 was a success, enjoyed by many students and faculty of the American International College campus.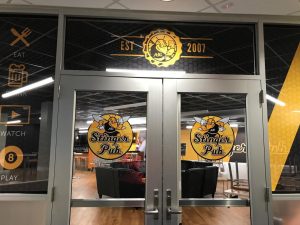 The Stinger Pub was upgraded over the summer in a stylish way, giving the vibe in the on-campus bar below the DC more of a community feel.
The Stinger is now furnished and decorated with high tables, couches, lots of AIC memorabilia on the walls and larger than life photographs of our own athletes on the pillars around the bar. The pool and foosball tables have also returned to the bar.
The Stinger Pub first opened in 2007 and ever since, it has been the popular "hang out" spot on the AIC campus. The Stinger sat dormant for awhile when the AIC Dining Commons underwent construction in 2015.
But when the Stinger officially came back in early 2016, it didn't have that "college campus feel" to it and didn't have much to offer for students.
When the Stinger was first remodeled and reopened last year, there were no decorations on the walls, no wall decals, and nothing but booths, tables and televisions. Many have said it looked like a "typical hotel bar."
But now, the new-look Stinger is sure to be a crowd pleaser with its new decals, and its vast collection of AIC souvenirs and pictures on the walls.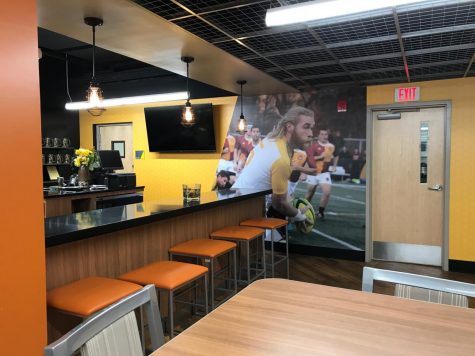 AIC is known for being a dry campus, however the Stinger is a wet place on some nights – specifically, Mondays, Wednesdays and Thursdays. Being wet of course means you are able to drink if you are of age, so bring your ID at the door.
For the underage students, you are not turned away from the doors – you are allowed in, but you won't be able to drink beverages of the alcoholic variety.
The Stinger offers a brand new variety of pub food such as pizza, nachos and so much more. There are also many beers and wines to choose from with special $2 drink specials, so make sure to ask the bartenders about what specials are available. Non-alcoholic drinks are also offered.
College can be very stressful, so having a place on campus close enough to walk to is convenient for all students. The main point of going to the Stinger should be to enjoy the activities, meet new people, and just be able to create new fun memories.
With everything the Stinger has to offer such as pool, foosball, Monday Night Football, and Wednesday Night Trivia, the Stinger Pub is definitely going to continue to be a huge success throughout the entirety of the 2017-2018 school year and for years to come.
Some students are giving the new Stinger high grades.
AIC student Christian Ortega commented on the new appearance of the bar.
"I like the sporty look. I enjoy all the posters of the different teams on campus. It really looks like a pub now," said Ortega.
Senior Nursing student Katrina Gandt was one of the many students that attended the grand reopening of the Stinger. When asked about what she thought of the new and improved Stinger, Gandt stated that "the availability of the foosball and pool tables are definitely highlights which will keep the students coming back."
"I also love all of the drink specials they have to offer," Gandt added. She finished by saying that the Stinger feels "much more laid back" after the renovations.
Sarah Coucci, a graduate student at AIC, agreed.
"I really like the improvement of the Stinger! I think it feels a lot more like a college bar and includes many of the great athletes and sports teams on campus," Coucci said. "I am really glad that they brought a pool table back as well as a foosball table. The addition of the popcorn machine and $2 drafts really makes me want to go more often."
Fellow grad student Jennifer Fannon could not make it to the re-launch, but she spoke positively about the new Stinger.
"It captures what our school is about and it looks like it fits our campus much more," said Fannon.
In years past, the Stinger was also known for hosting many events put on by clubs and organizations throughout the school year, so keep your eyes and ears open.
What students want is a meeting place – somewhere to go after a long day so they can plan their evenings of going out. These days, people check social media to see what's good for the night or even if they want to make a trip off campus to a bar. That's why with the Stinger, students would attend only if everyone on campus would go.
In interviewing students from a variety of ages, they had a lot to say about the new Stinger – some people love it, and some people just wish for more improvements. Not all are in agreement on the new place.
While Jihad Khabir says the renovations look nice, he made an interesting comment on the project.
"There are nice touches to the new Stinger, but the same problems are occurring, and I believe it was a misallocation of funds," Khabir said. "It could have been spent in an area that needs it more. Plus, it isn't really a place that is made for students under 21, and I think we should have more activities that incorporate all of campus, not just the ones above drinking age."
"I like the old Stinger better, the one that was there about four years ago. I liked that they had a separate room for the pool table," said Coucci. "My favorite thing about the old Stinger was the $5 pitchers and the challenge to be a part of the VIP mugs. That is a great incentive for the students to support and encourage different events around campus."
Domo Cammock, an graduate student, shared her thoughts on the new-look space.
"When we had the old Stinger before they remodeled it, there was a dance floor, pool table and the rest. There's not enough room anymore to be free and have fun like college kids should," Cammock said.
Added Coucci, "I think the Stinger should have more activities for students. It will allow the students to meet new people and also, they would have bigger crowds if they have more games and activities that related to the college student's preferences."
Ortega, and Lauren Spoon agreed.
"I think the Stinger should have different activities. I would love to play beer pong against some competitive people," said Ortega.
"They should add more bar activities because more people would come to the Stinger," Spoon said.
Everyone else who was asked the same questions in regards to the Stinger all had similar answers. This is something to take in, but also can be improved on.
For people who don't know the Stinger is open Mondays from 5-11 p.m. (Monday Night Football), Wednesdays from 5-11 p.m. (trivia night), and Thursdays from 4-11 p.m. Right now, the deal they are featuring is $2 Bud Light drafts.
You can get more information about the AIC Stinger events on their website, www.stingerpub.com.