AIC students react to the coronavirus
On the evening of Thursday, January 31, the World Health Organization declared Coronavirus a public health emergency of international concern. While there is growing concern about the virus among AIC students, it is tempered by concerns about hysteria and racism.
With the rising number of infected people outside China, WHO leadership changed its stance due to the "potential of a much larger outbreak." The week before, the organization said the virus did not warrant the emergency declaration.
CNN is reporting at least 170 people are dead and more than 8,100 cases have been confirmed in Wuhan, China. Nearly 60 million people have been under full or partial lockdown for a week. The city of Wuhan has been almost entirely sealed off from the outside world.
There are more than 100 confirmed cases in 20 places outside of China, with India and the Philippines reporting their first cases.
It is important to remember that not all suspected cases reported in the media turn out to be coronavirus. The Costa Smeralda Cruise ship docked at the Civitavecchia port, north of Rome, on January 30th.
Two cruise ship passengers had a respiratory illness and were suspected of having coronavirus. As a result, the 6,000-passenger ship was quarantined.
The following night, the Italian Ministry of Health confirmed the passengers had the flu, the H1N2 strain of influenza. It is still unclear when the ship will be allowed to depart.
Alivia Mackie, a first-year nursing student, thinks that "everyone in the world should be concerned."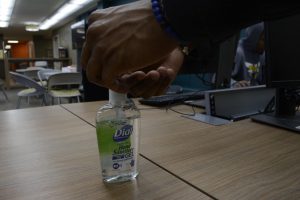 While cases are still uncommon both within and without China, she noted that concern has been growing because of reports "that it's very life-threatening and can spread very quickly."
Not everyone was initially as concerned as Mackie. Sean Johnson, a sports management major, said that the first reports did not grab his attention.
"I'm gonna be totally honest with you," Johnson said, "I thought that everyone was just overreacting. But over the past week, that is all I keep reading about."
In the United States, the White House announced the creation of a coronavirus task force under the authority of President Donald Trump.
The task force has been meeting daily since Monday, January 27. The task force will lead the US Government's response to the current coronavirus outbreak.
According to a statement, the task force "will lead the Administration's efforts to monitor, contain, and mitigate the spread of the virus."
As of January 31, five cases of the virus have been confirmed in the United States. The White House notes the risk of infection to Americans remains low.
Mackie reminds students that taking simple steps can help prevent any virus, be it coronavirus or the flu. "The biggest thing to me is just making sure to keep my hands sanitized and washed daily, along with staying hydrated. Those are my keys for not getting sick."
As panic spreads and with the virus garnering more and more attention, this fear has also taken another dark form. With the first reported cases coming from Wuhan, China, racism against Asians has been on the rise.
The hashtag #Imnotavirus has been gaining traction on Twitter, with Asians of many ethnicities reminding people they are not walking pathogens.
The New Zealand Herald reported that a Singaporean woman said she was confronted and faced racist harassment in a mall. There have not been any cases of coronavirus confirmed in New Zealand.
A Malaysian-Chinese social worker in London told CNN that a man quickly moved seats when she sat down next to him on a local bus. "A couple of people at an East London school I work in had asked me why Chinese people eat weird food when you guys know it causes viruses," she said.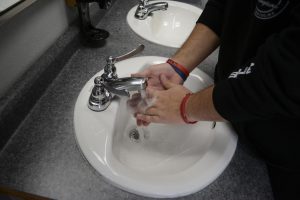 WENY posted an article on the "New Yellow Peril" and how legitimate fears of an epidemic fuel racism and xenophobia. Some of the cases they mention include Chinese children being bullied or singled out at school in Canada.
Johnson felt that the treatment Asians have been facing as the outbreak spreads has not been fair. "They should not be judged because they are sick. Everyone gets sick, and it's our job as human beings to help people in need."
WENY also noted a tourist in Vietnam photographed signs outside restaurants declaring "No Chinese." The tourist who took a photo told CNN the sign appeared within the past week. Similar signs have also been posted outside a Japanese shop turning away Chinese customers.
Johnson was appalled to hear these reports. "Americans wouldn't like it if we were to have an outbreak and the other countries didn't want to help."