Identity Fraud Stings Student at the Hive
Liz Day, Staff Writer
October 28, 2021
On February 19, 2021, sophomore Catherine Desrochers, an AIC nursing student from Watertown Connecticut, went to buy her usual veggie burger dinner at the Hive. She ordered her meal proceeded to check out. But when she swiped her card at the register, she found that her dining dollars account had been wiped.
This was not the first time that this happened to Desrochers. It had been an ongoing problem for her during the fall 2020 semester, so Desrochers was not surprised. Or happy.
Each student at AIC has a few options of meal plans to choose from. All include a variety of meal swipes for the formal Dining Commons and a reserve of "dining dollars" to use at the restaurant-style dining hall (better know as the Hive), or at the Boston road Domino's. All students must pay for a meal plan if they live on campus, as Desrochers does. At the beginning of the spring 2021 semester, she had $200; after February 19, she only had $9 left.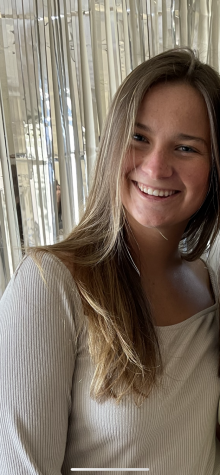 Desrochers told me her side of the story in an interview. "I went to the Hive to buy a veggie burger," she said. "I never ask for my receipt, but you know, I just wanted to know how much money I had left. Got my receipt and I had nine dollars… I immediately knew that someone used my card again because it happened last semester."
Desrochers knew what to do next. "While I was waiting for my veggie burger, I emailed Tina Perin." Perin is the office manager of Dining Services on campus. "She already knows who I am and my situation… She told me to go to campus police, report the incident, and then hopefully get my money back."
After researching this matter, I began to understand that the school holds the student responsible for protecting their own ID number and keeping their ID with them at all times. However, the school and campus police do not offer a real approach or solution to those students like Desrochers who have had their ID numbers compromised.
Desrochers had $139.97 taken from her account. She discovered later on in the investigation that this was a charge from Domino's on Super Bowl Sunday. The school did eventually reimburse Desrochers. "However, it took a very long time," she said. "I had to keep calling campus police like five days in a row. I couldn't get ahold of the officer who took my report, so then I ended up speaking to a lieutenant."
The whole process took three weeks. After Desrochers filed the initial report with police, she had to wait for the investigation to run its course. "I filed the police report," she said, "and then they [campus police] have to contact Domino's and trace the call and make sure it wasn't my voice or… prove it wasn't me in any way."
Desrochers, like every student on campus, has to have her student ID on her at all times to prevent situations like this from happening.
After sitting down with the area coordinator and resident director of Edgewood and Acorn dorms on campus, Troi Branham, I came away with a better understanding of just how important ID protection can be. A native of New Haven, Connecticut, Branham has been in this position on campus for almost two years.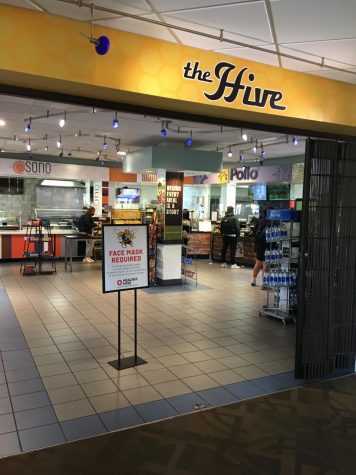 Branham emphasized the importance of having your ID with you at all times if you are a student, saying it's not "just for safety reasons, but because it holds all your meal swipes and your Hive bucks with dining dollars. But it also gets you into all respective buildings."
Although Desrochers' situation isn't the most common, it is also not unheard of on campus. Branham explained the severity of the situation. "There has been a big issue, unfortunately" she said. "The way it's set up, we can't really refund those swipes and dining dollars. That's the reason why there is a campus-wide push for just keeping your ID on your person at all times."
Branham could not stress enough how important ID management is. "If you lose your ID, you should report it immediately to campus police." She also said there is a short window to find a stolen ID. "Let your RD or RA know as soon as it's missing or stolen, because then we can track the swipes."
During the fall 2020 semester, Desrochers lost her ID and went through the right process to get a new one. However, her old ID, with all her information, is still on campus being used by another student to buy food.
Desrochers shared with me that the school and campus police offered her no assurance that this situation would not happen again. Desrochers shared her worries. "They said it would be too hard to… switch my ID and get a new number. So they could take my money at any time they have my ID number."
The Domino's manager, Jalene, was very sympathetic to Desrochers' situation, as she explained to me during a phone call. "They [AIC students] are honestly our biggest customers," Jalene said, "so we have a really good relationship. We like to have them come in here and we try to give them the best deals… We try to bring out the… little coupons for roommate specials and everything. We try to get those out, but we run out so fast!"
Jalene, who as of last spring had been a manager for a year at the Boston Road location, said that all drivers do ask students to show their IDs when delivering, and added she has been contacted by campus police regarding stolen ID number cases. The process that Jalene has to follow with campus police is pretty simple. "When campus police come to talk to us," she explained, "and tell us… 'Hey, someone stole this person's ID, and they didn't order,' we basically just give them a refund. So, we basically just give them their money back."
This is an ongoing problem on campus that seems to have no solution. Campus police move slowly with cases like this, even though it affects student's ability to live comfortably and securely. It took Desrochers chasing down officers and calling every day just to get a reimbursement, but they offered her no justice or solutions. She shared her frustration about the process and about the lack of communication from campus police. "My parents wanted me to go to the actual Springfield police… At the end of the day, it is fraud, and they have access to basically all my stuff with just my ID number."
Campus Police chose not to participate in an interview after weeks of reaching out to ask for their input.