Political Science Triple-Major Helps Make "Her"story on the Gubernatorial Campaign Trail
It's safe to say that the time between September of 2022 and November of 2022 was life-changing for me. During this period, I was lucky enough to intern on then-candidate Maura Healey's gubernatorial election campaign.
Let's rewind a little to where I got my start. During the COVID-19 lockdown, I began to have an interest in elections. How do I get a candidate to win? What tactics will put my candidate on top?
I joined Congressman Richard Neal's re-election campaign in the summer of 2020. Interning during the pandemic was… interesting. It was mostly remote, but when restrictions started to lift we were able to do some things in person–like canvassing, which means going door to door asking how people are likely to vote.
After a successful campaign, I wanted to get involved again. This time it was November of 2022. I saw that both Georgia senate seats were going to a runoff election. I got involved as a digital volunteer and was posting TikToks for Jon Ossoff and for Reverend Warnock's campaign.
Most recently, I joined the democratic nominee for governor of Massachusetts, Maura Healey. If she was elected, then-candidate Healey would be the state's first woman governor, and the nation's first openly lesbian governor.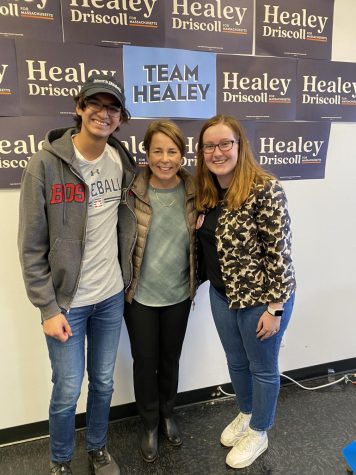 My daily tasks included phone calls and organizing volunteers. On the weekends, I was canvassing. I was doing all of this while working two jobs–on top of a full course load as a triple major!
Along the campaign trail, I was lucky enough to meet with then-candidate for Lt. Governor Kim Driscoll twice, then-candidate for Attorney General Andrea Campbell, and then-candidate Healey, along with several other local and state officials. I made connections that will last a life time.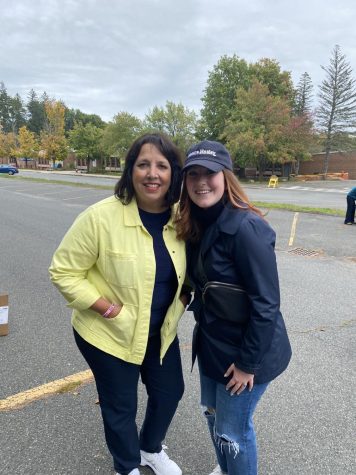 On November 8, election day, I woke up at 5:00 am. I dropped "lit" (or door hang-tags reminding people to vote) from 5:00 am to about 4:00 pm, before I got on the road to Boston for the Democratic ticket's election night party. By the end of the day, I had walked almost twenty miles.
At the party, I heard from speakers such as Michelle Wu (the Mayor of Boston), Ayanna Pressley (who is the US Representative from CD-1 in Massachusetts), Lt. Governor Driscoll, Governor Maura Healey, and US Senators Ed Markey and Elizabeth Warren. It was a night I will never forget.
I learned so much from this internship, and I am so appreciative that I was able to help make "HERstory" in Massachusetts.