Super Bowl LI at the Stinger
Hang on for a minute...we're trying to find some more stories you might like.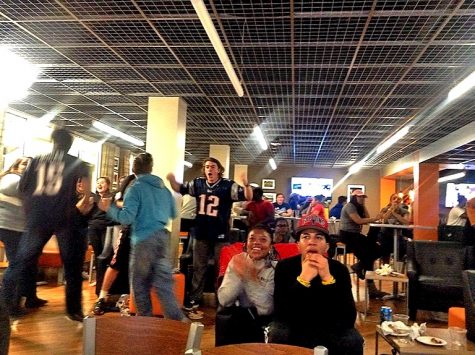 Gooey mac n' cheese, spicy hot wings, and even a make-your-own nachos station were laid out on the night of February 5 in the Stinger Pub, as students of American International College set aside their differences in team loyalties and came together for Super Bowl LI.
The big game featured the New England Patriots vs. Atlanta Falcons, and a lot of nail-biting as the game went on.
Little did the sports fans of AIC realize they were about to witness Super Bowl history right in the comfort of good friends and great energy.
During the first half of the game, the Falcons absolutely dominated. By halftime, the game seemed to have a clear outcome and with Patriots fans at an all-time low, some even left right after the halftime show, giving up on their team.
But loyal Pats fans such as Samantha Webber, an AIC staff and student, stuck around until the end.
"It looks horrible," she stated at one point. "They're slacking. They're not playing their game."
Webber spoke what was on practically everyone's mind. The Patriots seemed to have forgotten how to play football, and if they do not learn again quickly, it would cost them the game.
"There are plays that are really good, then some that are really bad," Webber explained when asked about her predictions for tonight's outcome.
"He's (Brady) having an off half but hopefully he'll pick it up, and pick the team up, but we won't really know until we start playing again," she added.
But other AIC fans were downright enjoying the Patriots struggles, including Atlanta Falcons fan Jeremy Fair.
"We're looking really good right now. Just gotta stay strong and finish the game," said Fair with a confident smile. "I'm a die-hard Falcons fan, that's my team win or lose. We just gotta keep a level head even though we're up, we are still playing the Patriots," he added.
The halftime show proceeded with performer Lady Gaga jumping from a pedestal only to be suspended in air and slowly lowered down onto the stage.
She performed some of her hits from the 2000s such as 'Poker Face' and 'Just Dance' all the while with professional dancers and choreographed glow-stick-wielding audience members.
Kiana Robinson, choreographer for AIC's Queen Bee Dance Team, gave her thoughts on Gaga's performance.
"It was good," said Robinson. "It was kept nice and simple but still enough to be visually pleasing," she added. "I thought her legs looked killer."
AIC student Kristen Joseph gave her opinion of the performer rather than the performance.
"She looked like a spider monkey while she was in the air. I love spider monkeys. They're my favorite animal, so I guess you could say I was pretty impressed," Joseph said.
Besides the game and the halftime show, the commercials were quickly becoming the topic of the night. Highly anticipated movies such as 'Transformers: The Last Knight (in theaters June 23)' and 'Pirates of the Caribbean: Dead Men Tell No Tales' (in theaters May 26) surprised everyone with their unexpected spotlight.
Perhaps what really became a conversation starter were how political the ads became. One tear-jerking commercial even told viewers halfway through to go to their website (lumber84.com) to view the ending because it couldn't be aired on television due to Trump's pro-wall stance.
With the Falcons leading 21-3, the halftime show had ended and the Patriot fans sat down for their execution while the Falcon fans cheered on… Or so they thought. As if by some miracle performed by Brady's already-a-meme prayer during halftime, the Patriots learned how to play again and suddenly began dominating the field.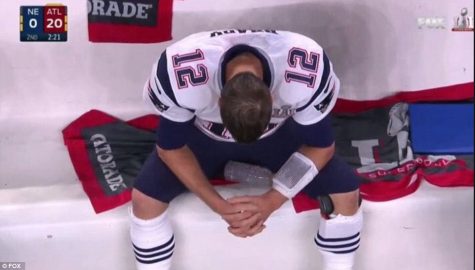 Very quickly, the Patriots were only down by eight points and the atmosphere in the Stinger shifted to one of utter chaos.
"This is do-able," Brian LaValley, a Patriots fan, stated during a commercial break. "I don't think I can take anymore disappointment at this point. I just really need this to happen," he said.
At exactly 10:07 p.m., the Patriots and Falcons were tied, and chaos broke out in the Stinger Pub.
The game went to overtime for the first time in Super Bowl history, and a little after 10:30 p.m., James White plowed through the Falcons and landed the final touchdown that won the game.
For a while, all you could hear was noise in the Stinger, as AIC Pats fans cried in victory and AIC Falcons fans just cried.
"This was the best Super Bowl of all time," AIC student Malik Webb stressed. "I swore we lost. I was not expecting this. All my (Falcon) friends are mad," Webb added.
When asked how a Falcon fan felt about the outcome, Danielle Powell began laughing.
"It sucks. What started out as a good game took a turn for the worst after halftime hit, and my team lost," Powell said.
Upon exiting the Stinger Pub, more screaming ensued, followed by an echo of 'shut up's' from the uninterested and sleepy residents of Hines and Pouch Hall.
An unnamed freshman ran around shouting "We won!" and tackled LaValley on the ice rink located on the quad.
One quote to summarize the night's conclusion would be from Samantha Webb.
"The Patriots are the best, everyone knows it and this just proved it."