Senior Spotlight: Bis Breaks Program Record to Close Out Lacrosse Career
Madison Bis broke the program record for career caused turnovers on the road at St. Michael's College in a 18-15 NE-10 win. Madi has caused 72 turnovers for the AIC women's lacrosse team in Springfield, Massachusetts, the most ever in program history.
The physical therapy graduate student has been on the team for five years and has served as a captain for the last two seasons. Bis has started in every game she has played for all five years. Her first season in a black and yellow uniform, she was named to the NE-10 all-rookie team. She has been the backbone of the defense, collecting 83 ground balls and has even been the Yellow Jackets spark of offense finding the back of the net twice and giving out two helpers.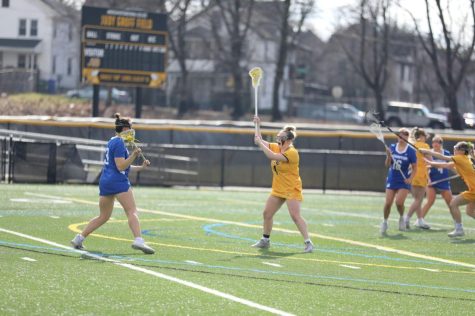 Bis, a Colchester, Connecticut native, has been playing lacrosse for 14 years. At AIC her skills were used mostly on the defensive end where she used her quick hands, stick skills, and strength to upset the NE-10's nationally ranked opponents. However the defender has "dabbled on attack," starting three games on attack in the 2021-2022 season.
Bis shared her thoughts about her time at AIC. "I play for my teammates and try to put in a hundred and ten percent every game," Bis said. She described her team as "Silly, but a good time. Everyone on the team is a hard worker and I love playing with each and every one of them!"
Bis's favorite memory on the field was "Stopping the open net free position shot against SCSU my freshman year." This clutch play also landed her on the NE-10 highlights of the week and got her nominated for "Top Play of the Year" at AIC athletics.
Seth Dussault, the iconic voice of the Yellow Jackets, shared his thoughts on #4. He has watched her all five years from the press box and has always admired her versatile style of play. He shared, "From the start, she was a determined player. Her work ethic and raw skill was obvious. But she learned to focus on it over her time here and that's why she continued to get better and more complete as a player."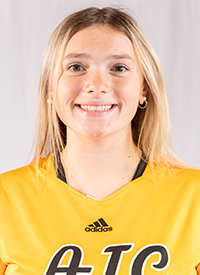 Dussault shared his favorite memories of Madi on the field. "Last season, at Franklin Pierce, she was moved to attack, a sort of we're-going-to-try-anything choice to try to spark the team. She bought in right away because it was a way to help the team. Watching her score a goal–something most true defenders never get to do because of the rules of the sport, and celebrate a sort of culmination of her hard work–was an incredible moment."
Dussault spoke about Bis's leadership too. "She puts in the work," he said, "and it's not for her own glory, but to make those around her better. On the field, I'll miss watching her frustrate opposing attackers. But just as much, I'll miss talking lacrosse with her." Dussault said he will also miss having her pop in to say hi. "She's the perfect representation for her senior class," he continued. "Just an elite human being."
Samantha Giordano, a lockdown midfielder for AIC and the fellow graduate student, was eager to share her thoughts on her favorite classmate. "Madi is the hardest working player there is," Giordano said. "It never matters about the score. I can always count on her on the field, we could be on defense for three minutes straight and she is the person running the ball up the field in transition. Her work ethic speaks for itself, breaking AIC's turnover record. So well rounded and always hustling."
Bis and Giordano have been through so much together. They have seen the program shift and change with the years, but their leadership and skill has never wavered. Giordano has always appreciated Bis's leadership. "As a teammate, Madi is a natural leader," Giordano explained. "I have been with her as a freshman and watched her grow into a two-year captain. Not having a coach this fall was difficult and Mads and co-cap Liz made the most of it, hosting captains practices and scheduling play days against other schools. Her optimism is so refreshing. She brings great energy into the locker room pregame and is just so fun to be around even on the hard days."
Like Dussault, Giordano's all time favorite memory of Bis on the field was her first career goal against Franklin Pierce. " We always joked about getting her a goal because she played low defense, and just like that she was moved up to attack and made it happen. That is how every goal should be celebrated!"
Bis's teammates hold her in the highest regard. Lauren Smithers has played low defense with Bis for four years and has great memories from her time with Bis defending the crease ."Madi is the type of player that constantly has your back," Smithers said. "As we both play low defense we have relied on each other a lot we play in tandem." She continued, "Madi is a hard-working player who will do anything to compete. She wants to be the best… As a teammate, Madi will help anyone, whether it's with schoolwork, lacrosse, or anything in between."
Bis has left such a positive impact on her teammates and on the program as a whole. She reflected on her time at AIC. "It flew by. Eventful to say the least, with plenty of ups and downs. But I wouldn't trade it for the world. AIC [women's] lax will forever be a part of me, and I'm so proud to be a Yellow Jacket!"
When asked what she will miss the most, she was quick to share. "A hundred percent my teammates. They get me through every season, every game, practice, lift… and not being able to spend time with them and joke around every day is going to be something I'm going to miss more than anything. Special shout out to Sammy Dog for sticking through it with me for five years! Love you Co-Grandma."
**Author's Note: Playing with Madi the last four years is an experience I would never replace. For two years as captains, we have brought out the best in each other and grew together on and off the field. Our ability to lead on opposite ends of the field while still coming together to support our teammates no matter what the circumstance is what made us the perfect duo. She has picked me up at my lowest lows and celebrated every high with me. I will always remember her in the highest regard when I am thinking back on my time on the lacrosse field. I will always value her opinion and point of view. She's the best teammate and co-captain I could have ever asked for and I am so happy to have played lacrosse with her. The school and conference will never recognize what Madi did on that field all five years, but her teammates and I definitely do. Thank you #4!**