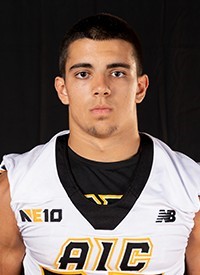 American International College football is now ranked dead last in the NE-10 rankings following a horrific 62-12 defeat against Bentley College. This year has been a struggle for the Yellow Jackets to cement themselves as a top contender in the NE-10. Out of their eight games so far, they have gotten two razor-close wins, but have racked up six losses to go with them. This year is an improvement compared to last year's one win in the entire season. Let's see what the team's first-years have been thinking of their football experience so far.
The true freshman starting fullback, Marcus Thurston, had some incredibly positive words to say about the team and their struggles this season. "I know we have had our struggles this season," Thurston said. "Having a losing record is not fun at all, and then to add to it losing your homecoming game 62-12 makes it even worse. The bright side is we still have four games left. We must take it one day at a time and our preparation for each of these weeks will make or break us for sure. Especially this week, with us going up against the D2 two-time back-to-back natty champions. It is a big game for us and we're going to give it our all. If we win this game this would be a big wakeup call not only to the NE-10, but to all the teams in D2 NCAA football."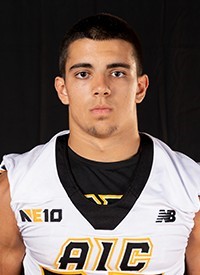 Thurston has had a great season and has had the most impact out of any first-year this season. He has already scored a touchdown, and we wish him the best for the rest of the season.
Another first-year in an entirely different position than Thurston is defensive end Cameron Pina. Pina has not been able play at all this season due to some eligibility issues, which must be very frustrating for him. This is what Pina had to say: "It has not been all that we hoped for it to be… All we can do is use this offseason as a way to improve and come back next year with some heat. We have to show the rest of the conference what AIC football is about. [We've] got to do something different and put everyone on notice."
Story continues below advertisement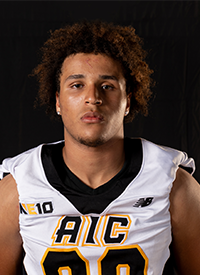 Pina really looks forward to next year as he hopes to give the team a jolt by showing them how he can add value. Hopefully, he can get out there and have an immediate impact on next year's season.
The last first-year interviewed was Jakkai Stith, Stith is a linebacker, and he has made his impact felt immediately on the special teams' side of the ball. Stith had this to say about the season: "It's gone good and bad… We have shown that we can compete with top teams. This past week against Bentley, it was only 26-16 after the first half; we were definitely still in that game. In the first quarter against New Haven, we were up 14-0 at one point. We have shown flashes, and we can compete with the best, but then we can also beat ourselves, and that is what usually happens. We only beat ourselves; no team is better than us; we just make some silly mistakes, and it costs us the game. This offseason, we need to clean up everything and come back better for next year. It should be exciting to see how good we can be."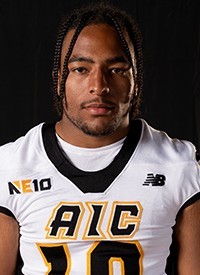 Stith looks to make more of an impact in the last three games of the season so he can still use his redshirt. He looks forward to next year to see how good the team can become under the first-year head coach Lou Conte.
It appears that even though the freshmen have not had the best welcoming experience to college football, they seem to be optimistic. They are all looking forward to what is going to happen next year. Whatever coach Conte has done to keep the players motivated to work hard for next year is pretty incredible. Let's hope they prove themselves right and bring back the pride to the hive! Let's go Yellow Jackets!