Senior Spotlight: Victoria Andrade Drives in Win on Senior Night
Liz Day, Staff Writer
April 26, 2023
Victoria Andrade, a graduate student on the softball team at American International College in Springfield, MA, drove in the winning run on her senior day, during the April 15-16 weekend.
The two-time captain and fifth-year starter had a great weekend for the Yellow Jackets on Judy Groff field. They split with Saint Rose, which puts them at 5-31 overall in the very competitive NE-10 conference.
Andrade, or "V," brings leadership and expertise to the softball field. She has played competitively for sixteen years. At AIC she has played catcher, first, and third bases. This season she has 8 runs and 29 hits, which brings her to 45 runs and 97 hits in her career. She also has 16 RBI this season–a team best. This 16 adds to her career 55 RBI.  V has also hit 7 home runs during her time as Yellow Jacket.
V describes her style of play as "very confident. I have caught since the age of seven and it is something I have a huge passion for. I try to ensure the coaches know I am watching them and trying to beat them as well, because it is a game within the game, and they are the ones calling the shots."
She continued, "I truly enjoy playing softball. So on game day, I just have fun with the people around me."
V's favorite memory of the season so far was playing against Queens College. "First inning, I had a diving catch on a pop-up bunt to my left," she said. "All season I have been a step behind, and I finally made that play. It was the first inning, second batter, and I felt like I made a statement early."
V was most happy with her team when they upset New Haven. "We lost to them my junior year in the playoffs," she remembered. But their victory this season "was an awesome team win. Everyone was a piece of the puzzle that game for the win. First home opener win ever as a player on AIC softball."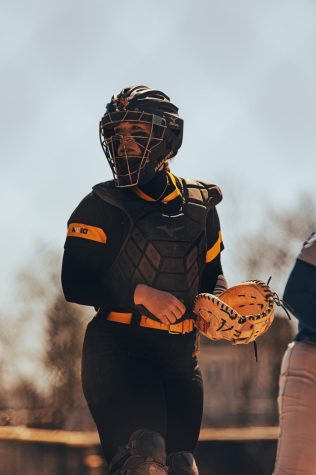 V loves her team and describes them as "Goofballs. We just enjoy making each other laugh. There are a lot of big personalities and I think it helps some of the more reserved, quieter teammates come out of their shells. This is one of the most talented groups I have played with while at AIC. I have so much faith that we are going to be successful this year."
Her coach Shelise Tolentino had nothing but good things to say about her favorite and only graduate student. She shared in an interview "This is my fifth season at AIC. Victoria and I essentially came to AIC together! Victoria is an intense player! She leaves it all out on the field, always. You never have to question her effort or her passion. Equally as impressive is her softball IQ. She commands the field, is always thinking two plays ahead, and is able to keep the pitchers focused and calm during intense pressure situations."
Coach Tolentino remembers when V was just a freshman. "When Victoria arrived on campus," she said, "you could tell she was an athlete and would be a contributing factor in the success the team would have. I took one look at her and immediately started giving her reps at third base. She has always been confident in her abilities as a player and easily made those around her feel confident as well."
V's confidence and energy is what landed her team captain. Coach Tolentino explained: "Victoria has blossomed into a leader on this team. She is entering her final season extremely focused to help leave this team better than when she arrived. She has been a captain for the past two seasons as well."
Coach Tolentino is dreading finding someone who can fill V's role on the team. "Not only is she an amazing catcher whose shoes will be very difficult to fill after she completes her athletic career," Tolentino said, "but she has developed into an extremely solid third baseman–as well as first baseman. She continues to be a confident player who lifts their teammates. She is not afraid to put the team on her shoulders and bear the weight of it all if it means success will come to all around her."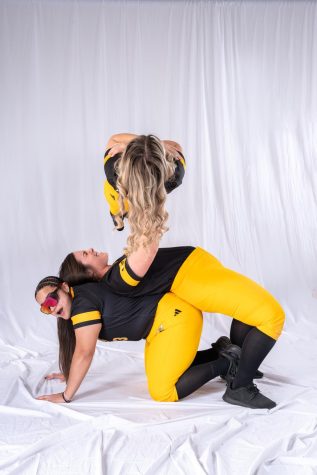 When asked about what Coach Tolentino will miss the most about V, she was quick to respond. "Victoria has been on the team as long as I have been coaching and it is hard for me to imagine not coaching her next year. Essentially, we entered the college game together. Me as a first-time head coach and V as a freshman."
On the field, Coach Tolentino is going to miss "how she plays with all her heart, respects the game and her talent on the field. As an athlete, I will miss having in-depth conversations about how the games went, what softball has meant to her, her picking my brain about how she can improve as a player and a leader, and vice versa, what we can improve on as coaches to elevate the program, and of course, her presence on the field."
Coach Tolentino continued, saying, "I will miss the life conversations we have had, her funny personality that often results in her and her teammates cackling in the dugout, and watching her grow as a person off the field."
Some of V's favorite memories on the team are home-cooked dinners at Coach Tolentino's house. V reflected on her time here at AIC, saying, "I think I have grown a lot, but I don't think I could have done it without coach Shelise and my teammates. No matter what I was going through, I always had my teammates and my coach. I always had softball and the laughs in the locker room that never failed to make me feel like I was a part of something bigger than myself. I wouldn't change a thing about my experience here and I can say I will walk away with no regrets about my team here."
She continued explaining what she is going to miss the most. "If I am being honest, I will miss softball the most. Like I said, I love my team, I love my coaches, but nothing will compare to physically putting on my cleats, grabbing my glove, and throwing a ball. It is my passion and I love playing the game of softball. I'm sad that my career is coming to an end, but I enjoyed every minute of it."