Senior Spotlight: Captain Kayla Robinson Brings Sacrifice, Determination to the Court
SPRINGFIELD, MA–Kayla Robinson brings leadership and expertise to the basketball court in her fourth season as Yellow Jacket at American International College. Known for sacrificing her body and taking the fouls, Robinson plays a tough game for the greater good of her team. According to her coach, "Kayla brings toughness, confidence, and commitment to our team and to our program."
The Yellow Jackets are 15-13 overall this season. They went on an eight-game winning streak mid-season to secure them a spot in NE-10 playoffs. Robinson has had quite the season; she has started in every game, grabbed seventy-five rebounds, and assisted her teammates forty-five times. She has put up 399 points this season, the seventh most in the whole NE-10 conference. This season brings her to 960 points in her career.
The captain has been playing basketball for ten years now. She describes her style of play as that of a "…quick, speedy guard who is everywhere on the court, and does whatever she can to win."
Majoring in criminal justice, Robinson has made a lot of great memories with her team on and off the court. Her favorite memory on the court was last season's win against Pace. Her favorite memory off the basketball court was "…when we were on our trip to Puerto Rico and were all wave surfing in the ocean. Our coach then tried to take a picture and a wave smacked us all in the back. It was just such a funny, goofy time."
Robinson continued, "The team is full of many different personalities and when joined together, we have a good time. We also are all here to reach the same common goal, so it's great being around them."
Robinson is determined to always be better, and she shares that determination with her teammates. "Our goal was to be better than we were last year and win more games," she said. "With new additions to the team and leadership, we are accomplishing that goal. We have worked hard, and really challenged each other in practice every day to be better."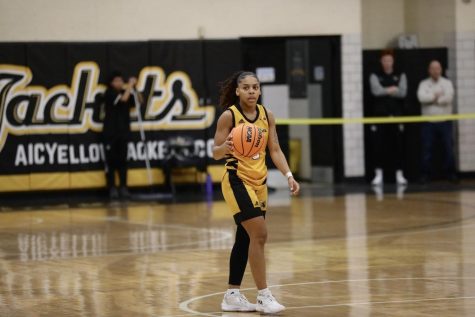 Robinson chose AIC for a few reasons. She made up her mind during her campus visit. "It felt like a good basketball culture," she said, "and the coaching staff seemed like they really cared about you as a person."
The head coach, Kristen Hutchison, who is in her sixteenth season at AIC, had a lot of good things to say about Robinson. "Kayla is an athletic guard who is very fast," she testified. "She gets steals on D and can attack the basket better than anyone in our league."
Hutchison also commented on her growth as a player. "When Kayla first came in as a freshman, she was a great teammate. We lost a lot of people to graduation the year before, and she ended up being a big-time player for us as a freshman. She has improved every year and is having a tremendous season this year."
Coach Hutchison also shared one of her favorite memories of Robinson on the court. She said that Robinson "…sacrifices her body and is always on the floor. She takes charges, dives for loose balls, and gets fouled hard each game–and she bounces right up. She is a very tough player."
Robinson's toughness and example is what landed her captain this season. Hutchison shared that "Kayla is captain of our team and leads by example. She works hard every day in practice and is really competitive. She knows the game and is playing extremely confident this year.  She is one of the top guards in the Northeast-10."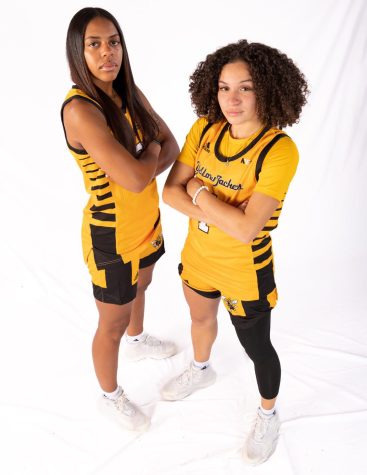 Robinson's teammate and fellow senior AJ Washington shared similar thoughts as Coach Hutchison when it came to Kayla. She shared in an interview, "Kayla is a great teammate. She brings positive energy to practice and games to get the team going. Kayla plays aggressive; the only person who can stop her is herself."
Washington also commented on her relationship with her teammate. "We have been friends since we met freshman year," she said. "The memories on and off the court are endless. I will miss the energy we bring combined the most. We are two peas in a pod; our energy makes all the difference in the team dynamic."
Robinson is not done yet! Her coach shared that "Kayla will be back for her fifth year. I am looking forward to having her for another season and watching her compete and lead our team. She is really close to scoring 1,000 points, and that is a great accomplishment for her and our team."
Robinson described her time at AIC as "eventful, to say the least." She added: "I am going to miss game days because they are the best days."
Robinson and her squad are hosting St.Rose in Butova gym on Friday, February 24 at 5pm for the first round of NE-10 playoffs.