AIC Women's Lacrosse season underway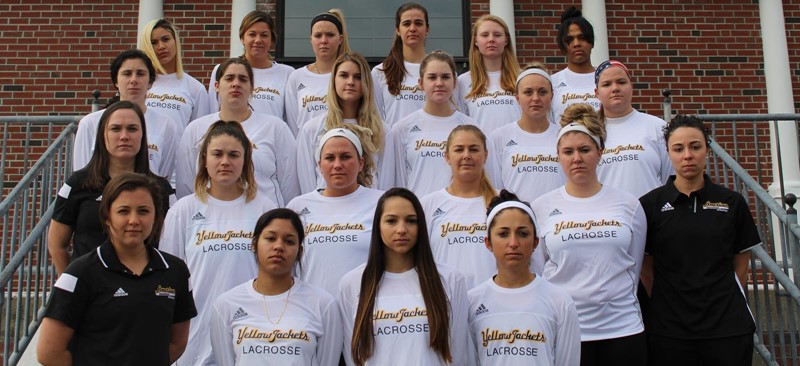 The American International College Women's Lacrosse team starts off their season with a record of three wins and four losses. The team is led by head coach Ashley Casiano and assistant coach Riley Brennan.
Brennan is a 2017 graduate of American International College and an alumni of the Women's Lacrosse team. Brennan holds numerous school records and is leading the school in free position goals. Brennan's knowledge and experience have immensely impacted the Women's Lacrosse team this season, and she will continue to impact the AIC program.
The Yellow Jackets began their season with a home opener against Stonehill College. The Yellow Jackets had an upset of a 9-8 loss. However, the score did not affect the way the girls played.
In fact, players say the team is energized and enthusiastic.
Freshman Brianna O'Brien stated, "Our team never gave up, and we continued to fight until the very last second. I just wish we could have walked away with a win."
Yet, the Yellow Jackets did walk away with a few wins against Post University, Queens College, and the University of Bridgeport.
Over spring break, the Yellow Jackets traveled down to Pasco County, Florida to face the St. Leo Lions. The Yellow Jackets, unfortunately, did not walk away from spring break with a win due to their loss of 18-7 against the Lions.
Senior Brittany Hutchison leads the Yellow Jackets with 16 goals, while junior Mikayla Demanche and freshman Emilee Giacondino both follow behind with 13 goals.
Senior Allie Roy leads the team with 21 caused turnovers, and just recently set a school record for the most caused turnovers in a game.
Allie Roy noted, "My hard work paid off, and I am so proud to have set a school record for our program."
Goalie, Chelsea Davis, has 63 saves in 7 games and plays a huge role defensively. Davis has accumulated 35 ground balls for the Yellow Jackets as well.
The Yellows Jackets have 9 games left in their 2018 season, and freshman Reagan Nichols states, "Our team never gives up and we continue to fight until the last second on the clock. We always work hard, and it pays off in our games."
This year the Yellow Jackets have an intern from the Springfield College Women's Lacrosse program. Kayla Schroeher is a Senior on the Springfield College Women's Lacrosse team and plays in the midfield.
Schroeher shares her knowledge with the Yellow Jackets, especially offensively. Schroeher is a key role this year and creates a huge impact on the Yellow Jackets.
The Yellow Jackets are graduating 4 seniors this season. These players are Jessica Fontana, Deanna Fortin, Erica McLean, and Caitlin Sobolewski.  Each player has impacted the program over the years, and they will be a huge loss in the future.
Senior Brittany Hutchison started off the season with two hat-trick games. Juniors Mikayla Demanche and Mary Bates have both had six goal games this season, and Freshman Emilee Giacondino has had a five-goal game.
The future for the AIC Women's Lacrosse program looks very bright, and they hope to dominate teams the rest of their season. Their team chemistry and heart are apparent on the field, and they will continue to fight each and every game.