AIC Hockey looks to reach new heights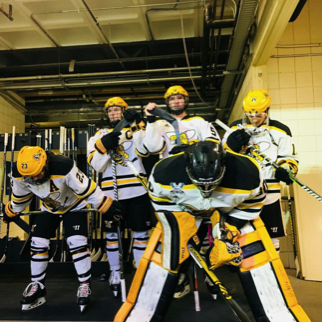 Men's ice hockey is looking to top its 2017-18 hockey season this year.
And that was a season that was filled with its first home playoff game, first home playoff wins and playoff sweep. This year, it's a team desperate to break more records and getting to the Atlantic Hockey Tournament and compete at a chance for its first D1 hockey title.
AIC hockey finished last season with a 15-20-4 record that gave them home ice through the first round and put them in the 8th seed heading into playoffs.
AIC matched up versus Niagara University in the first round. This was a team they won once during the regular season and lost at home. They swept their first-round series 2-0 winning games 4-1 and a double OT thriller 4-3. The series win gave the team a lot of confidence heading into the second round versus #2 Canisius. In game 1, AIC lost 8-1 with a tough first period that had them behind from the start. With Game 1 behind them and their backs up against the wall, AIC came out with grit and won a tight one 2-1 in OT. Game 3 didn't go as planned for the black and yellow losing 3-0 and being one game away from the Atlantic Hockey Tournament.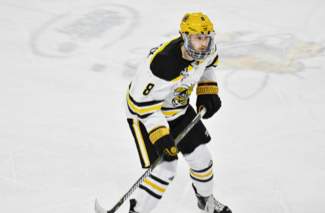 The team comes into 2018-19 with the desire and hunger to be atop the Atlantic Hockey Conference.
AIC will suit up three seniors in Ryan Papa, Ryan Polin, and team Captain Shawn McBride. The team is on the low end of seniors on a lineup in the conference but loaded with weapons from Hugo Reinhardt, Jared Pike, Blake Christensen, and Hobey Baker Nominee Brennan Kapcheck the Atlantic Hockey Rookie of the Year.
Kapcheck had a stunning year in 2017-18 leading the team as a defenseman with 26 points including 7 goals and 19 assists.
"My expectations for the team this year is that we are going to have the best season in AIC program history," Kapcheck said. "I expect that we will have 100% buy-in from everyone in our family. Along with the expectation that our family will help one another out on and off the ice. Especially the great group of freshmen that we have obtained this year. And lastly, I expect every individual to pull their own weight and put the work in so that we can climb our way to the top."
AIC also brought in 7 freshmen to help with the caliber of this team and bring it to the next level. Returning goaltenders Stefano Durante (So) and Zackarias Skog (Jr) will be accompanied by incoming freshman goalie Evan Plotnik. The team starts its regular season campaign on October 6th, 2018 at Providence College, a deep hockey east squad.
"The atmosphere around the team has a business feel to it right now. Everyone is putting the work in every day," said Captain Shawn McBride said, speaking of the atmosphere around this team right now.
It's a team that is looking to make a mark on this conference and on the whole NCAA. In 2018-2019 the program took small steps in the last two years with bringing in Coach Eric Lang.
The culture has changed, and a team loaded with grit and some great talent has one word surrounding it "Dedication" as Junior forward Jared Pike put it when asked about one word to describe this team. 2018/2019 is looking to be an exciting year at the Mass Mutual Center and one that all fans will enjoy when AIC hockey takes the ice.