MGM — decked out for the holidays
MGM Springfield is in the holiday spirit!
The freshly new addition to the Springfield community is making a solid contribution to creating a fun, enjoyable place, not just for gambling but for family activities as well.
Directly in front of the entrance stands a 38-foot Christmas tree immediately setting the tone for the outside portion of the building. Outside of the Kringle's Christmas Emporium is an abundance of Christmas lights surrounding an ice-skating rink where people can pay $12 for adults and $8 for children and $5 skate rental.
There are discounts for Military service members and veterans, first responders, and M life rewards members.
The skating rink is open Sunday noon to 9 p.m., Monday through Thursday 2 to 9 p.m., and Friday and Saturday open until 10 p.m., through March 3rd. Rentals are only available at the rink, not online and cash is not accepted. Purchases can only be made through debit or credit cards.
After families and friends enjoy the lights and skating rink, they can get sweet treats at Kringle's Christmas Emporium, open until the 26thof December. The emporium will be selling Kringle's best-selling candles and fragrances, ornaments, and sweet shop that includes hot drinks, and milkshakes, some including flavored alcohols for adults to enjoy, as well as cookies and other treats.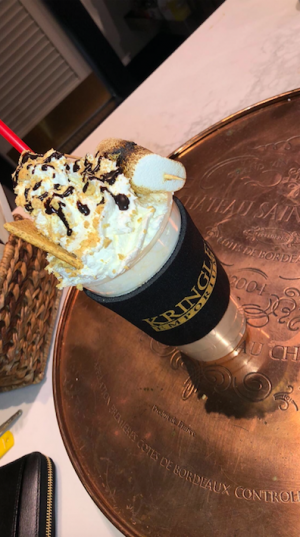 The emporium has slightly different hours in that it opens earlier than the rink, at noon on Monday through Thursday and 10 a.m. Friday through Sunday.
AIC student Maria Jehle is a regular of the casino and loves trying new things. She shared her love for the Kringle Christmas emporiums.
"The emporium is the perfect place for a candle lover and someone who likes to try new sweets. It has endless amounts of candles of different smells and sizes. It's also perfect to try boozy ice-cream that has a good taste and won't have any effects. I am definitely planning on going again soon and doing the whole experience, getting a candle, milkshake and trying out the skating rink," Jehle said.
The casino will also be hosting New Years Eve events for those 21 and older in their Commonwealth Bar and Lounge, the Armory where the Kringle Candle will be hosting a black-tie event, and Taps Bar where there will be a cover charge. Rewards members will have a chance to win free play money between the hours of noon and 4 p.m.
The first year for MGM casino has made a huge impact on the city. It makes the city of Springfield a friendly area and give families and friends more activities to do. The decorations and entertainment offers a more, warm, spirited feeling giving families and friends a place to get into the holiday spirit and a safe place to ring in the New Year.