There's a new rugby coach in town!
Meet AIC's new Men's Rugby coach – T. Fletcher.
On January 22, AIC Director of Athletics Matthew Johnson signed T. Fletcher as its third full time head coach of the men's rugby team. Ms. Fletcher is replacing Rob Guiry who resigned as Interim Head Coach of the men's rugby team. This is the first time that the men's rugby team will be led by a woman.
Coach Fletcher is no stranger to the game.
At a younger age, she played rugby at Appalachian State University in North Carolina from 2002-07 serving as a player and assistant coach, and was named All-American in 2006.  Besides playing with the Stars Select Side and Capital Select Side, Coach Fletcher also was the Head Coach for the Hustlers in North Carolina and she established work out and practice plans.
Coach Fletcher and her team were even asked to the USA Women's Sevens National Team Camp in 2009, as well as playing internationally.
Besides the game of rugby, this coach is currently a Deputy Clerk of court since 2016. Among her other talents she is the founder and brand manager of American Sin Bin. She is currently generating a new brand of rugby clothing, which she creates, and working to help people to learn about the game of rugby.
So she's very busy!
When Coach Fletcher was asked why she chose to come to American International College, she stated, "I chose AIC because I believe in the college's commitment to diversity, flexibility and understanding. In rugby, there is a place for everyone, which aligns well with this philosophy."
She added, "I plan to work with the team to build on an already well-respected program, to see where they are and work with them to push to the next level to continue on the path of high performance."
It is a new year for the AIC Men's Rugby Team.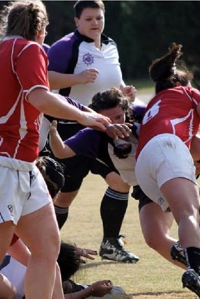 This dynamic team is beginning their spring season after a very successful 6-2 season and finishing with a win at the Liberty Conference Championship. At first, the team is a little nervous about meeting the new coach because this is the first time the men's rugby team has ever worked with a female coach.
They started out by running several drills and playing a game of touch while Ms. Fletcher carefully observed the team. She seemed impressed with the team's energy, skill level and work ethic as well as how the team worked together and supported each other. The men were equally impressed by her level of discipline and positive attitude. The men's rugby team is looking forward to working with the new coach.
Tommy Clark, who plays forward on the team, is excited for the beginning of the new season.
"I am excited to see what Coach Fletcher has to bring to the table. From hearing about her accomplishments and past history with her rugby career, she has what it takes to be a great coach for AIC men's rugby program," Clark said.
Other players are also excited to start the new season with a new coach.
Christian Ortega noted, "I think it's good. I think the team needs some change and some discipline. So far, she is showing us that she can fulfill everything this team wants and needs. So I think it's a good thing."
Another team member, Shane O'Brien, likes the change.
"Having a female for the AIC rugby team is new for the dynasty because we also ways have a male figure coach so having a female coach would be an exciting experience," O'Brien said.
Coach Fletcher brings an enormous amount of experience with her. This season will be a thrilling year for the AIC Men's Rugby team with a new coach.
Let see what the Yellow Jackets Men's Rugby team can do this year.