Engagement Fair returns for spring semester
On Thursday, January 20, from 10:30 am to 12:00 pm in the Campus Center Auditorium, the Student Activities Board (SAB) hosted the second Engagement Fair of the school year.
The Engagement Fair is an opportunity for members of student organizations at American International College to promote their clubs and to encourage the AIC community to get involved.
The majority of the clubs at AIC were represented: the Lions Club, the Graphic Design Club, FACE, AIC Radio Club, Model Congress, and Alpha Kappa Alpha, to name a few.
The AIC Engage webpage includes a list of all the clubs here on campus that students are able to join. According to the website, there are over eighty organizations active on campus.
The purpose of the Engagement Fair is to encourage AIC students to get involved on campus by joining different organizations of their choice.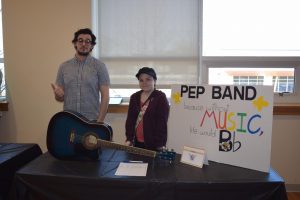 During the Engagement Fair, there was free popcorn and free candy for everyone attending, as well as gifts from different clubs. AIC Radio Club provided the music.
Throughout the event, students and staff would sing and dance to the songs being played by DJ Apollo, a member of AIC Radio. Some students were doing dances to certain songs that are trending today, such as "The Renegade." The Radio Club also tried to reenact Tik Toks as a way to have fun during the event.
Yosheka Cousins, a sophomore, attended the Engagement Fair as the president of AIC's Radio Club. According to Cousins, she attended the fair "to encourage new people to sign up for my club and showcase what my club is about."
Cousins represented the Radio Club, "while also walking around and exploring others." Cousins liked that she was able to check out the other clubs on campus while she was there. This helps build a sense of community between the student organizations on campus.
Rose McCaffrey, a first-year at AIC, was another student who attended the Engagement Fair on Thursday morning. McCaffrey was one of the few people representing the Model Congress, a student-run simulation of the United States Congress.
According to McCaffery, she attended the fair "to learn about new clubs and to promote the Model Congress."
Rakyah Cauley, a sophomore at AIC, also attended the Engagement Fair. Cauley was there to represent Alpha Kappa Alpha Sorority, Incorporated (AKA).
Cousins said that she thought the Engagement Fair achieved its goals, "because it encourages people to become active in clubs. And there are clubs that many people probably don't know about. I still find that there are clubs I don't know about."
Many might not be aware that there are sororities like the one Cauley was there representing, for example. Cauley agreed that the Engagement Fair was a way to promote the groups you are part of, and also see what else you might be interested in doing.
McCaffery agreed with that sentiment. "I learned about new clubs and got to promote my own."
McCaffery finds the events useful, especially for new students. "People get to learn about how to get involved on campus."
Cauley added, "I feel like it's good to have a Fair each semester because of people coming and going and everyone can see what AIC can offer in clubs."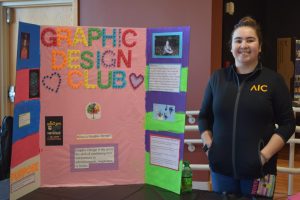 According to Cousins, "The turnout was alright. It has been better in recent years, I would say." She added, "I think they [SAB] should definitely host another Engagement Fair."
McCaffery also felt like the turnout was good, especially for certain clubs.
Cauley was similarly happy about the turnout this semester. "I got a lot of information about other clubs, and many people came to check out my booth, which I was happy about."
Cauley's overall opinion about the Engagement Fair was that it was "very helpful. I learned about more clubs here, and even signed up for a couple."
"I would recommend that everyone come to the Engagement Fair," Cousins added. "You never know what might happen, and what you might be missing. It's always fun to explore new things."