Communication and the Arts Winter Festival Brings Joy to Students and Staff
What is a more fantastic way to wrap up and celebrate the end of fall semester at AIC than with the Winter Festival of Communication and the Arts? Beginning  November 30 and lasting through December 3, 2020, the Winter Festival of Communication and the Arts was a week full of virtual events that showcased AIC's student work, ranging from short films to digital art. AIC faculty and staff encouraged students to follow the week's virtual events for the opportunity to check in on their classmates and professors and take a peek at what everyone's been working on all semester.
Headed by Frank Borrelli, Chair of the Division of Communication and the Arts, the 2020 Winter Festival is in honor of AIC's Winter Festival of the Arts that ended 30 years ago.
"The Division of Communication and the Arts at AIC often includes annually a number of student deliverables: three plays a year, two art shows, a magazine of student written work and poetry, and student films," Borelli shared in an interview with Mass Appeal. "Due to the pandemic, all of that had to look different. And so we thought, why not go virtual?"
Marty Langford's video production class kicked off the beginning of the festival with their series of short student films. These short films included a variety of montages, video diaries, and how-to videos that were all very interesting to watch.
In AIC student Taylor Wildes' Video Diary, she explains how virtual learning has affected her schoolwork and mental health this semester.  Brooke Garcia, another AIC student, produced a scary short film with a bizarre ending. Kelly Shea created and produced her short film, "Untitled," which is the story of a young boy's dreams after he is accepted into an elite hockey program.
"All of the films were really good. I was impressed that it came from students and not more professional videographers," shared Jade Mitchell, a junior at AIC. "I would definitely want to take that class next year if it fits into my schedule."
The second day of the Winter Festival of Communication and the Arts showcased the division's full-time faculty members:
Frank Borrelli: The Division Chair, Theater Professor and Director
Lori Paige: English and Literature Professor, Published Writer
Marty Langford: Video Production and Technology Professor, Professional Cinematographer
Kat Lombard-Cook: Public Relations, Graphic Design, and Communication Professor, Student Newspaper Advisor
Bruce Johnson: English and Literature Professor
William Steffen: English and Literature Professor, Student Newspaper Advisor
John Nordell: Photography, Visual and Digital Arts Professor, Professional Photographer
Each faculty member gave a brief overview of who they are and what they do at AIC. Freshmen students  looking for an English course to fulfill their general education requirements should search the website Rate My Professor, where Dr. Bruce Johnson has a 100% rating. His top comment reads, "Get ready to read, gives good feedback, caring, hilarious, and respected."
"I took advanced English composition with Dr. Lori Paige," said Lindelay Alcide, a senior at AIC. "I love her teaching style and she always finds a cool way to relate everything back to the real world."
The Lux was showcased on the 3rd day of the Winter Festival, where students from public speaking and literature courses shares personal narratives, essays, and Haiku poetry. With almost 30 submissions from students, The Lux can be viewed on AIC's Division of Communication and the Arts YouTube, or at https://www.youtube.com/playlist?list=PLJT9sLbV5qjlCMwi3BNs1IJcD85NzqCIX
"'Different Attitudes Towards Passing in Nella Larsen's Passing' by Avé Mullen was a really interesting essay to hear," said Tommy Smith, a senior at AIC. "It makes me want to read the book to find out if Irene killed Clare at the end."
The fourth day of the Winter Festival Showcased a virtual museum, created by Kat Lombard-Cook and John Nordell's visual and digital arts classes. Usually, the art generated from these courses would be displayed in the West Wing Gallery of the Cultural Arts Center on AIC's campus. However, this year's virtual showcase can be seen right from your living room thanks to students Ashley Roberge and Riley Carey, who helped create and set up the virtual exhibit.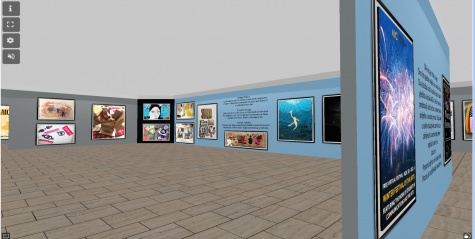 "It was really set up like a museum, with walls and doors and everything," said Tommy Smith. "I like how each wall had an explanation of the assignment with the work. The students in this class are really creative."
A digital play performance of Sarah Ruhl's Eurydice was scheduled to take place on the evening of Friday, December 4, but it was unfortunately cancelled. But AIC's Theater Department is still featured in the week-long celebration. Day 5 of the Winter Festival features videos from past productions, including the 2013 performance of Shakespeare on the Quad, videos from scenes featured in the spring 2019 directing class, and a brief performance called, "Post Tenebras Lux: A Brief History of AIC."
The Winter Festival of Communication and the Arts can still be viewed on the AIC website or https://www.aic.edu/winterfest/ The students, staff, and faculty at AIC have put together a tremendous showcase of all the excellence that goes on at AIC. Although the virtual festival was created because of the pandemic, the virtual fall festival can be a great way in the future to expand AIC's content and mission further than Springfield, Massachusetts.