Yellow Jackets Field Hockey Off to a Strong Start
Liz Day, Staff Writer
September 28, 2021
September 21, 2021 – The American International College women's field hockey team of Springfield Massachusetts started their season 5-2 with a 3-0 run early on. The Yellow Jackets took down some of the conference's most competitive teams in overtime.
In addition to going 3-1 in the Northeast-10 conference, the Yellow Jackets have also been ranked nationally by the NFHCA. During the first week of competition, they were ranked tenth in the nation, and in the second week they bumped up to number nine spot nationally.
The team has had success under pressure, taking down Franklin Pierce in overtime on the road in Ridge, NH. The final score was 3-2, and featured a great play set up by Brooke Szafran and finished by Na'Bree Wallace. The Yellow Jackets also took down  Southern Connecticut University at home with a late goal by Nicole Mercadante to secure another overtime win, 2-1.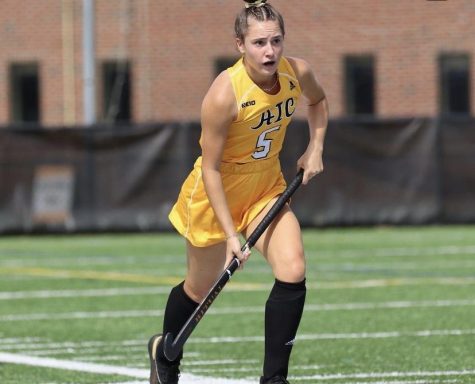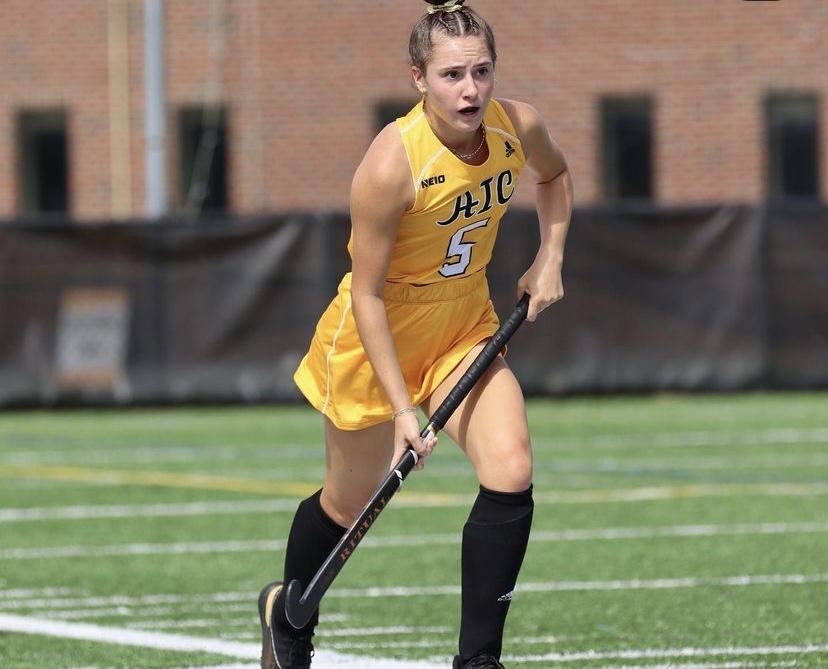 Senior midfielder Shannon Cormier commented on her team's success so far this year. "This season, we have a very tight knit group," Cormier said. "We connect well on the field and trust each other with our abilities. Every player brings a key component to the team and we work as a total unit. Our chemistry is definitely there both on and off the field."
Last season was canceled due to COVID-19 and the team was ranked twelfth for the NE-10's 2021 coaches preseason poll. Cormier thought the cancelation was a blessing in disguise. "Going into the 2020 school year, we brought back six returners from the previous year," Cormier said. "This meant the majority of our team was either first-years or transfers that had never played together before. Having a year off from competition allowed us to learn each other's playing styles and come together as a team. That entire year of training together definitely played a large role in our strong start to this season."
Jessica Stone, the senior goalkeeper who has already had a shutout this season, also spoke on her team's success. She said her team has been different this year. "We play as a unit, and we push through our losses. We discuss what went wrong and right during the game so we can better our skills during practice."
Stone agrees with Cormier on that point. The cancellation of last season, according to Stone, was "disappointing. But it gave us time to build a better team dynamic and work on our weaknesses."
Cormier's favorite moment of the season was during "the first game against number nine nationally ranked Southern New Hampshire University… As the obvious underdog, we certainly shocked not only the NE-10, but the nation with clenching that win. Without a doubt, that game set the tone for the rest of the season and put AIC field hockey on the radar."
Stone agreed with Cormier. Her favorite game so far was also against Southern New Hampshire, "because it set our tone for the season."
Cormier and her squad are focusing on a lot of factors moving forward. "This season, the team is focusing on controlling the controllables and just playing our game of field hockey," Cormier said. "We aim to set the tone from the start and not let outside factors such as opponents, refs, [or] spectators… get into our heads. We know what we are capable of accomplishing."
Cormier's main goal for the season is to make it to the playoffs. "AIC field hockey has not reached the NE-10 playoffs since the 2014 season," she explained. "In order to achieve this, it is crucial for us to continue the strong start we have set for ourselves."
Cormier added that throughout the season, the team has played by the motto: "Prove people wrong."
The Yellow Jackets will play Franklin Pierce on Wednesday, September 29 at home at 7pm.