Women's Rugby Bagels Three Teams in One Week
AIC women's rugby had a remarkable week in mid-October when they faced off against three teams: UMass, New Haven, and the US Coast Guard Academy. In all three games, the opposing teams were unable to score against the Yellow Jackets.
The Yellow Jackets challenged both UMASS and New Haven at home on Abdow Field on Tuesday, October 19, and on Friday, October 22. They then travelled to New London, Connecticut to challenge Coast Guard the next day, Saturday, October 23. Led by head coach T. Fletcher and assistant coaches Samuel Enari and Mike Bowen, they finished their week on a high note.
Despite the challenges, AIC's women's rugby team has a developed its team culture as a close, supportive family. One of the former players, Taylie Atuaia, commented on how the diversity at AIC contributes to the connections these women form on the field. "My peers and I can all relate to feeling anxious and nervous," Atuaia said. "Many of us are far from home, which makes both myself and those around me more friendly and open to forming new relationships and connections."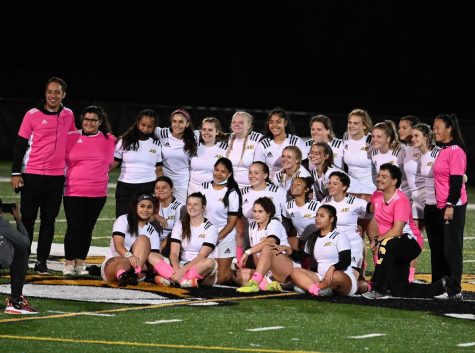 The Yellow Jackets faced a challenging game against UMASS on Tuesday, October 19, 2021. They took center stage under the lights of Abdow field. With some hard work and dedication, the women ended up on top with a great win of 46-0.  Tries were scored by Suley Guerrero, Louisa Justice, Ivana Kiripati, and Sara Doyle.  Although they finished the game on a high note, UMass called forfeit due to many head injuries and because one girl ended up in Accident and Emergency due to a broken arm. UMass fought long and hard, but they were clearly no match for the Yellow Jackets.
Louisa Justice commented on the performance of her teammates during the game. "This game showed the team's strengths in both the forward and backs," Justice said. "Although it was upsetting that we had to end the game early, we played well as a team and I had fun while doing it."
On Friday, October 22, AIC played a sevens a side game against New Haven under the lights. The Yellow Jackets wrestled and gave their all out on the pitch, which was shown on the scoreboard with a 41-0 victory. This was quite the change for these women, who were a bit out of their element. The Yellow Jackets are used to playing fifteens a side, but this did not stop them from showing us their upstanding skills and profound abilities. Tries were scored by Sara Doyle, Brianna Helman, Ivana Kiripati, Emily Murphy, and by our captains Allyson and Kassidy Pothier.
Emily Murphy commented on the team's performance. "Sevens was definitely quite a change," Murphy said, "but it's good practice for sevens season. And I enjoyed it! Even though we weren't used to this sort of rugby, I think we showed our skills and our strengths well, and [I] am looking forward to when sevens start."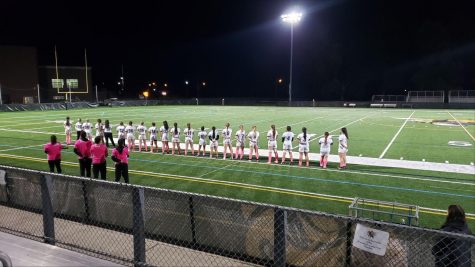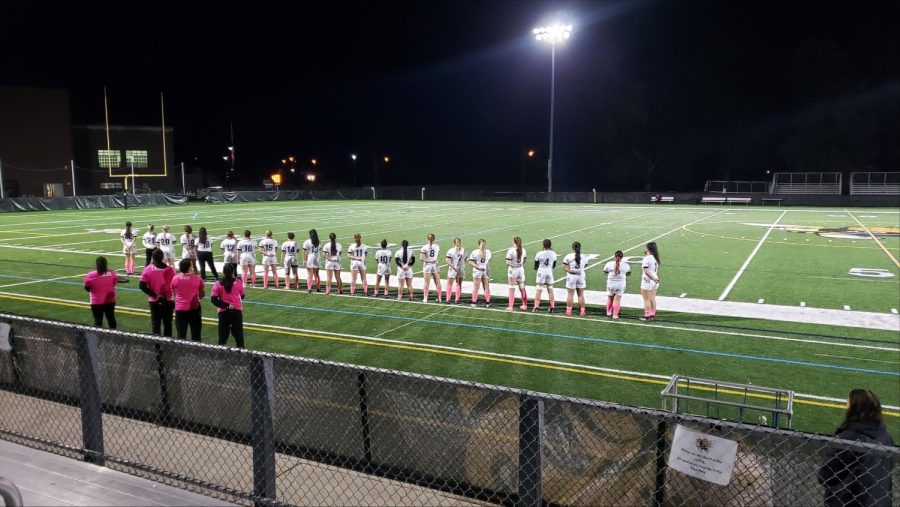 The AIC women's team finished the week with another win in Connecticut when they challenged the US Coast Guard Academy. Coast Guard's strength, abilities, and impressive fitness skills were very unexpected. They had extremely good ball carries, and their fitness abilities were superb. Although it was a challenging game for the Yellow Jackets, their fast ball movement and hard work allowed them to end the game with a smile. The women's hard work on the pitch showed on the scoreboard with a 43-0 win. Tries were scored by Taylie Atuaia, Ivana Kiripati, Lini Tafuna, Suley Guerrero and Jessica Bergen.
While the Yellow Jackets prevented Coast Guard from scoring, Jakiyah Griffin commented that it was by no means an easy win. "Coast Guard was quite a challenging game," Griffin said. "They showed their skills and abilities through their ball carries and their speed. It felt good to win, but we still have improvements to work on." Griffin added that she was "excited to get back out on the pitch."
After a hard week of playing, the women are working on their recovery. They are also looking forward to their upcoming games. On Saturday, November 13, the Yellow Jackets take on Queens University of Charlotte in North Carolina. They then face Army at West Point, NY on Sunday, November 21.