Field Hockey shows face at Northeast-10 playoffs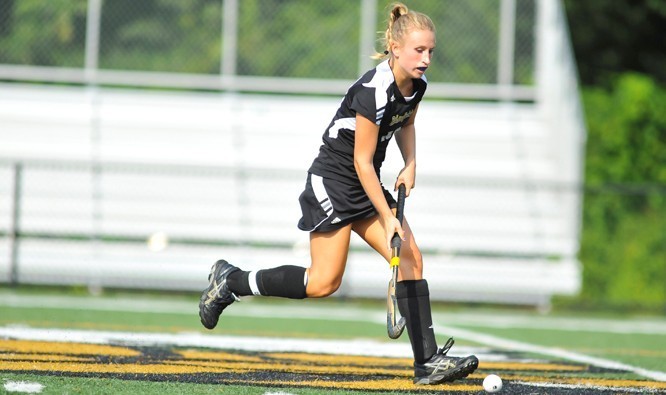 SPRINGFIELD, Mass.—Every sport has star players, the ones who can be counted on to make the difference. Some are loud, making their names known for their exploits. Then, there are the quiet ones who simply work every day to be the best they can be. Jenna Masionis and Kaylin Harbin are in the latter group, and have, with little fanfare, re-written the record books for AIC's field hockey team this season while leading the team to their first Northeast-10 playoff appearance in three years.
Masionis, a senior from Ashland, Mass., is a forward, who this year has broken the two big records: career goals and points. With 43 tallies and 100 total points to her name, she is the first 100-point scorer in school history, and might very well break the single-season goals record, currently held by Amanda McLean '12 with 19 in 2010.
A gifted goal scorer with supreme vision and a willingness to throw herself into any situation to make a play, Masionis believes that she was fortunate to be able to play with players like McLean and Lisa Duckles '13 in her first years, and that that time was a big part of what has made her so successful.
"It is hard adjusting from high school to college play and I was lucky to have had teammates who were supportive of that throughout my first season," she said. "Being able to learn from them and having a successful season that year definitely helped mold me into the player I am today," she added.
While Masionis had a strong freshman campaign, tallying eight goals and a then-record six assists for 22 points, she spent her sophomore year learning again—this time, a different position, midfield, as a large graduating class after her first year left more holes in the team then there were players to fill those gaps. However, that experience forced her to round out her game.
"Playing midfield definitely helped me open up my vision and play both a defensive and offensive side of the game," she said.
Back up front each of these last two years, she has erupted offensively, leading the team in scoring last season with 15 goals and 31 points as the squad improved by five wins over the previous season, and now again she leads a team that has already won ten times.
She set the points record in the most dramatic fashion possible, striking an overtime winner against Franklin Pierce as part of a five-point performance. The goal gave her 84 points, one more than McLean. In the team's next game against Southern New Hampshire, she scored two goals in sixty seconds, goals 37 and 38 for her career, breaking that record as well.
"Those days I will never forget and can honestly say it took a lot of hard work and determination all four years to be able to accomplish those goals," Masionis mentioned.
She then earned point number 100 in similar fashion, scoring both goals at then-fourth-ranked Stonehill to propel AIC to a 2-1 win, the win that ultimately locked up a playoff spot for the team. Despite her pride in her own accomplishment, she said "Most importantly, I am excited to make it into post season for my senior year. I couldn't be more proud of the heart and effort of the entire team and we wouldn't be where we are today without each and every one of us."
Meanwhile, Harbin, a junior from Stroudsburg, Pa., has been a key playmaker in the midfield for AIC. She has always been strong defensively, and while her penalty-stroke prowess is well-noted—with five career goals one five strokes, a record she now shares with Duckles—her passing ability has markedly improved this year, allowing her to break the single-season assists record this year and putting her in reach of the career assist mark.
She credits two factors to her improvement this season: improved self-confidence and international training.
"I think a lot of that has come from having more confidence out on the field, as well just really learning to connect with my teammates, especially with Jenna, even more," Harbin said.
From her international experiences, which include playing in the Netherlands, Barbados, Australia, and most recently Scotland, she learned to play a more effective style.
"The first is speed of play and decision making. They don't have field turf, it's only astro or sand turf, so the game is fast. You don't have a lot of time to figure out what to do; it forces you to make quick, and smart, choices," Harbin noted.
"The other is how unselfish they are. I didn't see a lot of people take the ball and dribble 10-15+ yards, they always looked for the pass and they try to setup their teammates," she continued. "They want their teammates to have the ball, and I think I've incorporated a lot of that into my play. I don't want to hang onto the ball, I want to send them a ball they can do something with."
She has been doing that quite a bit. Her record-setting seventh assist this season was also on a game-winning goal, a late tie-breaking goal in a 3-2 win over Assumption that greatly boosted the team's chances to make the postseason.
Included as well in Harbin's assists are helpers on the goals that Masionis broke her records on. That fact was not lost on Masionis, who said "A lot of my goals have come from Kaylin's assists. She is a player that I believe makes everyone else around her better. She is extremely hard working, talented, and has a love for the game."
Harbin reflected that praise right back on her teammate, saying "I love playing with Jenna, and she's a lot of fun to watch. She'll just come out of nowhere and get the ball. Each year I've seen her get better and better…I believe she also brings a lot of leadership to the front line and she's someone that everyone on the team can look up to."
That respect and humility is apparent in both players. Harbin was unaware in the moment that she even had broken the record when she did, saying "It wasn't until after the game when my mom told me that I actually realized it," while Masionis is simply grateful to have had the chance to put on the Black and Gold these last four seasons.
Head coach Ashley Mazzoli, who had a hand in recruiting both players, also weighed in on how proud she is of each student-athlete, saying "Kaylin and Jenna personify the impact of hard work during the off-season. They take the time and the initiative to get better both physically and mentally. Their offensive numbers speak for themselves, but it is their willingness to elevate their teammates that is most impressive" Mazzoli stated.
"Playing field hockey at AIC has been such an exciting and positive experience. I was fortunate enough to be part of a great team throughout my four years here," Masionis concluded.