Historic Start To Men's Soccer Ranks Yellow Jackets at 18th Nationally
Men's Soccer at AIC has had an outstanding start to the season. They're have secured nine wins, zero losses, and one tie. They are currently on an eight-game winning streak.
This is a very young team with a great mix of veteran leadership as well. Captain Connor Hicks said, "The mentality of the team this year is on a different level compared to the past. Everyone wants to compete for the NE-10 championship. The desire and commitment from the whole team is making the difference." Hicks spoke about the culture of the team itself. Everyone is really locked in on one ultimate goal: to get the job done. So far, it looks like they have the chance to do just that.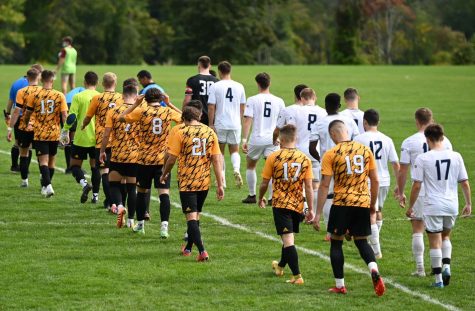 I asked Goalie Lucas Morales-Fernandez how he thinks the team is able to play at a high level even with so many young players that contribute heavily to the team's success. He said, "Even though our team is young, I feel that the skills that each of them have brought have been influential to our squad as a whole, on and off the field." Morales-Fernandez also commented on the leadership of the team. "Our captains David Harper and Connor Hicks have helped create a culture of maturity and ambition that push us to be better every day," he said.
The Yellow Jackets are 6-0 in NE-10 conference play. They beat New Haven at home by a score of 4-2. After being down by a score of 2-0, the Yellow Jackets fought back and scored four unanswered goals to win the game.
They then went against Le Moyne College (nationally ranked at nineteenth for Division II soccer) and got a big win on the road with a score of 1-0.
The Yellow Jackets came back to home turf to take down Bentley University, with a final score of 4-1.
The team then took to the road again, this time against Assumption University. They took them down with a score of 3-0.
At Saint Anselm College, they were able to pull off a 1-0 win after getting a goal late in the game.
Most recently, the Yellow Jackets secured another conference win when they beat Saint Michael's College with a score of 3-1. After being down 1-0 for most of the game, the team rallied together to score three unanswered points late in the game to clutch out a win on home turf.
Before their NE-10 play started, they were able to get four straight non-conference wins. Starting off their season at home, the Yellow Jackets beat Mercy College, 1-0.
They then tied with University of Bridgeport after double overtime with a score of 1-1.
The team then defeated Bloomfield College with their second highest total goals in a game this season thus far. The final score was 6-2.
The Yellow Jackets' highest-scoring game was against Caldwell University, who they defeated with a final score of a 7-2.
Mathis Pilon St. Louis leads the team and the NE-10 with eight goals. Josip Validzic and Salim Yussif are tied with four goals each. Niklas Stalzer, Frans Dao, Carl Lawson, Gael Martin, and Joseph Albano are each tied with two goals apiece. Jahzion Clarke, Love Lindborg, and Tyrm Rekkedal each have one goal under their belt this season.
Samir Regragui leads the team with four assists, which is also third in the NE-10 conference. Lucas Morales-Fernandez is fourth in the NE-10 with thirty-eight total saves; he is first in save percentage with .844%, and second in goals against average with 0.71%. Morales-Fernandez has won NE-10 goalie of the week twice, and St. Louis has won NE-10 player and rookie of the week already this season.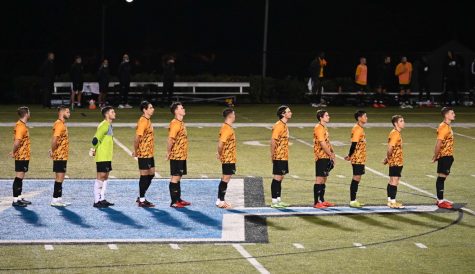 It has clearly been an amazing season for the Yellow Jackets thus far. I asked Joe Albano what the key objective has been to get to this point. He said, "The reason we are at this point in the season right now is because of our controllables. There are many things on the field you can and can't control, but the biggest thing to do is control things you are capable of controlling. It goes down to the small things every week that makes us the team we are."
Albano mentioned some of the "small things" that make the team function, which included pumping up the balls, keeping the locker room clean, and maintaining a sense of professionalism both on and off the field. "Once you get in those habits," he said,
"and you start winning, it becomes a lot easier, and you become a lot hungrier for success.  We try to do the little things right and work as hard as we can every single day in training."
Albano also said that doing well in the classroom can have an impact on the field. "Bringing in good grades and bringing in those good habits lead to our performance on the field," he said. "We as a team don't even think we've reached our peak yet. We believe there's a lot of work left to do and that there are many things we can improve on. But doing these little things every day and controlling our controllables–we believe we will be successful."
Don't forget to keep supporting the soccer team on their historic run this season. Look out for their new national ranking this Tuesday, October 12, and remember to come out and support the Yellow Jackets at their next NE-10 conference game on Wednesday, October 13 at 7pm against Southern New Hampshire at home.