Men's Hockey Defeated in Home Opener
Liz Day, Staff Writer
October 27, 2021
The men's ice hockey team was outscored 1-5 in Springfield, Massachusetts on Saturday, October 9 by Providence College.
The home team struck first at 6:21 in the first quarter with a goal by assistant captain Chris Dodero. The graduate student from West Chicago put the puck away on a man up situation with the help from Zak Galambos and Julius Janhonen.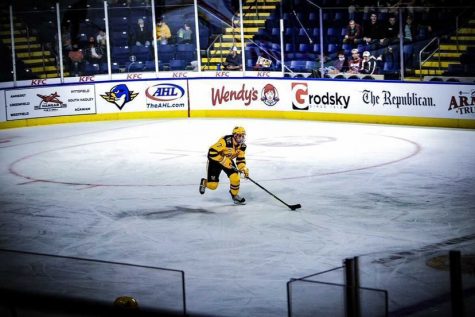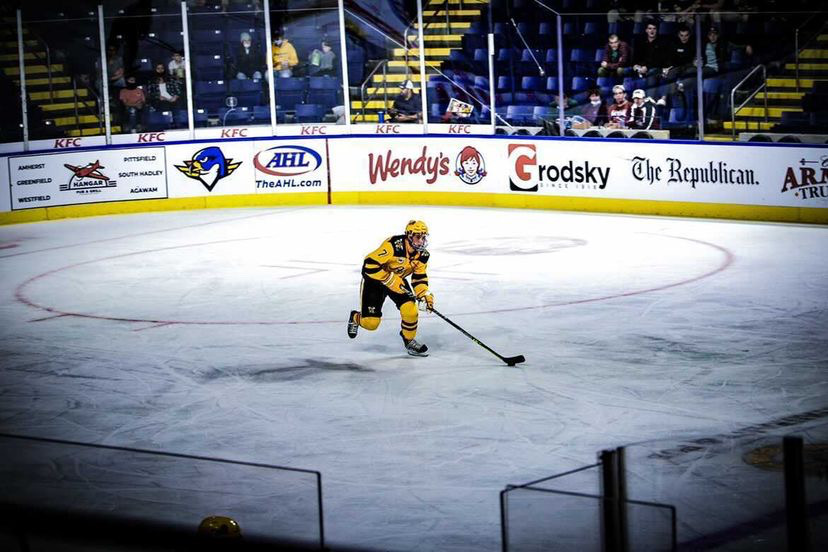 Dodero reflected on the shot after the game. " I got a great pass from my linemate, Julius Janhonen, by the goal line," Dodero said. "I turned and jammed the puck to the far side of the net." Dodero scored the first goal of the 2021 season.
Eleventh-ranked Providence College came back fast with a goal three minutes later.  "Providence came out ready to play in the first," Dodero commented. The Yellow Jackets pushed back in the second period, but ultimately ran into penalty trouble.
The Providence College Friars took advantage of the man up situations in both the second and third period and netted four more to make the score 1-5. Providence is now 0-3 in the 2021 season.
Captain Parker Revering from Alexandria, Minnesota commented in an interview about the Yellow Jackets start to the season. "We have not got off to the start that we wanted," Revering said, "but are learning a lot and growing as a team very quickly. We have been improving in each game, which is a great sign."
Revering elaborated on the coach's role as well. "Coach Lang is driving in the details of how AIC hockey is played, and guys continue to buy into the process."
Despite the loss, Revering is still in good spirits about the direction of the team. "We love playing top-end teams because it is a great opportunity for us to grow," he said. "We have been caught up in some self-inflicted errors and penalties that have cost us some games, but we will be better by holding guys accountable–one of our team pillars."
Chis Theodore, a senior wing from Quebec, Canada, spoke on his team's performance at the MassMutual Center. "Providence is always an extremely tough team to play against compared to other out-of-conference opponents," Theodore said. "They play extremely tough and are not afraid to finish hits. They also do a great job at finishing chances, so it is important to limit their chances."
Theodore, or as his team likes to call him, "Theo," spoke on his team's penalty trouble in all three periods. "I think for us, it's a problem we continually have as a team. We sometimes let our emotions get the best of us. We need to learn to control our emotions, and stick to our new motto: 'NLTK."' Theo also explained what practices have been focusing on. "We've been working on stopping at the hash and not giving access to behind our net. We have also been working on entering the puck through the middle of the ice to create more dangerous scoring chances."
Both Theo and Revering are excited to take on UMass, the defending national champions, next weekend. Theo stated, "We are focusing on not letting UMass gain access to behind the net as well as staying out of the box. We also want to focus on having better starts to our games to ensure that we do not fall behind."
Revering also explained how the team has been preparing. "You can feel the excitement in the air around campus and all of Springfield as we get the chance to knock off the defending national champions. Coach Lang has made sure that we are prepared for the big weekend against UMass, with video and getting back to good habits during practice."
The home opener was the first time in over a year that fans had been back in the MassMutual Center. The Yellow Jackets were excited to have them back. Theo stated, "It was so nice to finally have fans at the MassMutual [Center]. It is so much different having people cheering for you and emotion running through the building. It's a completely different atmosphere playing in front of people."
Revering agreed. "It is awesome to have fans back in the seats," he said. "We obviously missed them all last year, but they are excited for another great season. Our dedicated fans bring a great atmosphere to the rink every game, and it is very fun to play in front of [them]."
The Yellow Jackets have a long season ahead of them, but it's clear to the Captain what the goal is. "to be one of the last four teams playing in the country, and to bring some new hardware back to AIC!"