Men's Ice Hockey Team Defends the Hive for the Fourth Time in a Row
ERIE, PA- On Friday February 18, the Division I American International College men's ice hockey team clinched their fourth consecutive AHA regular season title. The Yellow Jackets posted with a 5-1 win over Mercyhurst University in their home barn in Erie, Pennsylvania.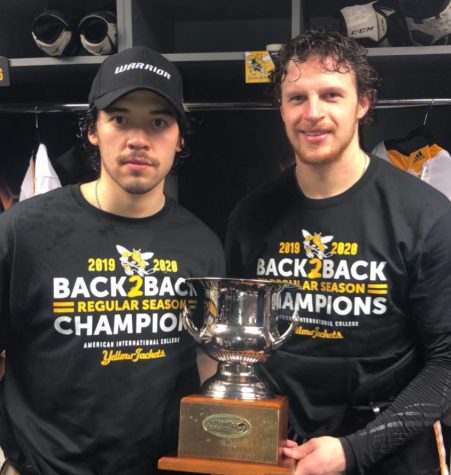 How did it happen? Chris Theodore scored his ninth goal of his season with a one-timer from Jake Stella to Justin Young, which allowed the Yellow Jackets to take an early lead against the Lakers. The Yellow Jackets suffered a turnover which lead to a goal, tying up the game in that same period. Soon in the second, the tie was broken when Elijiah Barriga finished a rebound on net. AIC's third goal was made by senior Chris Van Os-Shaw, making that the fifth of his season. Thanks to great D-to-D passing between Brian Kramer and Luis Lindner, Barriga scored again for his eighth goal of the year. During the third period, Jake Kucharski, the Yellow Jackets goal tender, could not be beaten. He faced eleven shots in the third. After AIC won the draw, Theodore moved the puck around to Lindner and to Bennett for a shot. But it was Barriga who scored again, his third of the game, which secured the 5-1 win.
KEY STATS-
Elijiah Barriga: 3 goals
Luis Lindner: 2 assists, +4 rating
Blake Bennett: 2 assists
Chris Van Os-Shaw: 1 goal
Chris Theodore: 1 goal
Jake Kucharski: Win (11-7-2), 26 saves
The Yellow Jackets have achieved so much this season. They the first team in the history of Atlantic Hockey to win four consecutive regular season titles. This year is also the first time AIC has clinched the title away from home; the first three titles were all won at the MassMutual Center in Springfield MA. They are also the fifth team in the history of Division I men's hockey to win four in a row.
Elijiah Barriga provided some insights about how the Yellow Jackets are preparing for the playoffs.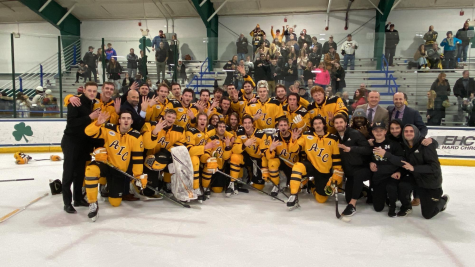 In recent interview, when I asked Barriga about what motivates him going into every game. "What motivates me to go to every game is that it's another chance for me to play the game I love," he answered. "I don't want to take it for granted because you never know when your last game will be."
He then went on to explain how the experience he has from playing the past three years is what helps his confidence as the Yellow Jackets head into playoffs. Since this will be his fourth playoff series in a row, I wanted to know what was making the team so successful, and what their main focus was as a team. "We are so unselfish as a team," Barriga explained, "and we all play for each other." He continued, saying, "Our main focus as we head into playoffs is that we take care of our bodies and hit the reset button, because playoffs [are] like playing a new season."
The Yellow Jackets play their quarterfinal weekend March 11 to 13 in West Springfield, Massachusetts at the Olympia Ice Center. Get your tickets fast to watch our Yellow Jackets buzz to the Atlantic Hockey finals!