AIC Women's Rugby Wins A National Championship: A Season Review
AIC women's rugby won its program's first ever national championship last year on May 16, 2022, beating West Chester, the defending 2019 champions, by a score of 29-17. In the semifinals, AIC pulled off an upset against Queens University of Charlotte in a tight game with a final score of 22-20. AIC didn't have the best of luck against West Chester and Queens University in the regular season, so getting a win against both teams to seal the National Championship was huge. AIC went 15-10-1 in the regular season–a very positive record.
I had the chance to ask forward Darlene Tafuna how they were able to prepare for a tough matchup against Queens University. "I think the way we went about how we used our positions were different than when we first played," she said, "and they didn't expect that. We created a system where our strengths were able to be front and center, and our high IQ showed that day. Each player played with resilience and endurance. Even with some injuries, we were able to readjust and work with what we had."
AIC had a tough time beating West Chester earlier in the season. During the last game they played in the season, West Chester scored 22 points unanswered in the second half to pull off the win. I asked Tafuna what the mindset of the team was to pull off the championship. She said, "We understood what went wrong the first game and where we fell short. I think the biggest difference in the games [was] our chemistry because it's super important in rugby. My personal mentality was to close off their number thirteen and change the structure of their game plan to our advantage. Our team knew exactly what we had to do and who to close off and we just executed."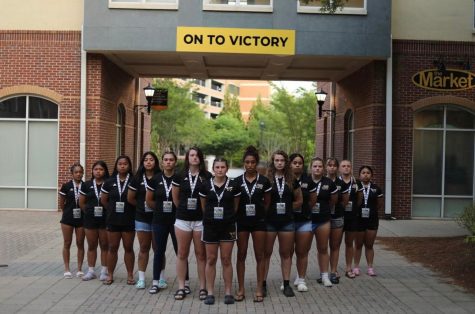 West Chester and AIC play two completely different games. West Chester plays skilled and fast-paced; AIC plays super physical. The Yellow Jackets was also a very young team, although it had its fair share of upperclassmen. Tafuna spoke about the chemistry of the team and about eventually winning the national championship. I asked her how the young team was able to jell so quickly to pull these games off? She said, "I honestly think that our team being young was an advantage. We had everything to prove on the field. With being young, you see yourself as a player progress. You see your shortcomings on the field motivate you more and more each game… Overall, it helped our team so much."
Tafuna also gave credit to the Yellow Jackets who have since graduated. "A big shoutout to those who came before me on the field, the chemistry we formed on and off the pitch was unmatched and everyone we played knew that the upperclassmen played a huge part as well."
This is the first team in AIC history to have won a national championship, let alone against the defending champs. I asked how it felt to complete such an achievement. Tafuna said, "It feels fulfilling to say the least. We knew our purpose for being there that day but eventually our efforts succeeded. To be the underdogs in our region but still come out on top is something I'll never forget. We were under a lot of pressure as a team, but to win with my family watching alongside my best friend Kelani Pangelinan was a blessing."
I asked a close student follower of the girl's rugby team Gabriel Leao his thoughts on the team winning the national championship. He said, "Knowing a good amount of people on the team, I was happy and proud for them to win the game because I know and [I've] seen how hard they worked… To see them get to this point is great and fulfilling for them–and for AIC."
This season, the Yellow Jackets are 2-1 so far. This Friday, October 28, they'll be playing in their fall season final home match against West Chester. It is also their ring ceremony, which starts at 6:30pm. Make sure to come out and support them in this rematch. As always, go Yellow Jackets!