Jack Spallone is the New Era of Men's Lacrosse
Liz Day, Staff Writer
November 28, 2022
Jack Spallone is the new head coach of the men's lacrosse team at American International College in Springfield. Coach Spallone brings his eight years of experience to the 2022-23 season for the Yellow Jackets.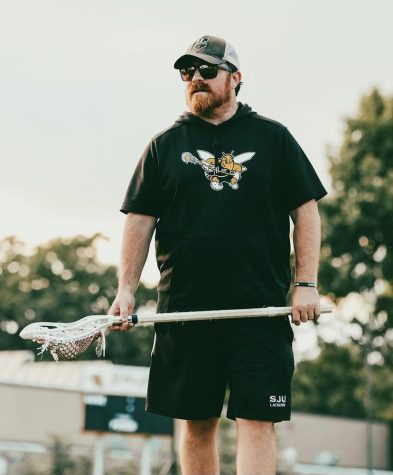 The Yellow Jackets went 1-14 last season, so the stage has been set for Spallone's new leadership and culture. During an interview with Spallone, he explained his coaching philosophy and values as a head coach. "As a whole, I would say that my philosophy is a blend of structure and discipline combined with and focusing on relationship building with my players."
After only being here for a few months, Spallone has already seen a change in his team. The Yellow Jackets swept Castleton University and Bridgton Academy on Abdow field this fall. Spallone explained, "We played the best complete games of lacrosse that this group has put together so far, including what I have seen on film."
Spallone referred to these games as his favorite memories so far as coach of the Yellow Jackets. He explained, "The reasoning may be a surprise, because it wasn't necessarily in relation to the results of those games but rather how they interacted and communicated as a group. Everyone stayed positive and looked to pick each other up when mistakes were made. And to me, that shows palpable growth in the short amount of time we have been together."
How the boys played in those first fall games reflects the new culture Spallone is creating at AIC. Spallone explained the five pillars that he emphasizes in his coaching. "Our culture is based on five key pillars," he said: "Ownership, grit, family, setting the example, and focusing on doing what is right even when it's hard." He continued, "We define everything for our guys so that they know our clear expectations at all times. It is one focused on controlling the controllables and going above and beyond in how we prepare. We preach being professional in our preparation and that makes the other little things easier."
With a new culture comes new goals and new opportunities. Spallone knows what he wants from his players, and he knows what he wants from this season. "I would say our main focus is going to be on how we play and how we prepare," he said. "If we are playing consistent, we will be communicating at a very high level and the results should come." He elaborated, "As a team we have set some very lofty goals. Making the conference tournament is our team goal and it is a daunting challenge, but that is the way champions think and that is where we want to be both as a team and as an institution. So now we put on our work boots and get to it."
The highly competitive NE-10 conference that AIC is in was one of the drawing aspects for Spallone when he took the job. "What appealed the most about AIC to me [was] the conference. The NE-10 is a phenomenal conference and that can make both recruiting and scheduling very high level in a short amount of time." However, it was not the only quality that drew him to AIC. As he explained, "Additionally, the people here at AIC were a huge factor. Everyone was incredibly friendly and outgoing, which made me feel very welcome in a short amount of time."
Spallone explained that his deciding factors when choosing AIC included his hope for the future of the program and the institution. "My conversation with administration here during the interview process" was one key factor, Spallone explained. "They have a solid plan of attack with where they want to bring the program, including how they want to execute that plan. That is a rarer thing than most people may realize."
Recruiting was another factor. "I had a sound plan for how recruiting would apply here," he said. "To me those were the two most important pieces."
Recruiting is one of Spallone's many strengths. Since he is rebuilding this program, he explained what he's looking for in recruits. "When it comes to recruiting, I wish there was a cookie cutter formula to describe what our staff is looking for," he said, "but that just isn't the case. There are tons of different intangible qualities that can add up to a talented lacrosse player. More than anything, we are looking for guys that want to win and know that doing so will require a lot of sacrifice."
Spallone is looking for a wide variety of players that want to put the work in, or as he describes it, "time in the lab." By this, he means "time spent perfecting their skills and their body to go out and execute in practice and then in turn in games. We have been looking to blend our talent pool more than ever, diversifying the states represented in our program as well as countries and mix that with a blend of more regional talent from the Northeast."
"Time in the lab" is a concept senior returners Rusty Stone and Jayson Vickery know very well. Both are in their fifth year on the team and have seen the program in every form. Their leadership, attitude, experience, and effort are just some of the few qualities that landed them captains for the 2023 season.
Jason Vickery, or "Hammer" as his teammates call him, is a three-time captain and fifth-year starter for the Yellow Jackets. Vickery shared his thoughts on Spallone and his team in an interview. He stated, "Coach Spallone is a very good coach. He is very knowledgeable of the game. He knows when it's time to crack jokes, but knows when it's time to be serious and get to work."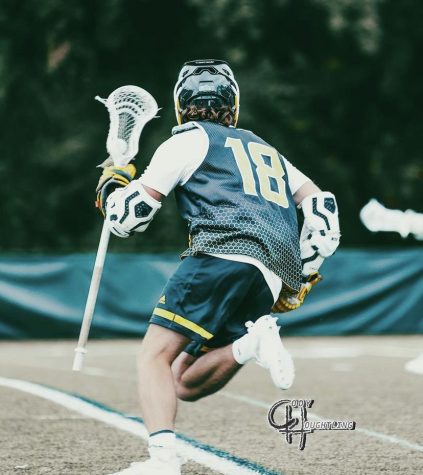 Vickery explained the biggest changes to the program from this year to last year. "We lost two seniors and gained a new freshman class," he explained. "We are lucky enough that this freshman class is bought in and ready to work." He also commented on the shift in the team culture since his first year, saying, "Our culture is in a great spot compared to where it was when I came in as a freshman. The team is really a brotherhood. We are a very close-knit group, and all have each other's backs."
Vickery described Spallone's style as old school in the sense that if you aren't doing your best, he will let you know what to do better. Vickery and Spallone share the same goal to make it to the NE-10 tournament this spring.
Rusty Stone, or "Bucket," was last season's leading scorer. He is a four-time captain and a fifth-year starter as well. Like Vickery, Stone also shared his thoughts on the upcoming season in an interview. He went on to say, "Spallone is great as a head coach. He has brought in a new energy that I believe was desperately needed for this team and this culture. He has made sure that our practices are tough and fast-paced, which I think has been pushing us every day that we get out on the field." He also commented on coach Spallone's investement in his players' academics, saying, "His involvement with each of us in the classroom is awesome to see because I feel as though it has motivated everyone to be better, both on the field and in the class[room]."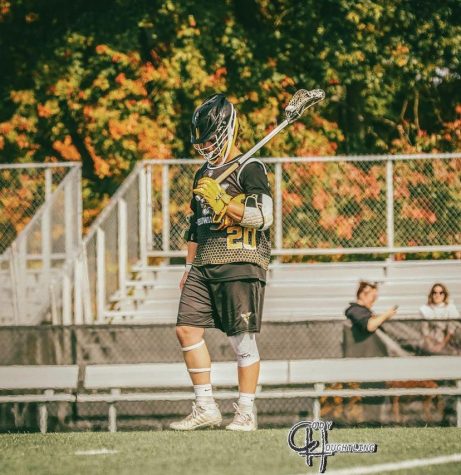 Stone describes Spallone's style as "controlled chaos." Stone elaborated, saying, "He likes to give us drills and plays [where it seems like] there is a lot going on if you were looking on through the outside, when in reality it is very simple. He wants everything to be extremely fast-paced and to a speed that may even be greater than game speed."
The fast pace that Spallone is setting for the team is one of the many positive changes that Stone has seen this fall. "I think that the team is better this year compared to last," Stone said. "I feel as though the team has gotten better every year that I have been here, but this year I think is something special. Everyone bought in to their place and the system from day one. Everyone competes for their spot every day, which makes everyone else around them better."
Like Vickery, Stone describes this year's team as brotherhood as well. "As cliche as it may sound, we have a brotherhood in this culture," he said. "Everyone goes out every day to get ready to fight alongside each other. We look after each other, both on and off the field, and push each other to be the best versions of ourselves. We're a tight-knit group of guys that care about each other."
Spallone's team is coming together for the spring season. But unlike last year, the boys are doing more than just lacrosse. The classroom and on-campus presence are a focus this year. The boys have been in study hall through the fall semester. Most recently, the team has been working on donating baskets of food for the surrounding Springfield area's Thanksgiving food drive.
This is the right track, as Spallone explains: "What can be expected from our group moving forward in the most evident way will be our presence on campus and in the community. We preach that our school is an extension of our family, and I want our guys to go out of their way to look out for those who share our home." He elaborated, saying, "Something as simple as holding a door or helping someone with their books. If we can do that and do it well, I know that improvement on the results side is due in kind because that is the hardest aspect of our culture to emulate. And if that is getting done, all of those other actionable items will be occurring."
Spallone and his team kick off their season February 18th against St. Thomas Aquinas. This is what Spallone has been preparing his team for. "I am most looking forward to getting started," he said. "The months of work that the guys will have put in by the spring will be immense," and he anticipates "having an opportunity to execute against some great teams."